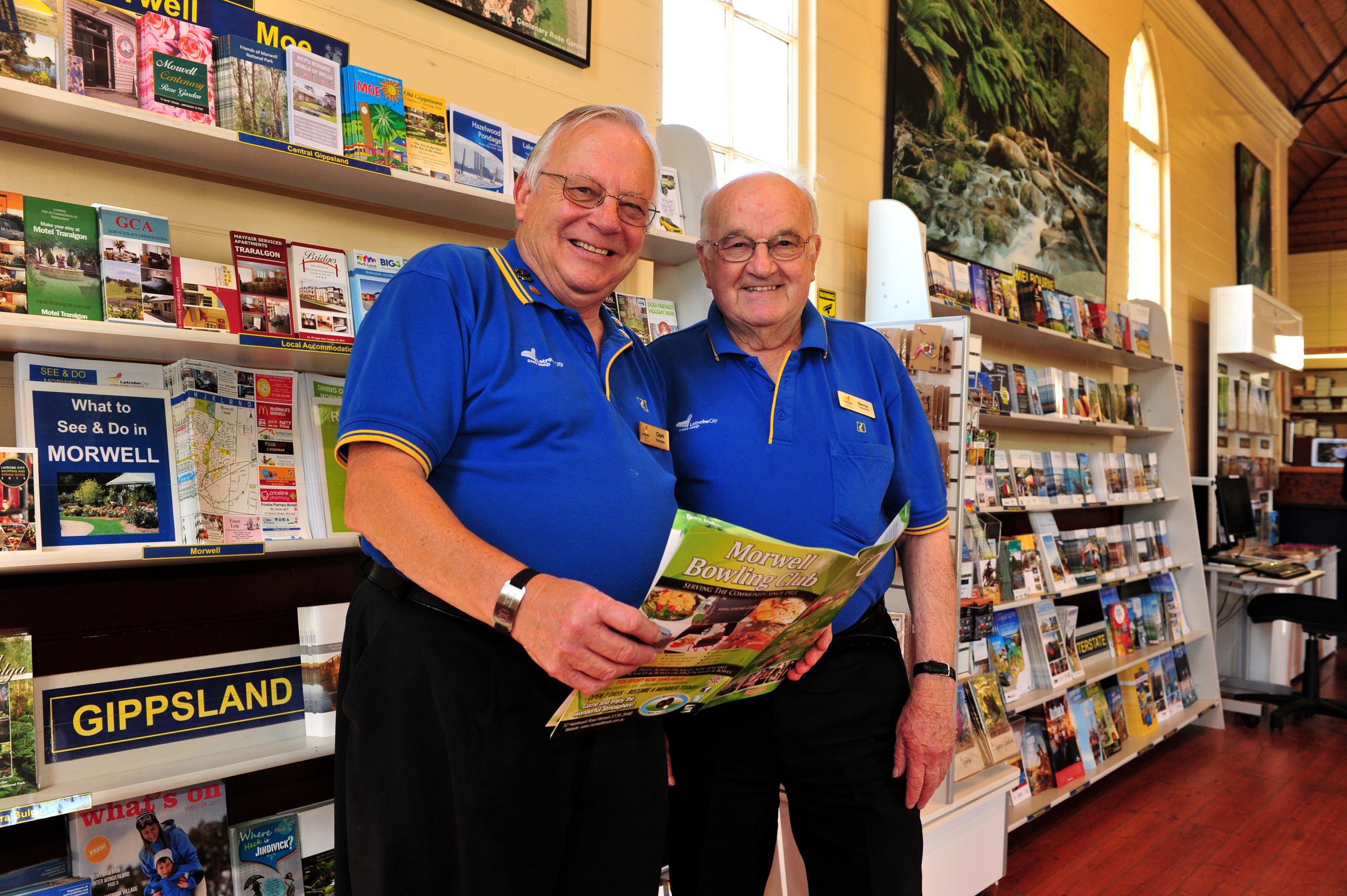 Clark Spencer and Bernie Carrington love where they live.
So much so that they've committed to telling anyone who wants to know about all the Latrobe Valley and greater Gippsland have to offer.
They're among a group of volunteers at the front line of local tourism, working at the Latrobe Visitor Information Centre.
"It's a great source of satisfaction and a great bunch of people to work with," Mr Spencer said.
"The challenge is always to find the right stuff for people and make sure they walk out the door happy."
For 15-year visitor centre volunteer Mr Carrington, the role is not only an opportunity to promote the local region, but to learn more about his own backyard.
"People come here from overseas asking for things we didn't even know about," Mr Carrington said.
"People do their homework before they get here and often come armed with requests about things."
Walhalla, Lakes Entrance and the Gippsland Plains Rail Trail are among the region's most popular attractions, the pair says.
When asked whether the internet and online review sites had changed the role of physical visitor information centres, the volunteers said the two approaches complemented each other.
"What a website can't provide is somebody to walk out the door and say 'that place over there is what you want'," Mr Carrington said.
"They ring you sometimes to probably enhance what they've got from a website.We've got a 1800 number which is free. If they want, we will send them information."
Mr Carrington said over the years, the centre had received requests from all over the world. The Latrobe Visitor Information Centre is looking for more volunteers like Mr Spencer and Mr Carrington to help promote the region.
Latrobe City Council general manager city development Phil Stone said while the majority of the centre's volunteers were retirees, volunteers of all ages were welcome.
"Volunteering may suit students, the unemployed wishing to upskill and gain confidence, or young parents wishing to re-enter the workforce," Mr Stone said.
"Each volunteer offers his or her own personality, knowledge and friendliness to ensure the visitor enjoys their stay.
"Volunteering at the Visitor Information Centre is ideal for those who are passionate about our region, love talking to people and want to give back to the community."
The centre is located on the Princes Highway near Traralgon Railway Station, operates seven days a week and welcomes traditional holiday-makers, locals, visiting friends and relatives and people in town for business or events.
Anybody interested in volunteering at the Latrobe Visitor Information Centre can drop in and chat with staff or phone 1800 621 409.