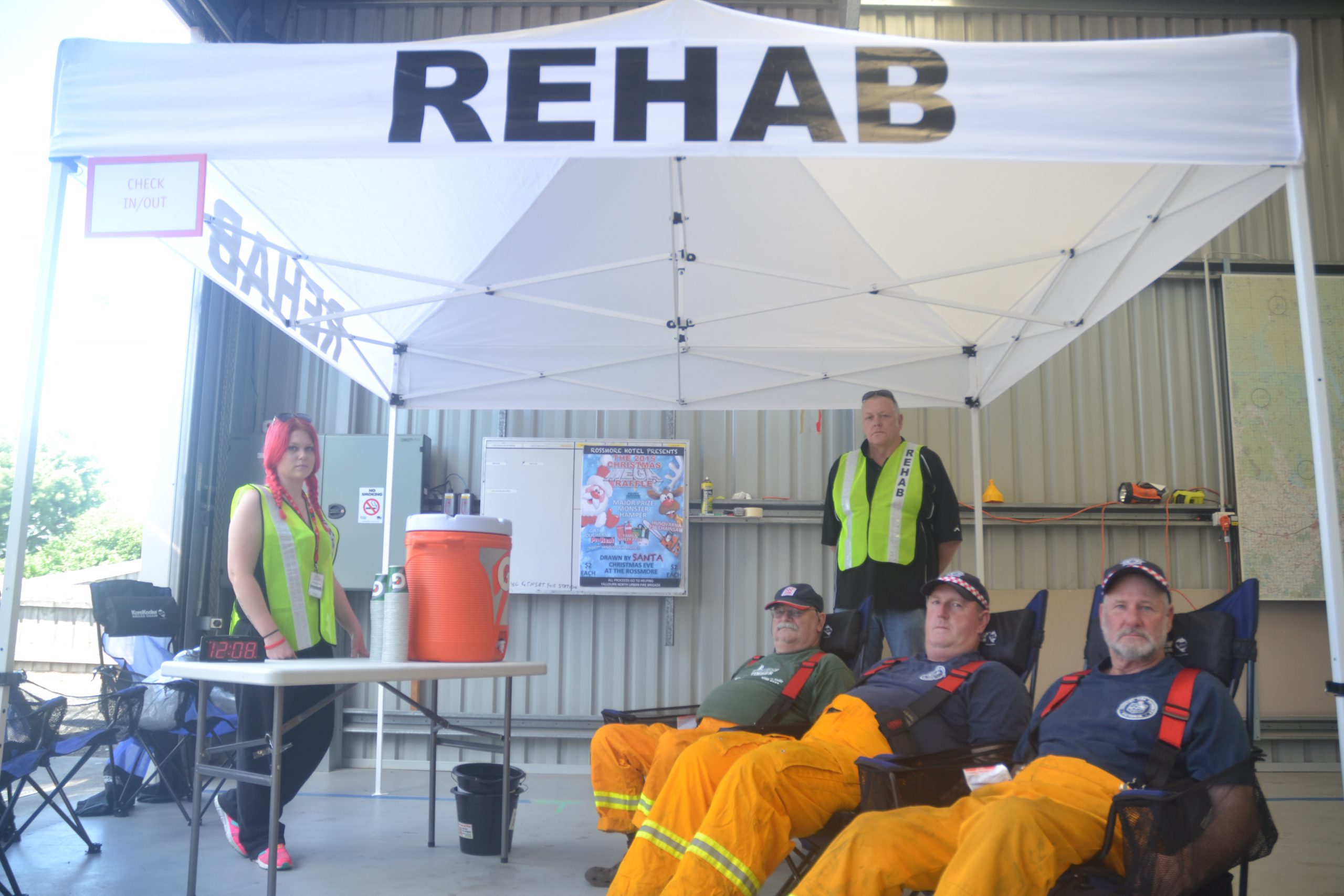 Firefighters battling blazes in hot conditions will recover more quickly this summer with Yallourn North Urban Fire Brigade becoming the CFA's first health monitoring and rehabilitation unit operator in Gippsland.
The unit was put into service last week, making Yallourn North one of just seven such CFA brigades in Victoria currently providing the new specialised rehab assistance for firefighters during incidents.
Yallourn North Fire Brigade now needs the community's help to fundraise $35,000 towards the purchase of an emergency response vehicle to transport the equipment.
Medical professionals are also being urged to join the CFA and volunteer to help with health monitoring.
Captain Mark King said the unit would be available for use at fire incidents for all emergency services workers involved, including Victoria Police, SES and Ambulance Victoria workers.
"If they have a need for it, it will respond anywhere within the state," Mr King said.
An emergency response vehicle would allow the brigade to respond to a callout more quickly than using a trailer towed by a volunteer's vehicle.
"If there's a major incident and there's another unit set up in another part of the state and they still need more resources, it can respond nearly everywhere in the state," Mr King said.
"That's the whole purpose of getting the specialised vehicle (which can operate under a Code 1 response using lights and sirens) rather than rely on volunteers' vehicles."
The rehab unit includes six cooling chairs, which have special arm pockets that will help to bring firefighters' body temperatures down while they take a break from the extreme heat.
"As firefighters come off the fireground we'll start to monitor them and put them through the rehab process," Mr King said.
"It supports them in their recovery from heat exhaustion and heat stress.
"By using this (rehab) equipment we can make the body recover more quickly so they can get back working again, get back out there."
After spending time recovering while drinking electrolytes with water, they will be considered for a return to fight the fire.
But while Yallourn North CFA members have been trained to use the rehabilitation unit, they cannot yet operate the health monitoring unit, which requires medical professionals.
It includes a kit to help volunteers perform health checks on carbon monoxide and oxygen levels, blood pressure and temperature.
"We need a nurse, a paramedic or a doctor on board to help us with that, so we're looking for a number of those people. We can only use half the kit at the moment until that's finalised," Mr King said.
The CFA's health monitoring and rehabilitation project is hoped to further reduce heat stress and dehydration among firefighters during long, hot events.
Project manager Peter Langridge hopes eventually one unit will operate in each Victorian fire district following the pilot program over the 2015/16 summer.
He said having a unit in Latrobe Valley was important due to the increased risk posed by the region's coal mines and peat bogs.
"With the peat bogs there's a lot of decaying vegetation in the ground and you've got the coal mines, so you've got a higher possibility of fires that will produce carbon monoxides," Mr Langridge said.
The major fundraising project for the emergency vehicle is a 'mega raffle' organised by the Rossmore Hotel in Yallourn North, which will be drawn on Christmas Eve.
The brigade plans to follow the raffle by applying for an emergency services grant for the remainder of the funds in March.
Tickets for the raffle are available at Esteem Beauty Therapy or YGP Grain in Moe, Pets Domain or ProRent in Morwell, Kell's Takeaway in Newborough or the Rossmore Hotel in Yallourn North, or by contacting Yallourn North Urban Fire Brigade through its Facebook page.
Any medical professional wishing to join the health monitoring and rehab unit should phone CFA District 27 on 5134 4070.