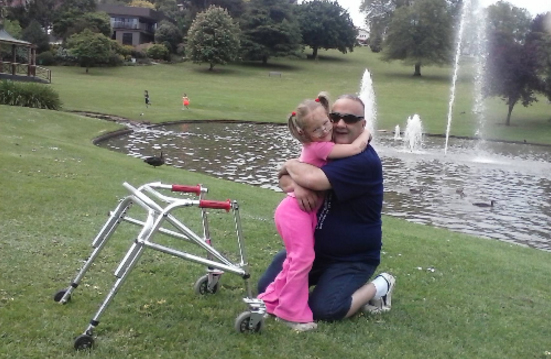 The siblings of an eight year-old Morwell girl want to be by her side when she undergoes life-changing surgery, but need the community's support to do so.
Emma Mifsud has cerebral palsy and her family is desperate to be with her while she has a hip operation to help her walk.
However, their mother died two years ago, leaving Wayne Mifsud, a widowed father-of-six, struggling to make ends meet.
Not eligible for housing assistance, Mr Mifsud has turned to the public to assist in the expenses of taking the family to Melbourne.
"All the kids want to be there for Emma," Mr Mifsud said.
Emma was scheduled to receive the surgery when she was two years old, but the procedure was cancelled due to a chest infection.
Botox and a string of other treatments followed in an attempt to get Emma walking, but were unsuccessful.
However the family remains optimistic with Emma scheduled for the operation in the first half of this year.
"(Mother) Mandy would be so rapt," Mr Mifsud said.
"She's finally getting the surgery she deserves.
"She will be walking sometime this year hopefully… I'm her father, I know she will be walking."
The family hopes to raise $3000 to cover accommodation and transport costs for the surgery and recovery period.
To donate to the cause visit www.mycause.com.au/page/120107/family-hospital-accommodationtransport-costvan-with-wheel-chair-access