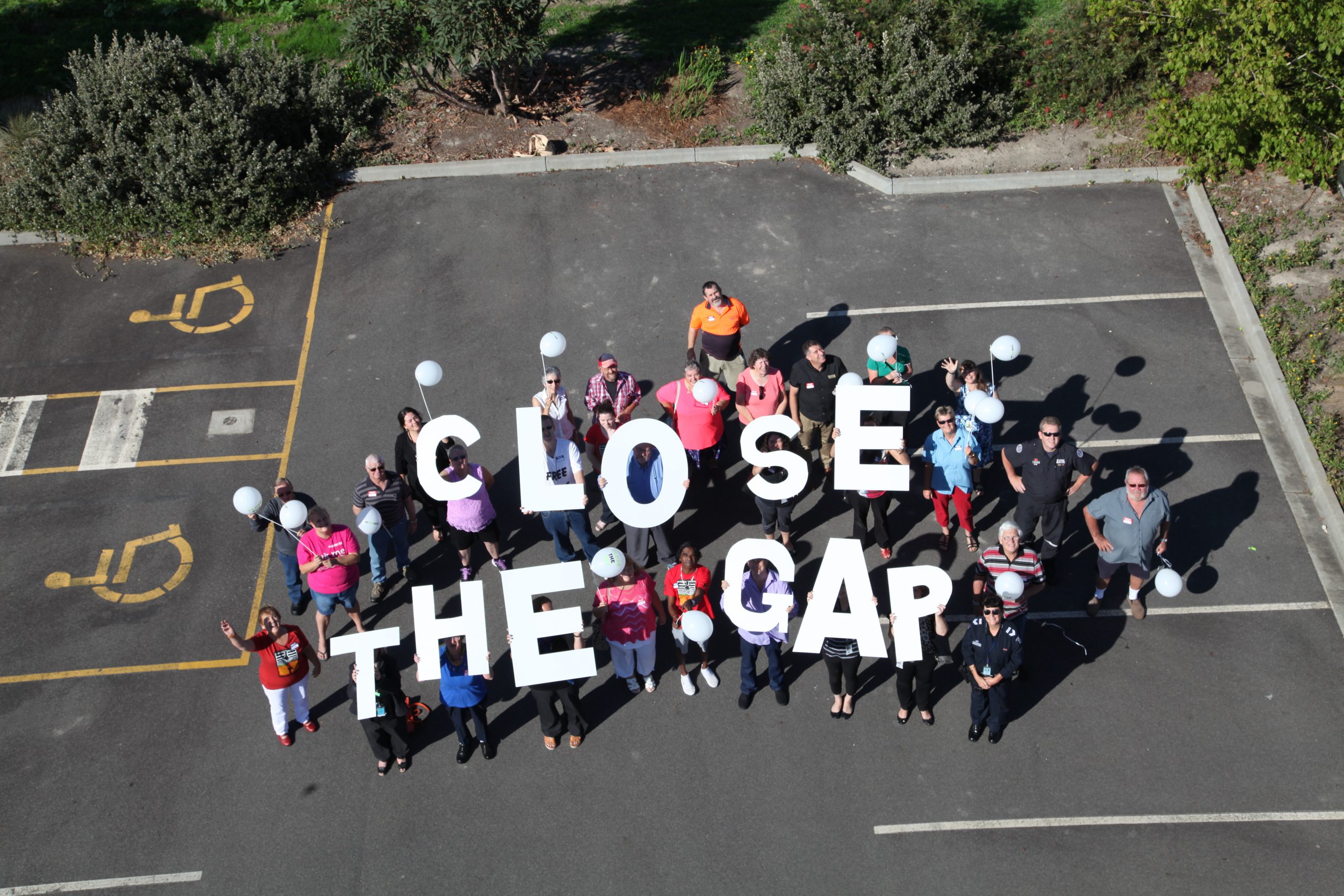 A morning tea, a yarn and a photo shoot.
That is how 55 people acknowledged the national Close the Gap day in Morwell on Thursday, discussing how to achieve health equality between indigenous and non-indigenous Australians.
Oxfam Australia aims to close the gap in health by 2030 and Latrobe Valley's Isabel Temple used this as inspiration to spark a local conversation.
She enlisted the support of Latrobe Valley indigenous artist Ronald Edwards and the Morwell Neighbourhood House team, to host a morning tea for community members and service organisations.
"Oxfam is working very hard, they're asking people to contact local politicians and community people to make everybody more aware of it (the health gap) to get people on side, so it becomes a bigger issue," Ms Temple said.
"It is a big issue, but (this is so it can) become a bigger, notable issue. How can we fix this?"
The life expectancy of Aboriginal and Torres Strait Islander people is about 10 to 17 years less than that of non-indigenous Australians, according to Oxfam.
Contributing factors are said to be inaccessible or culturally insensitive health services; a low indigenous health workforce and a history of disadvantage.
Oxfam is campaigning for equal access to healthcare across Australia, using Close the Gap day morning teas, sports days, school and public events to spark a conversation.
Mr Edwards said as a role model within the Latrobe Valley, he hoped to pass on information to indigenous people about health and illness.
He said education was key to overcoming the significant gap in life expectancy and other health barriers, such as language and cultural understanding.
While he hopes for health services to come together and continue closing the gap, he urged the broader community to simply have a yarn.
"It all started around talking about it. And talking becomes involvement and connection between friends and people," Mr Edwards said.
"How can I help my people – as well as non-indigenous people help indigenous people, together as one – to move forward and close the gap?"
A welcoming, friendly and culturally-sensitive environment is essential to ensuring people of all backgrounds feel comfortable accessing health services, says Alison Skeldon.

The executive director of community support and connection at Latrobe Community Health Service believes it is also a crucial component in closing the gap.
While LCHS programs and facilities are available for anyone to access, Ms Skeldon said health agencies should ensure they provide a welcoming, inclusive space.
"Health and medical services use a lot of jargon, sometimes the buildings can seem a little bit clinical," Ms Skeldon said.
"Imagine how difficult it could be for someone to understand some instructions or information from a medical practitioner and then add a layer of disadvantage to that as well, you can see how that may become a barrier to people."
LCHS is working with the State Government on its Koolin Balit health strategy, which sets out a direction to improve outcomes and access while closing the gap in life expectancy and disease.
LCHS also has a reconciliation action plan and is working towards increasing the number of Aboriginal and Torres Strait Islander people it employs.
Among the services it provides – including drug and alcohol support; dental; diabetes and counselling services – LCHS offers specialised support. That involves a Koorie liaison officer who helps carers link in with appropriate support, along with dedicated time to determine the most relevant, appropriate services for clients presenting with drug and alcohol issues.
Ms Skeldon said closing the gap was about assisting people with their basic health and community support needs, which involved their emotional and social wellbeing.
She said for more Aboriginal and Torres Strait Islanders to access the necessary health services, mainstream and Aboriginal-controlled health organisations needed to work together.
"It's not just about Aboriginal and Torres Strait Islanders accessing the service, it's actually about delivering a service that's relevant and meaningful for them so they keep doing what's necessary to improve their health," Ms Skeldon said.
"If you have an ongoing health condition, if you just go to the doctor once (that's not enough), you need to develop a relationship with a health or community service that will help you meet your health goals. It's not just about access, it's about good relationships with services."
The Koolin Balit strategy has six key priorities; a healthy start to life, a healthy childhood, a healthy transition to adulthood, caring for older people, addressing risk factors and managing illness better with effective health services.
It is a 10-year strategy based on strong Aboriginal organisations, cultural responsiveness, as well as improving data and evidence.