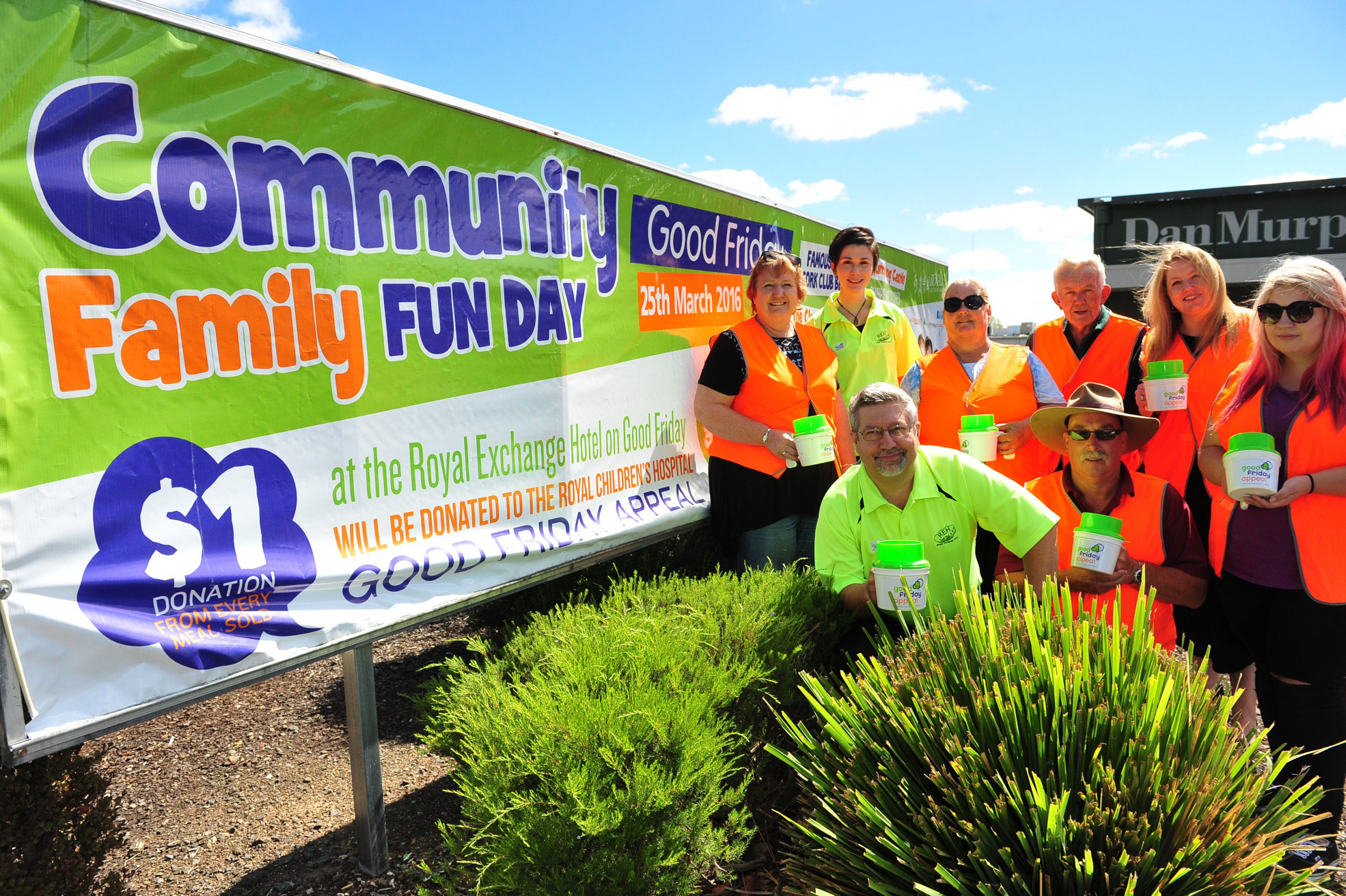 Latrobe Valley residents are asked to dig deep tomorrow as volunteers take to the streets to raise funds for the annual Royal Children's Hospital Good Friday Appeal.
Volunteers will rattle tins at the region's major intersections and doorknock their neighbourhoods.
Traralgon's Royal Exchange Hotel Cork Club raised more than $60,000 last year and the group is hoping to top the amount this time around.
A community family fun day at the hotel, featuring jumping castle, rides, fairy floss, fire trucks and car displays will be the highlight of the day.
Koko the Clown, caricature artist Tony Bramwell and musician Lee Thomas will entertain the crowd, while the hotel will donate $1 per meal sold to the appeal.
"We're looking to get just ahead of last year's total," Cork Club president Roy Arnold said.
The Morwell Club is also continuing its Good Friday Appeal efforts, with a target of $5000.
Raffles, seafood appetisers and a spinning wheel will be on offer at the club, kicking off at 1pm.
Gaming attendant Silvana Meesere encouraged the Morwell community to go along and support the appeal.
Churchill's appeal organiser Stacey Martin said she was trying to re-enact last year's inaugural event at Churchill Hotel.
The first Churchill Family Fun Day drew 5000 people to stalls, children's activities and food – fundraising $10,645.
"We anticipate to raise more money than last year and get some other people from other districts out here to the Churchill community," Ms Martin said.
"Even if we raised a dollar more than last year we will be grateful but if we raise half of last year's total it still brings awareness to the cause."
Moe Good Friday Appeal coordinator Sue Bechaz said she was in need of more volunteers to assist in the town's fundraising.
With the town raising a staggering $97,904 last year, Ms Bechaz is aiming for $50,000 this year.
"We had a very large donation last year which helped," she said.
Moe and surrounding businesses will have donation tins while volunteers are needed to patrol the town's roads.
"Anyone out there who can assist in Moe, Newborough or Trafalgar, would be great. They can do as much or as little as they like, even just their own street or area," Ms Bechaz said.
Fundraising all year round for the cause, the town held a community ball last Saturday where more than $5000 was raised.
Ms Bechaz thanked everyone who supported the event.
The Traralgon event kicks off at 10am. Phone Roy Arnold on 0413 134 350 for details.
For details on The Morwell Club's appeal, phone the club on 5134 2671.
Churchill residents can phone Stacey Martin on 0406 612 331 regarding the family fun day, while Moe, Newborough or Trafalgar residents able to assist with door-knocking or tin-rattling can phone Sue Bechaz on 0407 677 230.
For more information on the Good Friday Appeal visit www.goodfridayappeal.com.au