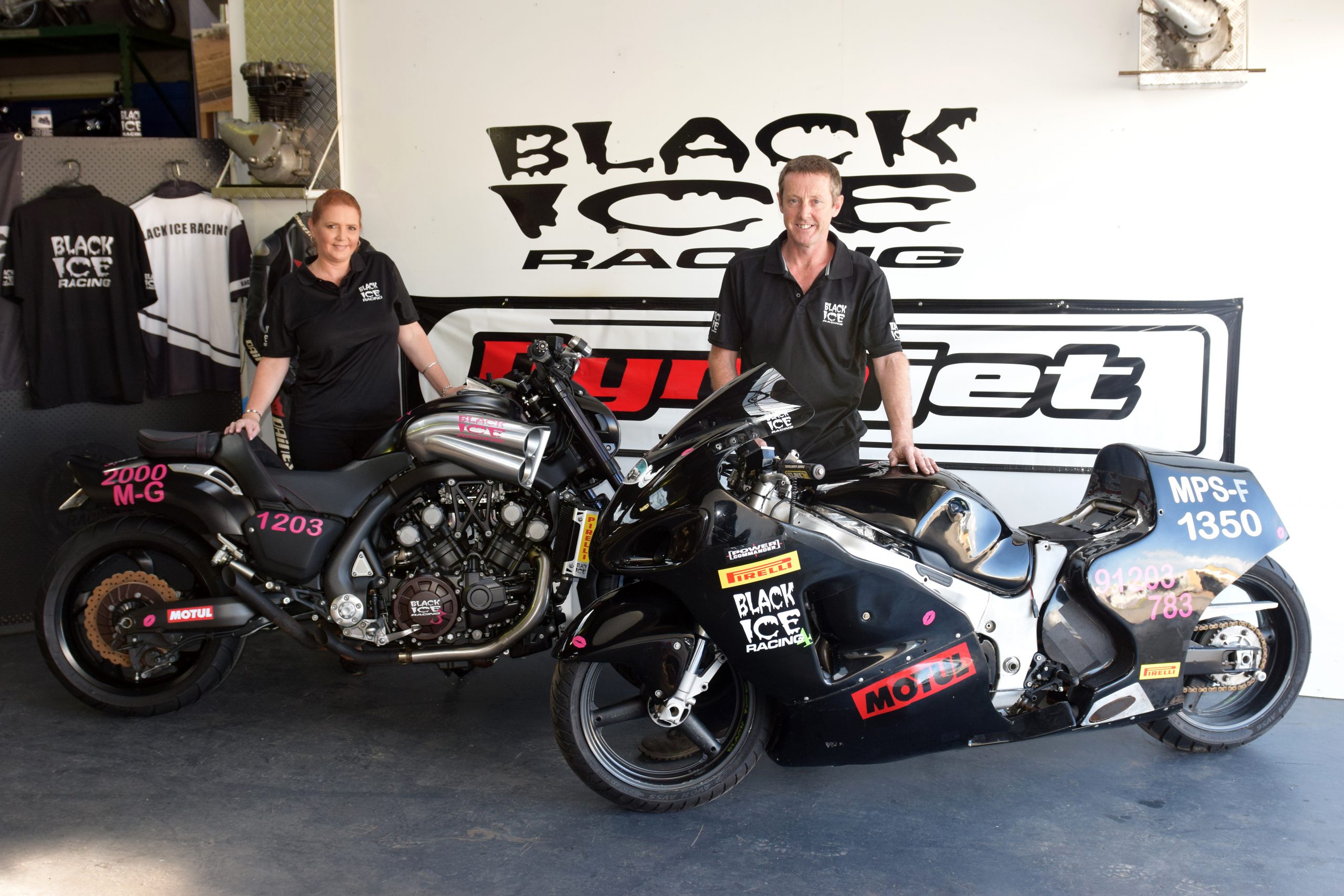 Getting back to the future would be no problem for Moe siblings and land speed world record holders Ken and Rebecca Robinson.

The high-octane duo would scoff at Doc Brown's 88 miles per hour prescription for time travel with both having hit speeds twice as high and beyond on two wheels.
Ken added a third world mark to his resume at Speedweek this year when he clocked 216mph (347 kilometres per hour) in the MPS F 1350cc on one of his custom tuned Black Ice Racing bikes at Lake Gairdner, South Australia.
It followed his 232mph (373kph) MPS G 1350cc ride last year, when he eclipsed the previous class record by almost 10mph, and a production class world record on a Yamaha Vmax at 166mph.
In her third Speedweek Rebecca took the same Yamaha and squeezed another three miles per hour out of it – much to the chagrin of her brother – to produce her first world record of 169mph in the 2000 MG division.
After posting the Australian record of 150mph on the same bike last year, Rebecca said it was a thrill to open the throttle on the salt flats for a maiden world mark.
"It's a great sense of achievement to take that bike where no-one's ever taken it before," Rebecca said.
"You go out there and you're racing against all the boys, it's good to get the girls out there and there's more girls coming out there to race."
She said Speedweek was like a homecoming each year and that everyone pushed each other to greater heights.
"We've got our own little race family out there… everyone helps everyone. There's a little bit of rivalry of course… but it's basically about helping each other go out there and do what we all want to achieve which is going faster," Rebecca said.
Ken, who has been chasing land speed records since 2008, said he fell short of his goals for the week.
With only one chance per year to put the bikes to their limit on the salt, Ken said it was a constant process of fine-tuning – which he does himself – to get results.
"We want to go faster but it takes time and practice and we can't practice until we're out there," he said.
"There's a lot to be said for tuning the bike correctly… start with stock, get that working properly then upgrade from there."
The addition of a Dyno room at the Black Ice Racing workshop in Moe, a sound proof testing room which utilises a Dynamometer to measure performance, has made the process easier.
"It's massive (for us), we can simulate a lot of stuff you can't do on the road – you can't go fast on the road because you're just no allowed to – but in the Dyno room you can hold the thing pinned and adjust things while its revving," Ken said.
Originally a project fuelled by self-interest, the Black Ice Racing team has evolved in the past few years.
They now take customers and help others looking to tune their bikes to race standards.
"We started this just to work on our race bikes and people bring their bikes to us now, we're doing all the tuning for them and we do a couple of bikes for land speed as well, other people who are out there racing, people off the street just come in and do tyres and servicing," Ken said.
"That all helps fund us, but as long as we're working on bikes we're happy."
Ken and Rebecca thanked their sponsors and pit crew – Jackie Robinson (Ken's wife), Nigel Mountford and Nick Pazek – for their assistance as they continue to race toward new record speeds.