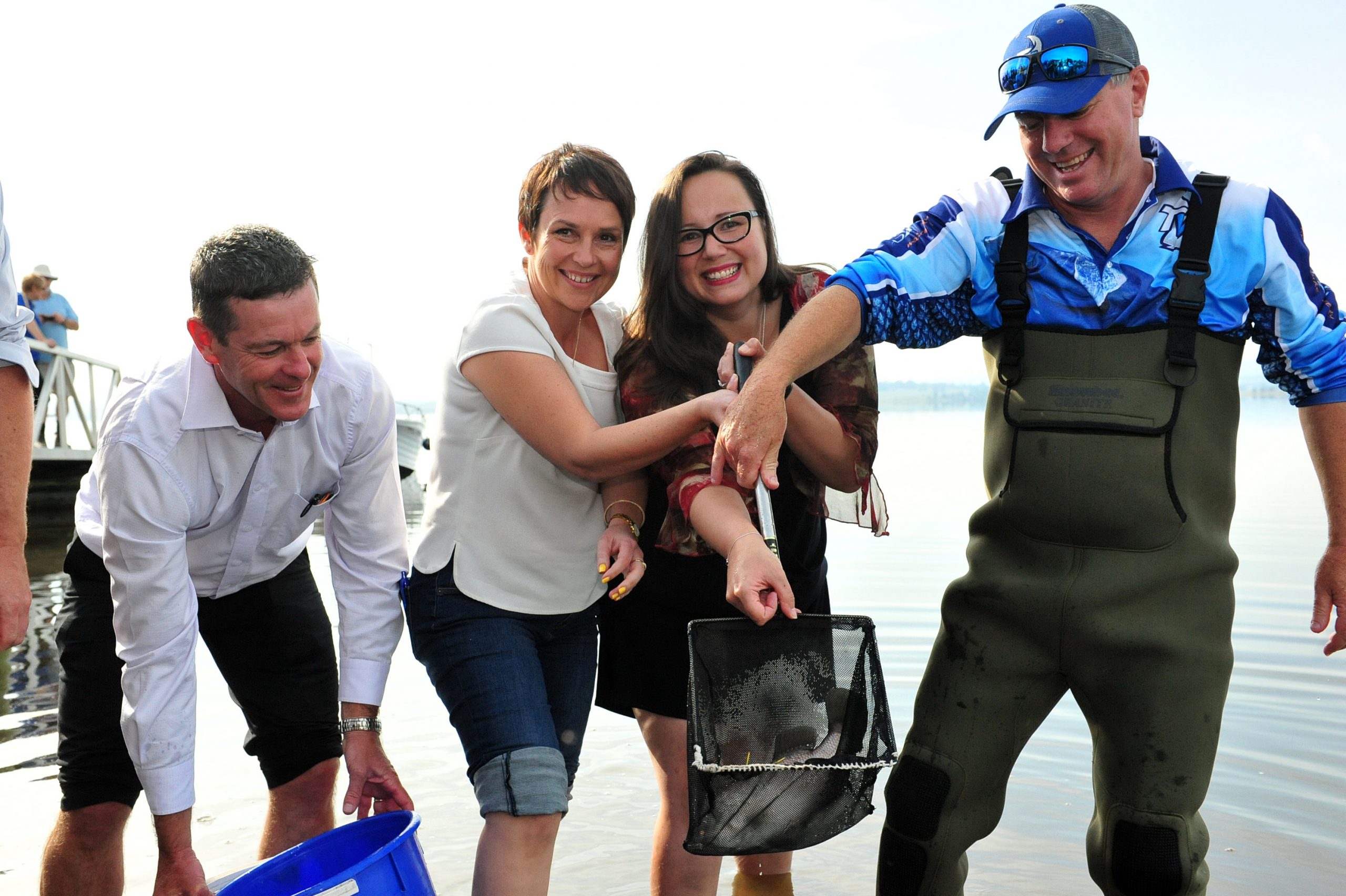 It is a "fisherman's dream" that has been talked about for years.

Now, barramundi have arrived at Hazelwood Pondage.
The first batch of 1600 of the iconic hard-fighting fish were stocked into the pondage yesterday, making it the first ever Victorian waterway with barramundi.
But the wait isn't quite over for keen fishers; the pondage will be closed to recreational fishing for the next six months to allow for studies on growth rates, diet composition and flesh quality.
Listening stations have been placed throughout the pondage and 15 of the larger fish carry acoustic tags.
"We'll be able to tell where those fish go, where they find their happy medium in temperature," Barramundi Working Group member David Kramer said.
It's the warmer temperatures of the pondage that make it a habitat contender for the northern fish, however, Mr Kramer said the barramundi would not breed in the pondage, as there was no salt water.
He said the barramundi would feed on the large pondage food source of tilapia, a cichlid fish.
"It's a natural food for them up in the northern states, so they're going to thrive and there's every chance we'll have one-metre-long barramundi in Victoria in only a couple of years," Mr Kramer said.
The six-month trial will also test whether the pondage barramundi will be safe to eat.
Mr Kramer said the working group was assessing what sort of licensing arrangements anglers would need to fish for barramundi at the pondage.
"There's no bag or size limit for barramundi in Victoria because they've never survived in Victoria, so those are all things that have to be worked out over the next six months," he said.
Mr Kramer, who is also the director of the Future Fish Foundation, a non-profit organisation established by Rex Hunt, said after decades of rumours and years of planning, yesterday's stocking was a "fisherman's dream".
The stocking program has been touted as a major tourist drawcard for the Latrobe Valley, attracting thousands of anglers that would normally travel to the northern states of Australia for the opportunity to catch barramundi.
"People spend thousands of dollars to travel to the Northern Territory, go out with guides and mother ships in remote areas to catch barramundi," Mr Kramer said.
"They'll now be able to do it here and trust me, people will travel from Tasmania, South Australia, New South Wales and all over Victoria with their boats in tow to come to Morwell to fish for Barramundi."
Agriculture Minister Jaala Pulford said the northern states had enjoyed a monopoly on warm water fisheries.
"We're going to put them under a bit of pressure and we're making no apologies for that," she said.
The release follows successful tank-based acclimatisation trials which indicated the species could survive in pondage water.
The fish came from a farm at Werribee and made up three size classes including 1000 fingerlings at five centimetres, 500 fish at 10cm and 100 larger barramundi measuring 30cm.
"The Hazelwood pondage being stocked with barramundi is a huge opportunity for people to be able to experience this amazing fighting fish and also to sample the incredible hospitality and natural wonders that we have here in Gippsland," Member for Eastern Victoria Harriet Shing said.
Latrobe City mayor Michael Rossiter said the new attraction would be a drawcard for tens of thousands of recreational fishers and he urged anglers to respect the fishing closure period.