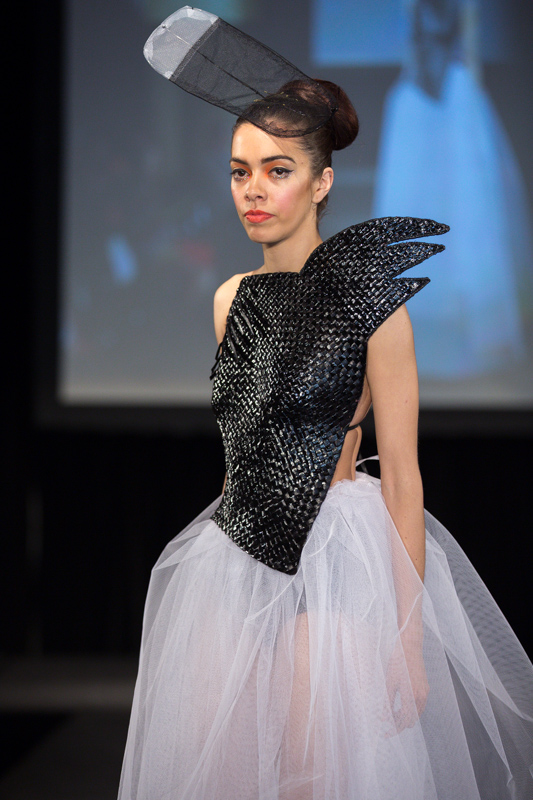 From growing up in Churchill to walking Melbourne runways, 23 year-old Hollie Johnson is now off to the United States and Canada.

The university photography student walked her first runway in 2013 as part of the Indigenous Runway Project and soon joined Global Indigenous Management, an agency founded to empower indigenous people.
She has since featured at several spring fashion shows and travelled to New Zealand, wearing outfits created by indigenous designers.
This September Ms Johnson is off for a three-week tour of Canada and the US, spending time with a Canadian First Nations community and participating in a Los Angeles fashion show.
"I would say my confidence has definitely gone up a lot (since beginning modelling)," Ms Johnson said.
"Tina (Waru), my manager and (project) founder, has seen a huge improvement in me.
"Knowing I can stand up, speak loud and proud and help her out, to see that I'm growing, it's something she loves seeing, her models progressing a bit.
"I usually do (get emotional) if I have to say something – it's just having a lot of passion for what you do."
GIM is a management agency Tina Waru formed as a platform for indigenous models and designers to showcase their creativity and skills.
It complements her Indigenous Runway Project, which aims to support and showcase indigenous people and increase their representation in the fashion industry.
Having already made a mark in Australia and New Zealand, the project will head to Canada to provide similar pathways for First Nations young people.
"It is so amazing to watch the transformation of the young people, especially Hollie," Ms Waru said.
"She has her shoulders up and she embraces who she is. When we walk the platform, they (the models) stand there as proud, Aboriginal young people.
"That's the amazing thing this platform has provided these young people. To watch Hollie grow from that super shy girl into such a confident, emerging leader is amazing."
Ms Johnson describes GIM as an agency that does not discriminate against height, skin colour or age, but "is more of a family".
She has now taken on a mentoring role as one of the more experienced models, helping the younger girls through training, dress rehearsals, fittings and run-throughs before each event.
Although she is not set on a career in fashion photography, Ms Johnson said the experience had given her a confidence boost along with great connections.
"Some of the models in the industry say there is a huge difference in the atmosphere, the environment and the people," Ms Johnson said.
"It's not one-on-one competiveness; we are all in it together."
Ms Johnson departs in the last week of September for the three-week trip, with hopes fundraising will help cover some of the expenses.
Anyone who wishes to sponsor the trip can email Ms Johnson via missholliej32@gmail.com
Those who wish to volunteer or support the initiative can visit GIM's website at www.globalindigenousmanagement.com