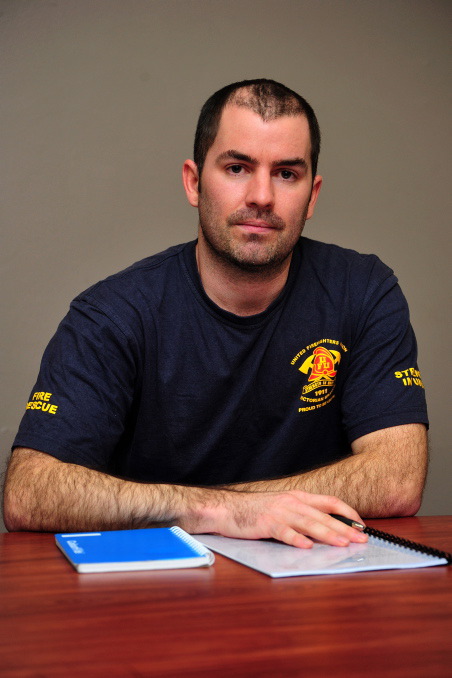 District 27's career and volunteer firefighters have one message for the Latrobe Valley community amid ongoing CFA enterprise bargaining agreement negotiations – they will continue to serve the region.

While a public dispute between the United Firefighters Union, the Country Fire Authority and the State Government plays out in the media, including the sacking of the CFA board and the resignation of the former Emergency Services Minister, the Latrobe Valley firefighting community is trying to go about its business as usual.
The CFA has refused to sign the deal in its current state as it believes it would give the UFU too much operational decision-making power.
Traralgon career firefighter Paul Curran, also the station's UFU shop steward, said the delayed signing of the EBA had caused increased frustration and decreased morale among the brigade's career firies.
"We have been negotiating for more than 1100 days and every additional delay simply adds to the frustration and chips away at morale," Mr Curran said.
"For every one of those 1100 plus days, career firefighters have protected their communities to the best of their ability and continue to do so."
Fellow firefighter, Traralgon volunteer Jo Loeschenkohl said the impact of the negotiations on her paid colleagues was telling.
"You can see they are pushing through and trying really hard not to let it interfere with the relationship between volunteers and career firefighters at Traralgon," Ms Loeschenkohl said.
Traralgon East Fire Brigade captain Greg Pringle (JP) said he and many other volunteers across the district were upset about what was happening.
"It's something I could write a novel on and it upsets me to even think about it," Mr Pringle said.
"It's supposed to be a volunteer-based organisation, but I'm afraid it's no longer."
However, Traralgon volunteer Robert van der Werff said he did not believe the EBA would impact on a volunteer's firefighting abilities.
"I believe the skills and abilities of our state's volunteers, which have been learnt over many years of training and responding to incidents, will in no way be affected by the career firefighters' EBA," Mr van der Werff said.
"When early drafts (of the EBA) were coming into public focus some of the wording was a bit ambiguous to someone who is not from the fire services in a professional paid capacity.
"For this reason I approached the professional firefighters at Traralgon who were honest and open about explaining any clause I did not understand.
"As the EBA sits in its current form I have no concerns and from a volunteer perspective, I can see no changes to my role."
Current Emergency Services Minister James Merlino sacked the CFA board on Friday after a 5pm deadline to negotiate a new EBA was not met.
The decision was criticised by Mr Pringle, who felt the move was completely out of line.
"The government is trying to force the CFA to sign an EBA that not only has a court injunction, but is found to be unlawful by the Crown Council," he said.
"Why appoint a board if it can be sacked for following the law and not agreeing with the government of the day?"
Paid and volunteer firefighters of Traralgon Fire Brigade have supported the government's decision, with Mr Curran describing the removal of the board as "a long time coming".
"The CFA board went to war against their workforce at the behest of the previous Liberal National Government, failed to protect all firefighters from the dangers of (CFA training facility) Fiskville and failed in their response to the Fiskville inquiry," Mr Curran said.
Mr van der Werff expressed concern of the treatment of firefighters by the former board, also citing Fiskville as an example of "poor handling".
But no matter what unfolds at a state level, the district's firefighters have urged each other to continue on.
"Any volunteer from the area that has been thinking of quitting and walking away if the EBA is passed, please stop and think about why you are a volunteer," Mr van der Werff said.
"Your community will always need you; they will always need someone to respond when they need help.
"This EBA will not change the way we as volunteers train and respond, the only thing that can change that is our own attitude."
Mr Pringle said while there were many factors he was not pleased with, as long as he could serve his community "without their (UFU) interruptions" he would carry on.
"Traralgon East will continue to serve its community for as long as we can and as we have always done, and will not change our fire attack methods," Mr Pringle said.
"The day I'm told to hold back and wait will be the day I leave."