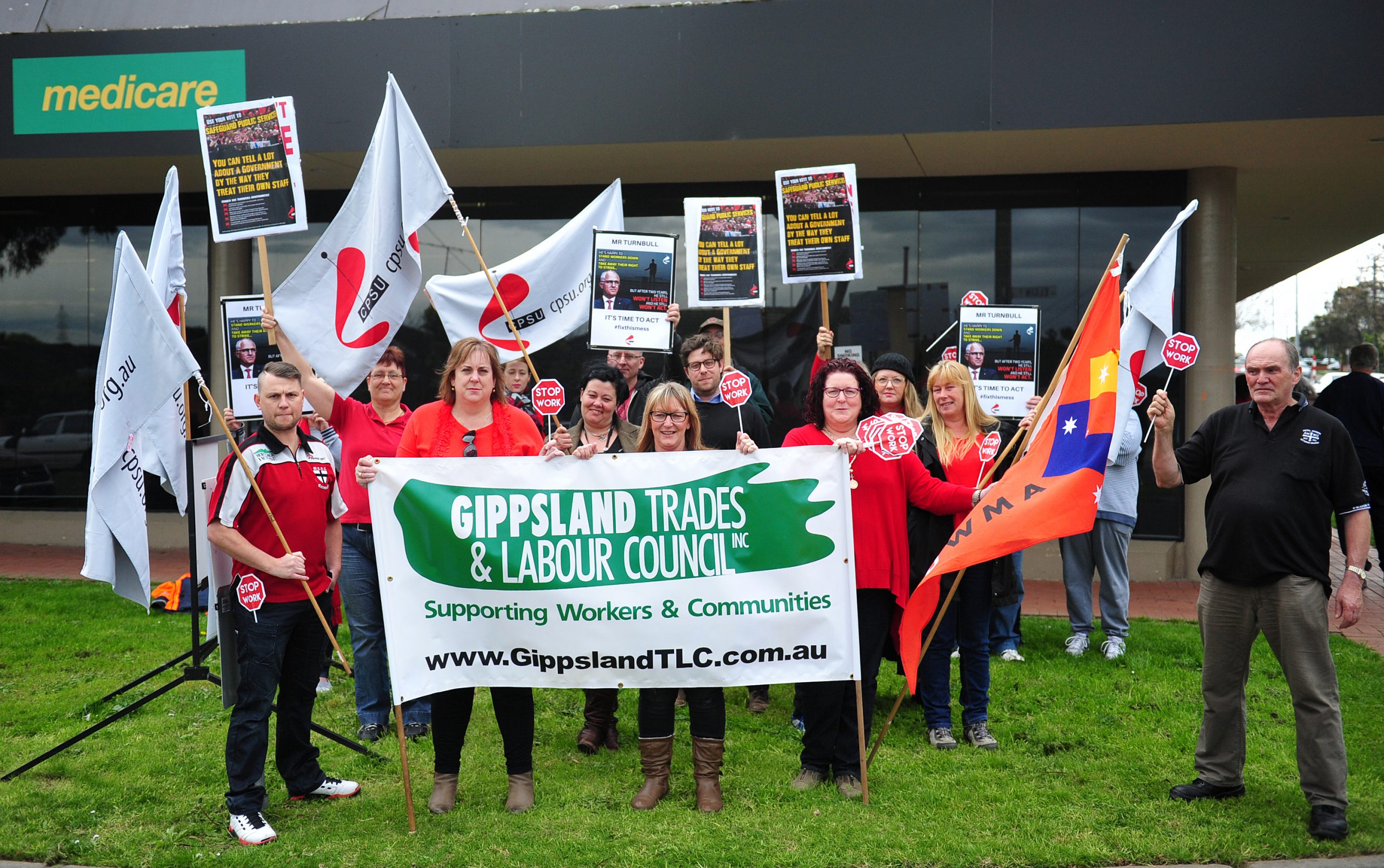 Latrobe Valley Centrelink staff walked off the job in unison with tens of thousands of public service workers across the country for a 24-hour strike on Friday as a three-year old industrial dispute intensifies.
Local Community and Public Sector Union members said enterprise bargaining, which has dragged on for more than 1000 days, was about maintaining fair conditions and work-life balance.
The Federal Government's stance is the union was "favouring industrial action over delivering pay rises for their members".
CPSU organiser for South East Victoria Michael Cornthwaite said the action was not about pay, but conditions.
He said the Department of Human Services workforce was largely comprised of working parents who needed flexible hours to care for their families.
"It's about preserving the conditions that we have; most of the conditions that are under attack are to do with work life balance and flexibility for working parents and people who have caring responsibilities," Mr Cornthwaite said.
The long-running dispute has involved a pay freeze for many employees following the introduction of new Coalition guidelines which limited what agencies can offer in the bargaining process.
Mr Cornthwaite said members were "extremely frustrated" there didn't appear to be any "genuine bargaining" occurring across the public service.
He said 30 per-cent of the DHS workforce was part-time and could be pushed out of the industry if the government does not budge on its position.
"A lot of those people are working parents and down this way we've got a lot of single mums who rely on that flexibility," he said.
"Our members are telling us they would be forced out of this workforce if those changes are pushed through.
"With the power industry being privatised decades ago, previous governments have really bulked up public service jobs in this region and it's a big employer here. It's really important for us to maintain those jobs and the standard of those jobs in this region."
Traralgon Centrelink call centre operator of 16 years Beth Jefferson was among the local contingent striking in Morwell on Friday in one of the few demonstrations outside of capital cities.
Ms Jefferson worked part-time while raising children before going full-time in the past six years once they became self-sufficient.
"It was a fabulous place to work as a woman with kids. I was able to work school hours and still provide service to my customers and be there for my kids as well," she said.
"You've got all these women particularly, there's men too, who have managed their working hours up until now to fit in with their life outside of the workplace and that's what they're trying to take away from us.
"Some of them are looking at having to quit their job so they can manage their life; that's not a good option for the staff, the customers or the department."
Mr Cornthwaite called on the Federal Government and member for Gippsland Darren Chester to take notice.
Mr Chester said local workers were losing out on pay increases the longer the dispute went on.
"The sooner it can be resolved, the sooner that staff in Gippsland and Latrobe Valley will benefit," Mr Chester said.
Federal Employment Minister Michaelia Cash said the union was not acting in the best interest of its members.
"It's very sad that thousands of public servants are in the absurd position in which their union cares more about engaging in ineffectual industrial action for one year than it does about its members not receiving a pay rise for three years," Ms Cash said.