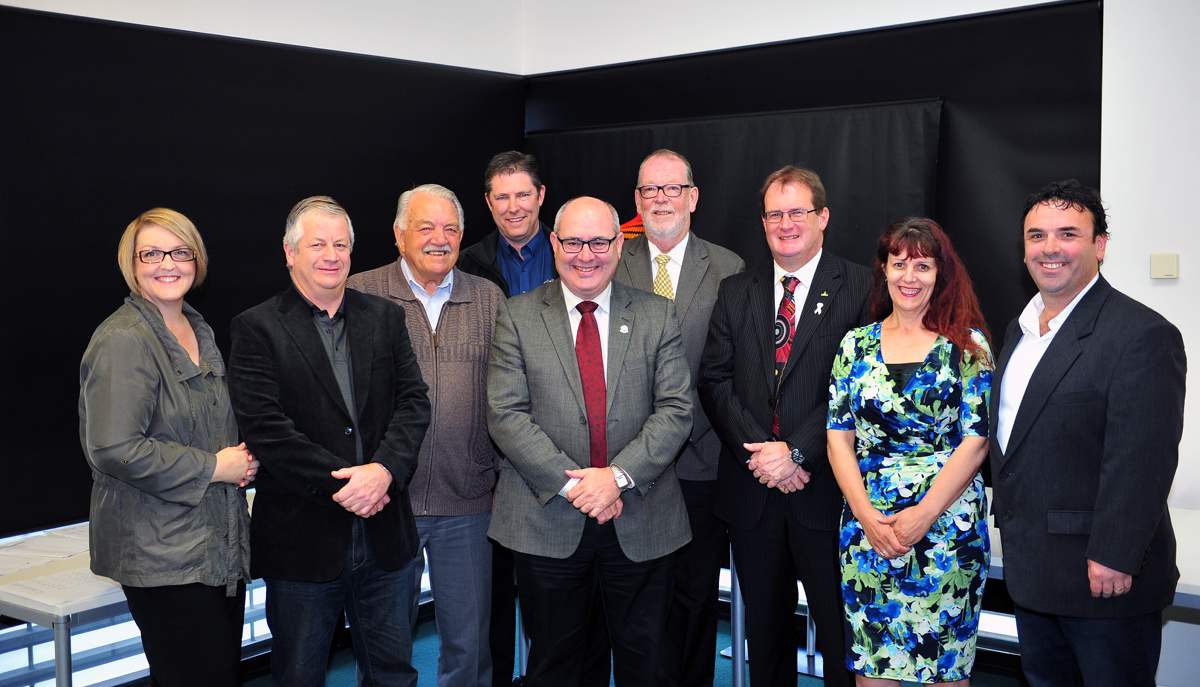 All but one Latrobe City councillor attended Monday's official declaration ceremony where the nine successful council candidates were formally announced.

It follows a month-long caretaker period and even longer election campaign.
Attention now turns to an intensive induction program with four fresh faces – Dan Clancey, Darren Howe, Alan McFarlane and Brad Law – claiming a Latrobe City seat.
Latrobe City chief executive Gary Van Driel said there was a "really good alignment with the newly-elected councillors".
"I think if you have listened to their answers to the questions being posed, all the councillors have a very good understanding of the risks and issues we will need to face," Mr Van Driel said.
"So I don't believe there will be a long period for the new councillors to come up to speed at all.
"I think they'll hit the ground running from what I see." He said council would return to "business as usual" fairly quickly.
A statutory meeting is scheduled for Wednesday, 9 November to elect the mayor and deputy mayor.
Nominations will also be taken for councillors to participate in various committees.
The first post-election council meeting will take place from 6pm on Monday, 14 November.
Former Latrobe City mayor Michael Rossiter and councillors Sandy Kam and Christine Sindt were not re-elected for the 2016-2020 term.
Mr Rossiter and Ms Kam each stood in the East Ward and managed to gain a primary percentage of 4.79 per cent and 9.38 per cent, respectively.
Dr Sindt secured 11.36 per cent of the primary votes in Central Ward.
Dr Sindt told The Express she would continue to take a keen interest in what happened at council.
"I have learned a lot during my four-year term, and there are still many questions to be answered, particularly in relation to governance issues," Dr Sindt said.
"I am happy in the knowledge that I have done my best, and have always stood up for my principles."
Ms Kam congratulated the new council and said it was an honour and privilege to serve the community.
After referring to many highlights during her time as councillor and mayor, Ms Kam said it was essential the new councillors prioritised the region's needs going forward.
"The uncertainty that exists within some of the industries in Latrobe needs to be addressed, job security and job creation are important to the community and further diversification of our economy is paramount," she said.
Mr Rossiter did not respond to calls from The Express following the election.
Former West Ward councillor Peter Gibbons did not stand.
Central Ward Graeme Middlemiss, Alan McFarlane
East Ward Darren Howe, Kellie O'Callaghan, Dale Harriman, Dan Clancey
South Ward Darrell White
West Ward Brad Law, Sharon Gibson
Central Ward Darren McCubbin, Scott Andrew Rossetti, Ian Bye
Coastal Ward Garry John Stephens, Alan Bruce Hall, Gayle Maher
Northern Ward Malcolm Hole, Carolyn Ann Crossley, Keith Mills
Central Ward Mikaela Catherine Power, Danny Goss, Joe Gauci
East Ward Peter David Kostos, Darren Wallace, Michael Leaney
West Ward Tricia Jones, Keith David Cook, Jessica Anne O'Donnell
Coastal-Promontory Ward Alyson Skinner, Ray Argento, Jeremy Benjamin Rich
Strzelecki Ward Andrew McEwen, Aaron Brown, Lorraine Mary Brunt
Tarwin Valley Ward Don Hill, Maxine Kiel, Meg Edwards