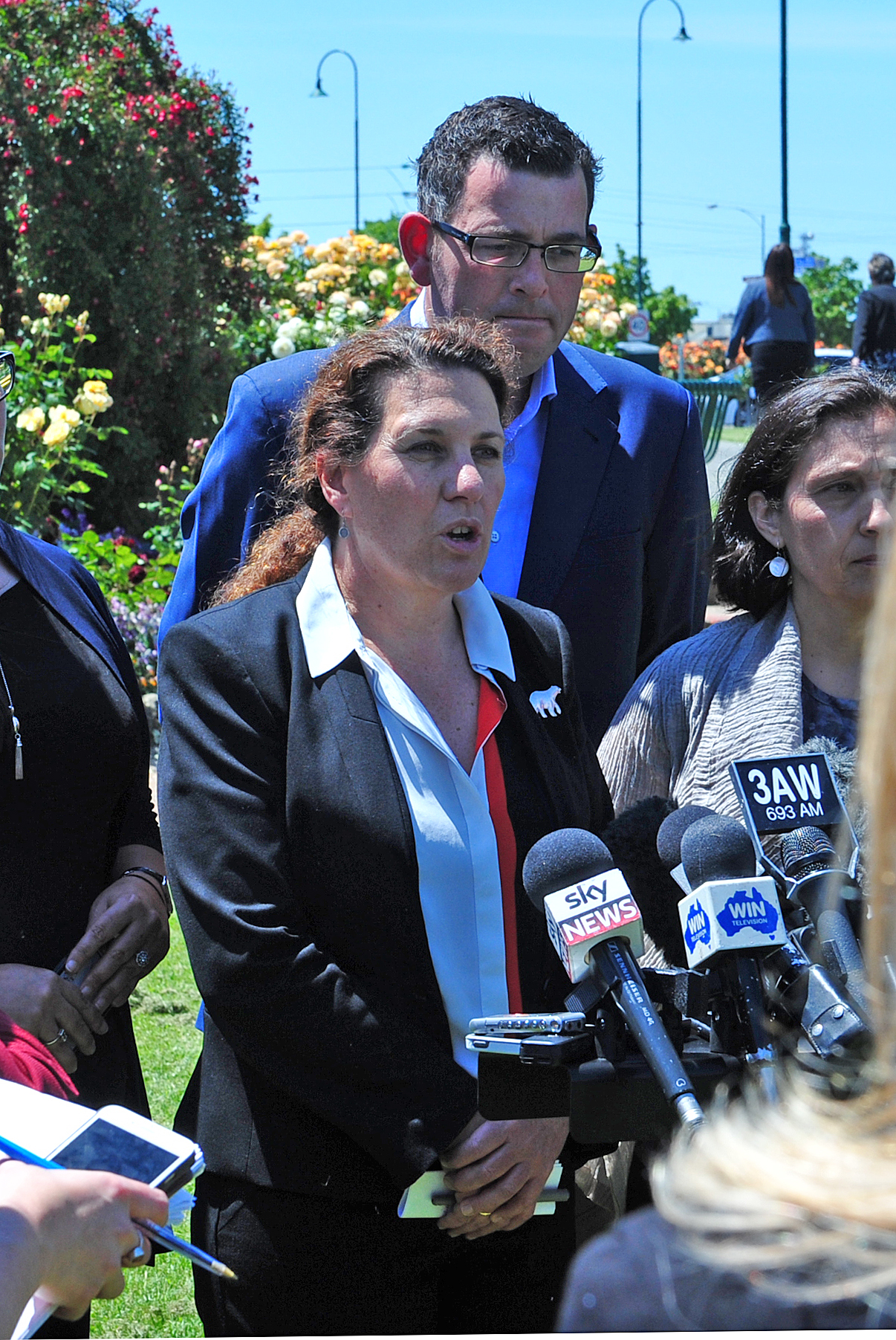 A Morwell-based 'Latrobe Valley Authority' has been established by the State Government to manage the region's transition in the wake of the Hazelwood closure announcement.
Premier Daniel Andrews announced $20 million for the new Authority last Thursday to give a voice to the community in planning for a post-Hazelwood future.
Interim chief executive Kylie White, a senior public servant with experience in the energy and resources sector, will lead a team of about 20 to offer a range of services to affected members of the community and act as a "listening post" for the State Government.
"The initial range of services, which we will do in conjunction with the Commonwealth and across all government departments, (are) along the lines of worker transition support, financial planning, counselling services, job skilling and education," Ms White said.
She said the Authority would partner with unions, community groups, businesses and workers to assist all impacted parties.
Ms White said feedback from all corners of the community would help inform the response, with a long-term approach to grow and diversify the business sector.
"(We want them to) talk about kinds of support they might be interested in. Individual support might relate to education, training, counselling, financial advice, job seeking, programs like 'back to work' (to assist) businesses and employees."
The Authority was fielding enquiries as early as Thursday afternoon, shortly after being announced by the Premier in Morwell's rose garden.
Mr Andrews said the Authority would be in place for the "foreseeable future" to act as a State Government presence on the ground.
"(This is) a Victorian Government consolidated in the Latrobe Valley, making decisions with and for the Latrobe Valley, not dictating terms from Melbourne or further away, but being right here on the ground being a presence in this local community," Mr Andrews said.
"(It's) a really important way in which we can get rid of the red tape, the bureaucratic indecision and have one place everyone in this community can go for the support they need, to have their say, so the right decisions can be made in this community for the Latrobe Valley.
"It's not for me from Melbourne or as the Member for Mulgrave to be telling the Valley what jobs they ought to be expecting.
"I want to have a proper conversation and actually listen to this community, something that has never happened properly; that's why the Authority is so important."
The Premier also announced the government's first stage response to Engie's closure decision in the form of a $22 million package of personalised support for workers and their families.
It will involve a worker transition centre to be based in Morwell in partnership with the Gippsland Trades and Labour Council; education, counselling, financial advice and subsidised job-seeker training for workers in transition; tailored business support; and expanding Latrobe Valley's back to work program.
Mr Andrews said there may be scope for the Authority to work with the Federal Government to assist the Valley following the Commonwealth's $43 million Hazelwood response package after speaking with Prime Minister Malcolm Turnbull on Thursday morning.
Federal Member for Gippsland Darren Chester said it was too early to determine the level of crossover.
"But it's important to note we've already had many discussions with local council, committee for Gippsland and the local community about our local priorities," Mr Chester said.
There will be local employment opportunities to work on the Authority, the Premier said.
For more information about the Latrobe Valley Authority and immediate worker support visit www.lva.vic.gov.au go to the office at 131 Princes Drive, Morwell or phone 1800 136 762.