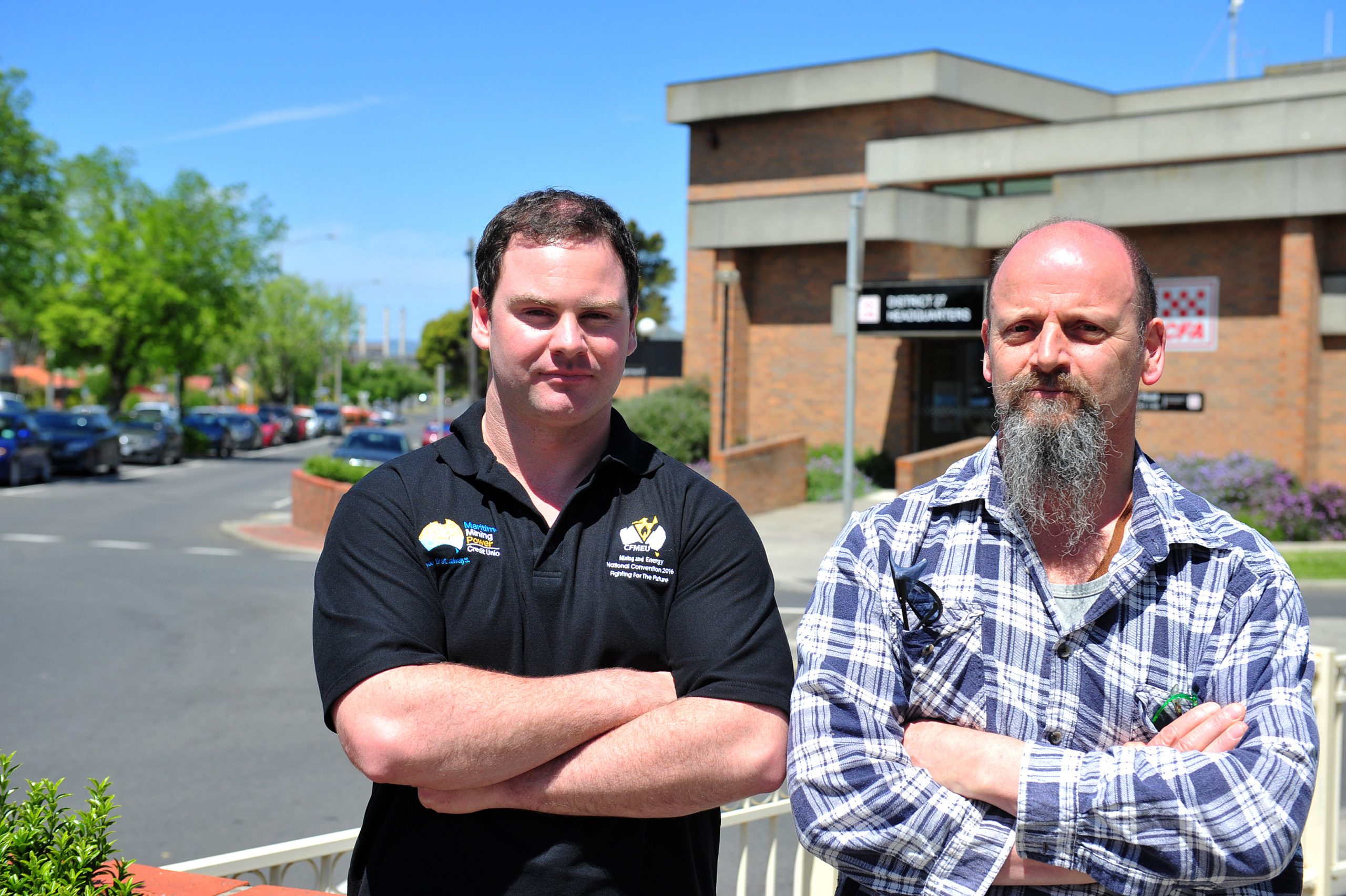 When Hazelwood mine worker Jason Baldwin woke up on Thursday he believed he would have a job for at least another decade.
"We were given work until 2025, (that) was our projection," Mr Baldwin said.
"It was plastered everywhere (on site) – 2025
"You see it every shift you come in, so you more or less start to believe it."
However, that all changed when he received a message at 9.10am Thursday summoning him to a meeting on site.
"I just jumped in the car and went down and I saw the big large tent set up and I thought to myself once I saw that big white gazebo type thing I thought to myself 'this is it'," the 31 year-old said.
"There's no magic cure or quick fix or anything like that; it's all happening."
The announcement means his career as a dredger operator at Hazelwood, which began 10 years ago, will conclude on 31 March next year.
He's still in shock.
"From an outsider's point of view it would be easy to say 'well hang on, with all the media coverage surely, surely you'd see the writing on the wall'," the Trafalgar resident said.
"What doesn't get seen is we're currently moving our dredgers into a brand new field.
"So you're spending lots of money and that's been continuing up to last week.
"With that sort of knowledge that's why the workers are in shock like they are."
Mr Baldwin, who has a mortgage and is thinking about starting a family, said the announcement had robbed him of security.
His work operating dredgers inside the mine is highly specialised and while other mines in the Latrobe Valley will continue to operate, he isn't holding out hope of finding work at another site.
"To be honest, that hasn't entered my mind whatsoever, because I know the realistic chances of being able to go over there are very slim," Mr Baldwin said.
"I know jobs have been minimised within the other sites over the years too."
He said he hoped to secure work locally but did not rule out a move further afield.
"A lot of it will be dependent on whether I get employed to do rehabilitation works," Mr Baldwin said.
"But it'd be simply flippant for me to say I'll go over to WA and find work other there because at the end of the day, the actual mining boom's finished.
"Whatever happens it's going to be hard – there's no easy answer out of it."
Ron Bernardi remembers the moment when his work mate looked at him moments before the announcement and said, "they're closing it".
About three second later, the 62 year-old plant operator was among hundreds of Hazelwood power station and mine workers told they would be out of a job by owner Engie's chief executive Alex Keisser on Thursday morning.
"The way that he spoke, it was as if it was in the past," Ron said of the surreal moment. He said the news took workers by surprise, with many expecting a staged closure – perhaps two generating units of the station closing down at a time.
The recent acquisition of the northern field of the mine in Driffield, guaranteeing future coal reserves, also seemed an assurance of a distant closure.
Currently on long-service leave until February and already planning to retire, Ron expects to only work about two months before Hazelwood closes in late March.
Like so many other experienced workers, unionists and the community, Ron's greatest concern is how the announcement will affect the station and mine's younger cohort in their 20s, 30s and 40s.
He likened the situation to an accident, once you know you can stand up, you check the welfare of others.
"They came up to me in the process and to me it looked like a 'deer in the headlights'.They assume that they're not going to have a job and don't know what the future holds for them," Ron said.
Ron said it was too early for "anger" with many workers still in shock.
He said some knew the Thursday announcement was coming via reports in the media, but wouldn't comment on the company's long held position "no decision had been made" during months of speculation.
Responding to media suggestions the Valley will become a "ghost town" without Hazelwood, Ron said the closure news would be nothing like the power industry's privatisation in the 1990s.
He said the closure was bad for the 750 workers directly affected and the flow of effect of perhaps 3000 jobs, but would not be the same as 11,000 Latrobe Valley job losses during that time.
"To this day I dislike Jeff Kennett for what he did," Ron said.
"I saw him give an interview at the Tullamarine airport about the SEC being privatised and it took all of my energy to walk past him and not tell him off.
"He treated the Valley very badly."