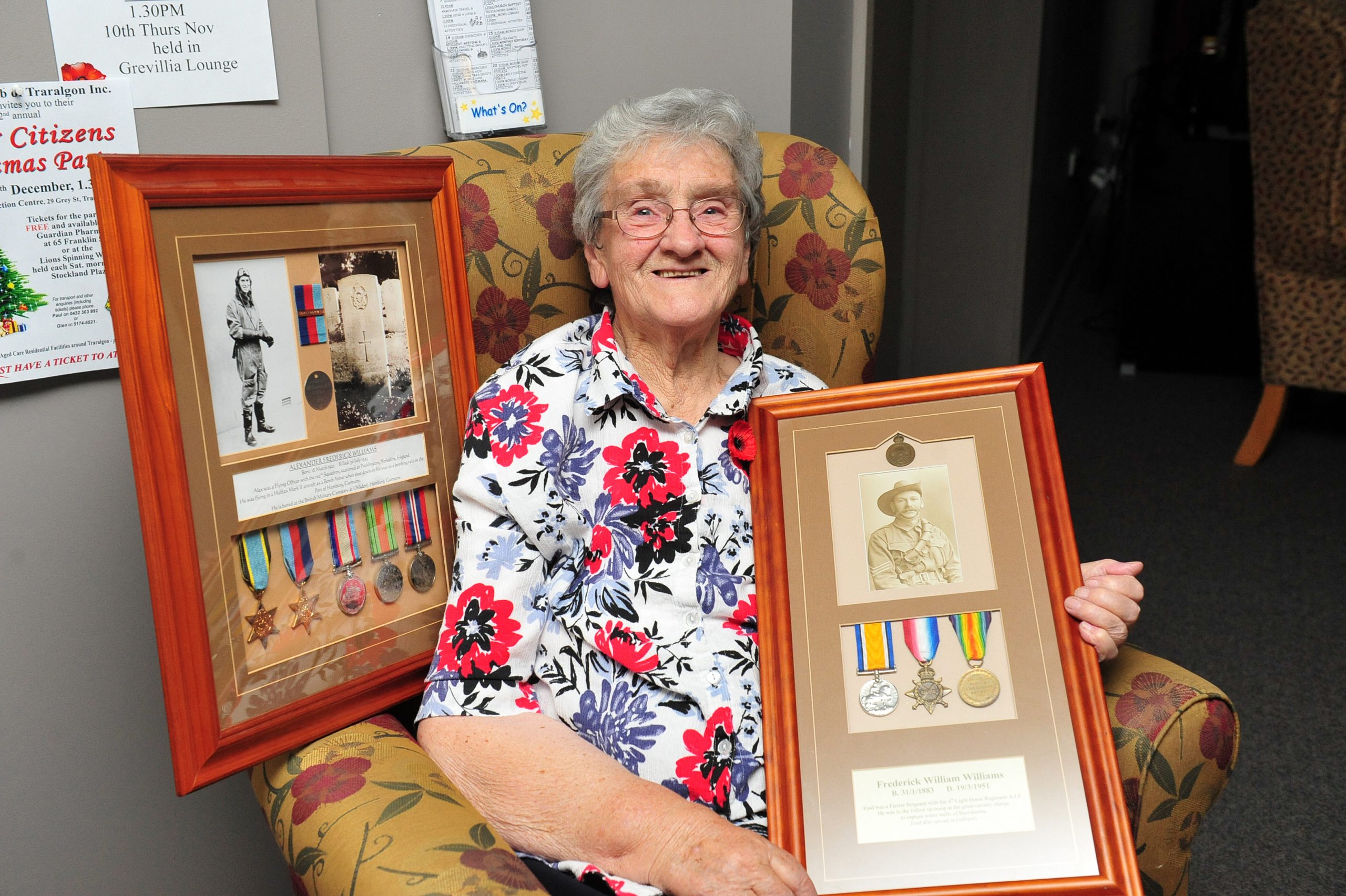 When Jean O'Brien hears the bugle call she is brought to tears.
The 85 year-old Traralgon resident is instantly reminded of her father, brother and uncle who represented Australia in the first and second world wars.
Jean said her father, Fred Williams, never spoke of World War I.
But she knows he was a Farrier Sergeant who was left in Egypt to mind the horses while his team was sent to Gallipoli.
Although Fred returned home from war, her uncle, Alex Wilson, wasn't so lucky.
Alex died during the charge of the 4th Light Horse Brigade at Beersheba.
"They were ordered to jump their horses across the German trenches to get water," Jean said.
"Actually the papers had just been signed to signal the end of the war. But Alex had a couple of prisoners, and one had a gun hidden… they found Alex sitting on his horse, which was called Tom."
Jean's family was again struck by tragedy in July 1943.
Her 21 year-old brother, Alex Williams, who was a member of the RAF 102 Bomber Command Unit in Pocklington, England was killed when his plane was shot down.
Jean said her family all knew when the unit went out on a raid one in four crew members wouldn't make it home.
"I can remember when I was nine I stood on the platform of Traralgon Railway Station waving to him until he got over the bridge of Breed Street," Jean said.
"That was the last I ever saw of him."
Remaining in Australia, Jean had an "ordinary life", mostly sheltered from what was happening in the northern states.
But she wasn't completely immune to the terrors of war.
Jean recalled a time at school when students would practise hiding in the trenches.
"When the bell rang we had to run across the road, jump in the trenches and put a pencil in our mouth," she said.
The pencil was to stop students biting their tongues in fear.
Despite the tragedy of losing her brother to battle, Jean couldn't be more proud of her family's sacrifice.
On Thursday she joined her fellow Yallambee residents for a Remembrance service, wearing a poppy with pride.
"Remembrance and Anzac days are very important to me because of my father and brother," she said.
"The war will always be a part of my life, and I am very proud of my brother."
Still after all these years the service doesn't get any easier.
"Every time I hear the bugle… every time I hear the Last Post I sook. It's very touching," she said.