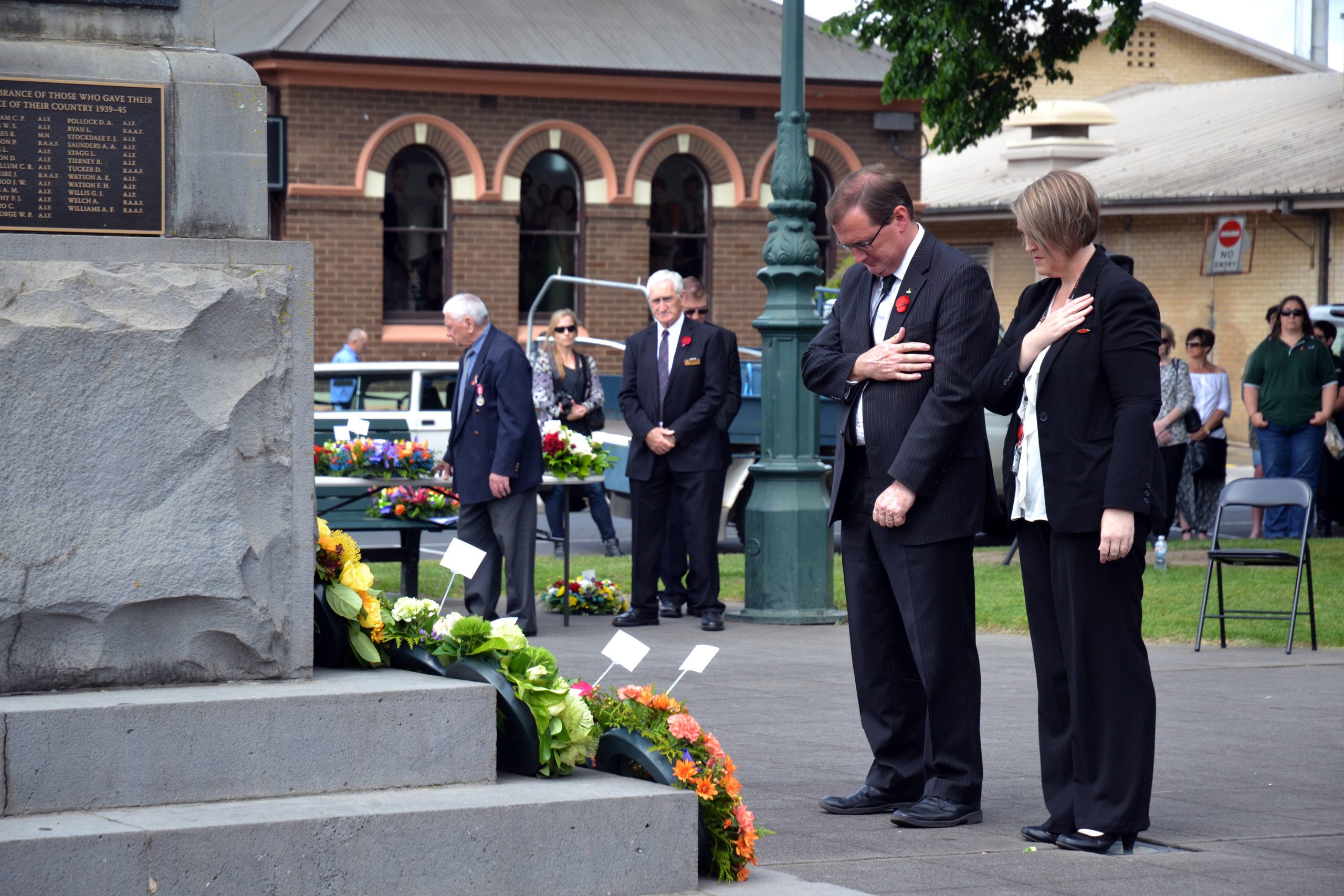 A vibrant cross-section of the community paid their respects to Australian servicemen and women past and present at the Moe RSL Remembrance Day service.
A crowd of more than a hundred veterans, schoolchildren, emergency services personnel, multiculturally diverse representatives and community members young and old lined Albert Street in solemn tribute to the fallen.
Moe RSL president Ian Caines said the town's service had grown in attendance during his time with the sub branch and was pleased to see the diversity among attendees.
"I can remember when I first got involved in the RSL the services were poorly attended, but in the last 10 years particularly the number of schoolchildren that get involved, the general community and all the other groups – like the SES, ambulance, police – all those organisations we appreciate their support as well," Mr Caines said.
Mr Caines said Remembrance Day held different significance for everyone.
"It's very much a personal reflection; each of us have different memories and we appreciate not everyone sees everything the same way, but this is a solemn day for Australia and for our veteran community," he said.
"For the veteran community of course we think back to that terrible First World War and the Armistice Day in 1918 and this is the 98th remembrance of that day.
"We also think of those people we served with who didn't survive the war or came back and were badly affected and their health obviously deteriorated."
A crowd of 300 gathered around the Morwell Cenotaph in remembrance of Australian servicemen and women.
On the 11th hour the crowd fell silent with only the distant hum of traffic to be heard among the schools, councillors, government representatives, veterans and general public in attendance.
The minute silence began with the reading of the Flanders Field poem by local primary school students, and ended with a trio of female flag bearers from the Air Cadets raising the flags from half-mast.
Morwell RSL president Bruce Jeffrey said the turnout was great, with a focus on the youth involved.
"The best thing about it are our young students from Morwell and Churchill and it's terrific, we're in good hands," Mr Jeffrey said.
"When it comes to Anzac Day and Remembrance Day our students and teachers must be congratulated."
Mr Jeffrey said the young students of today were doing a great job at continuing the tradition and meaning of the day and it meant a lot to him personally.
"I've got my daughter in the military and six generations have served in the military from my family," he said.
"Remembrance Day means a lot to me for my father, my grandfather, my great grandfather and my great-great grandfather."
About 100 residents attended Traralgon's service to pay their respects.
Traralgon RSL president Maurice Harrison said while he was "very happy" with the turnout he had expected more.
However, he understood Remembrance Day was not a public holiday.
Latrobe City mayor Kellie O'Callaghan said it was good to see so many young people participate in Friday's service.
"Not only to participate, but to learn about the experiences of those in the war, and the impact on their family and community upon their return," Cr O'Callaghan said.