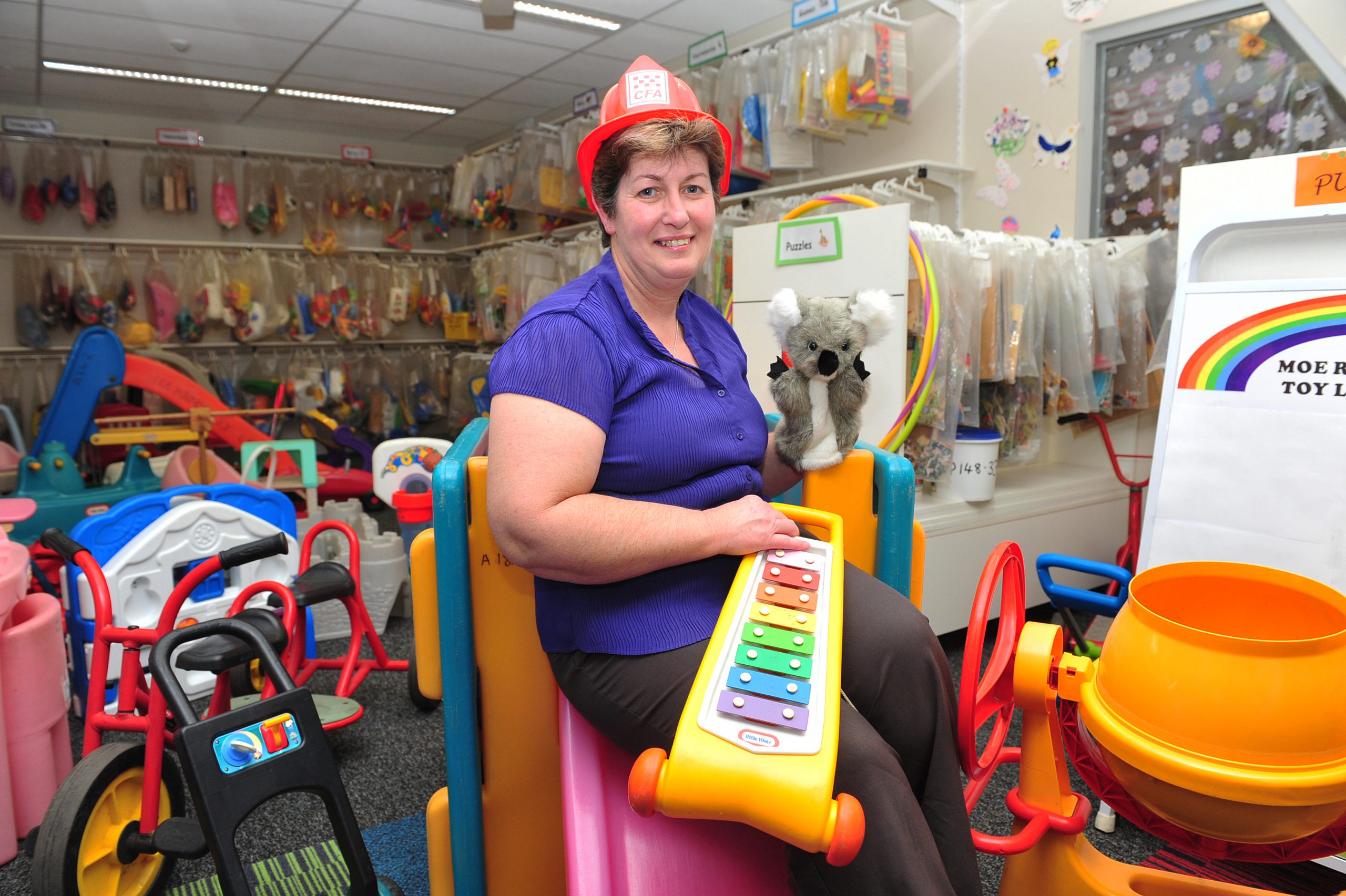 Mandy Wiggins has a toy story worth telling.
For the past 21 years she has volunteered at the Moe Rainbow Toy Library, helping to ensure children from all walks of life have access to playthings regardless of their family's financial circumstances.
Ms Wiggins has lent out bikes, playsets, puzzles, puppets, costumes, jumping castles and everything in between over two decades, bringing joy to those in need.
After a long-standing involvement Ms Wiggins has made the decision to retire from the committee, but doesn't think she'll ever truly say goodbye.
"I'm packing it in but there's a string attached, and one of those things is a heart string," she said.
"I don't think I'll ever totally push it out and not be involved."
The MRTL is a community service, based at Moe P.L.A.C.E where families can borrow toys for children aged zero to 12 for a small annual fee.
Ms Wiggins joined the library in 1996, when son Justin was about eight months old, and within a year had become committee treasurer.
She's helped the library flourish through several changes of location, a flood which put it on a year-long hiatus, and a host of challenges to the community.
When Black Saturday bushfire victims were holed up in relief centres, the Toy Library made sure the children affected had something to play with.
Ms Wiggins has made countless glitter tattoos for fundraising bonfire nights, organised Bunnings barbecues in the effort to add new toys to the collection of about 700, fixed broken toys and has spent hundreds of hours streamlining the service.
Among her contributions was transferring all the toys into transparent bags and cataloguing them for easy access, as well as creating a digital database for the borrowing service and moving the library to Moe P.L.A.C.E about six years ago.
Now working as an integration aid at the neighbouring school, Ms Wiggins said it was all worth it to see the smiles on children's faces.
"It's lovely to see the growth of the children. They come in here as one and two year olds and the next thing I see them going off to school and they come running in and tell me, 'Mrs Wiggins I can read!'" she said.
"I now have kids I know from the Toy Library at the school. So watching them grow and watching them discover things, seeing them become part of a little community themselves and developing their skills has been very rewarding.
"It's lovely to see them come running back in when they've got a little brother or sister and they get excited (about toys they used to play with)."
She said the service filled an important role in the community, with parents, foster carers, grandparents, day care staff utilising it.
"Children learn through play, so being able to offer those children different experiences without the high costs involved, letting them play with puzzles that cost $30… borrowed from us… it's a really good service to have around," Ms Wiggins said.
"Things like big toys that are very expensive, for some families that's just unreachable, so for $35 a year they can come in and borrow that toy as many times as they like from us.
"Our favourite saying is it's the toy shop where parents don't have to say no."
Ms Wiggins said her involvement had led to many friendships and community bonds over the years.
"It's a great way to ease into becoming part of a community service, meet friends, give your children some of the experiences they need for growth and have some fun along the way," she said.
The committee plans to send Ms Wiggins off in style with an upcoming community farewell day.
For more information about the Moe Rainbow Toy Library, phone 0412 812 720, email
mrtlrainbow@gmail.com or visit the Facebook page.