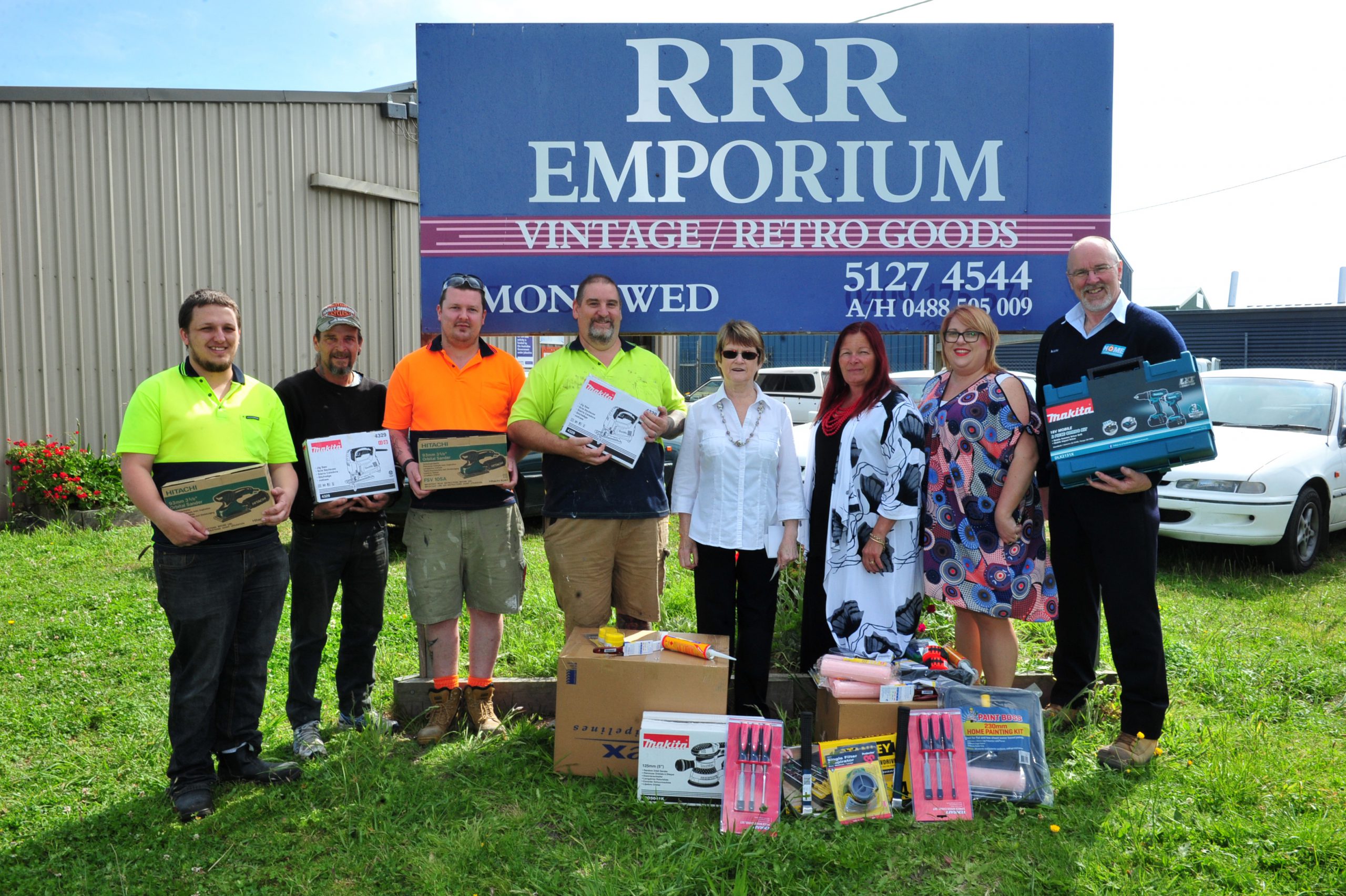 Four years ago Christmas was stolen from a Work for the Dole program in Moe when tools were pilfered from the RRR emporium in late December.
But there was festive cheer at the workshop this year when Moe's St Vincent De Paul's conference and Home Timber and Hardware combined to gift the program new equipment for its furniture manufacturing and restoration activities.
Program supervisor Darren Patrick, who supplies his own tools for use, said it was a much appreciated gesture which allowed the operation to continue helping its unemployed participants.
"They're all unemployed, they're all a great bunch of guys who've had a rough knock," Mr Patrick said.
"Some of them have been out of work for quite some time. It's not that they can't work or don't want to work, there's just not the work there.
"We're dealing with an older crowd now as well and they're often overlooked… the 45-plus bracket are finding it harder to get into work now."
The program started with furniture restoration about four years ago and has progressed to include manufacturing.
The crew has expanded to about 35 participants and Mr Patrick said it had become more than just a place to upskill unemployed people.
"As much as it's upskilling, sometimes it's just a place to be involved," he said.
"I like to think of it as a family. I've gotten to know most of these guys fairly well… I've been doing it for 15 years.
"I consider a lot of these guys friends now and I've kept a lot of relationships over the years."
The emporium sells its goods at a low cost to cater for people who may not normally be able to afford certain items of furniture.
St Vincent's raised about $1500 for purchase of tools at cost price from Home Timber and Hardware, who also donated some goods.
President of the Moe St Vincent's conference Kathy Cardamone said the organisation had worked with RRR for the past four years and was thrilled to lend a hand.
"They're working with people to make them feel wanted and useful… they're a good business." she said.
Moe St Vincent's is currently in desperate need of volunteers and has put the call out to the community.
Any prospective volunteers are encouraged to phone Kathy Cardamone on 0447 352 276 or Sheila Hardy on 0438 315 478.