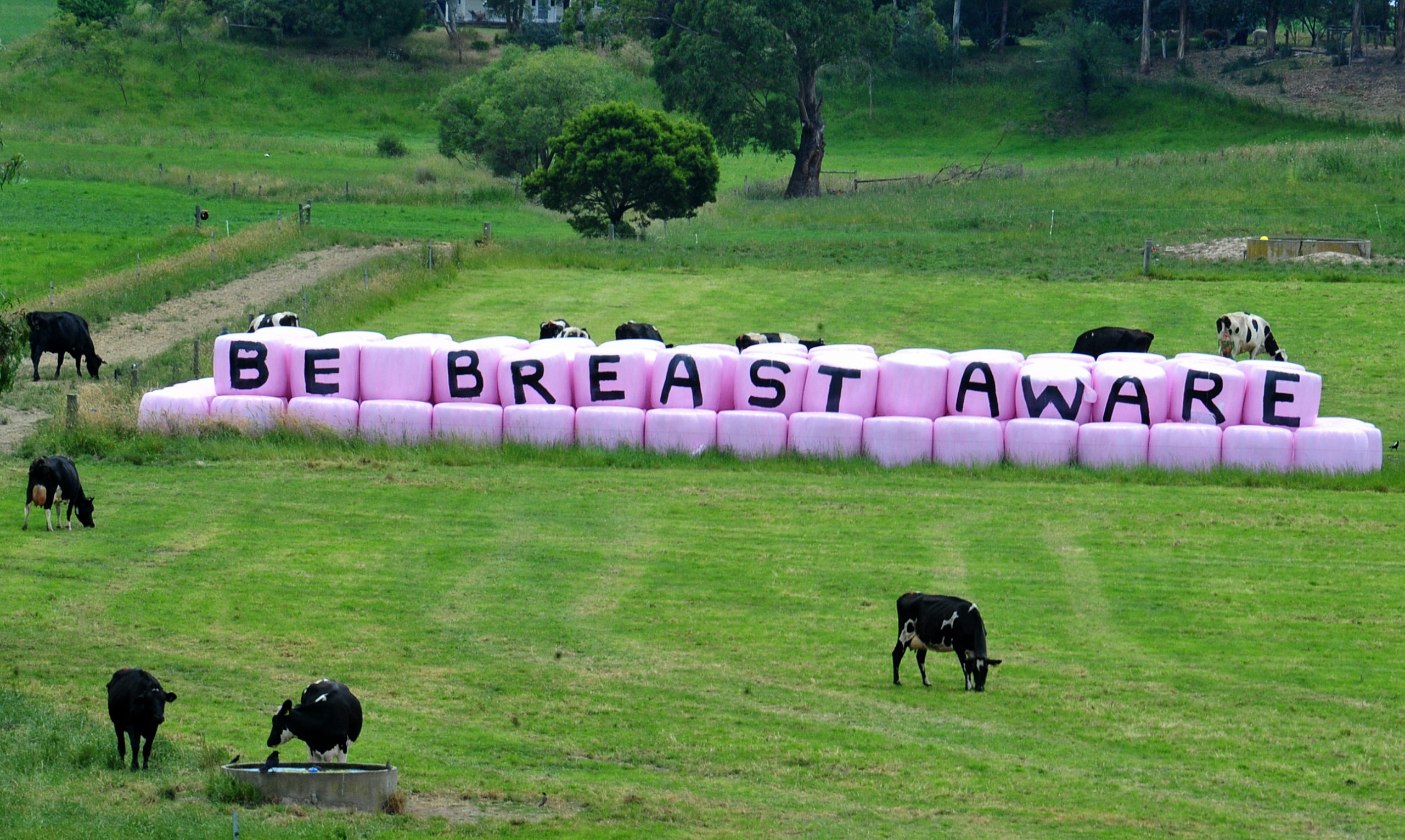 'Save a life, grope ya' wife'.
The slogan – among a series of catch phrases painted on pink bales in Yinnar South – has understandably turned heads but is all for raising awareness about breast cancer.
After her mother was diagnosed with the life-threatening disease last year, dairy farmer Tammy Pettigrew bought 40 rolls of pink silage wrap and decided to make the signs.
For each roll of the pastel coloured wrapping, $5 is donated to breast cancer awareness efforts.
"A couple of people asked me, 'Why did you buy pink wrap?' So I decided to write messages," Ms Pettigrew said.
She said her brother, who manages the 650 cows on the dairy farm, came up with some of the more imaginative slogans.
"I was a bit worried because the road is on a school bus route and I thought I might get complaints from parents," Ms Pettigrew said.
"So I've put that one (Save a life, grope ya' wife') down by the dirt road near the creek so the kids don't see it."
The fourth generation dairy farmer said her mother Annette Brister, was now in the clear and doing well while continuing with her six month breast exams.
"It's all about bringing it to peoples' attention to have a mammogram because it's so important that you find it before you feel it," Ms Pettigrew said.
She said it was so important for woman to get checked, and reminded women over 40 to receive a free mammogram through Breast Screen Australia.
"I had a lady from Boolarra tell me that she has gone to make an appointment.
"It's about making people aware of the importance of the mammograms and finding it early and its obviously worked if I've found one person contact me to tell me."