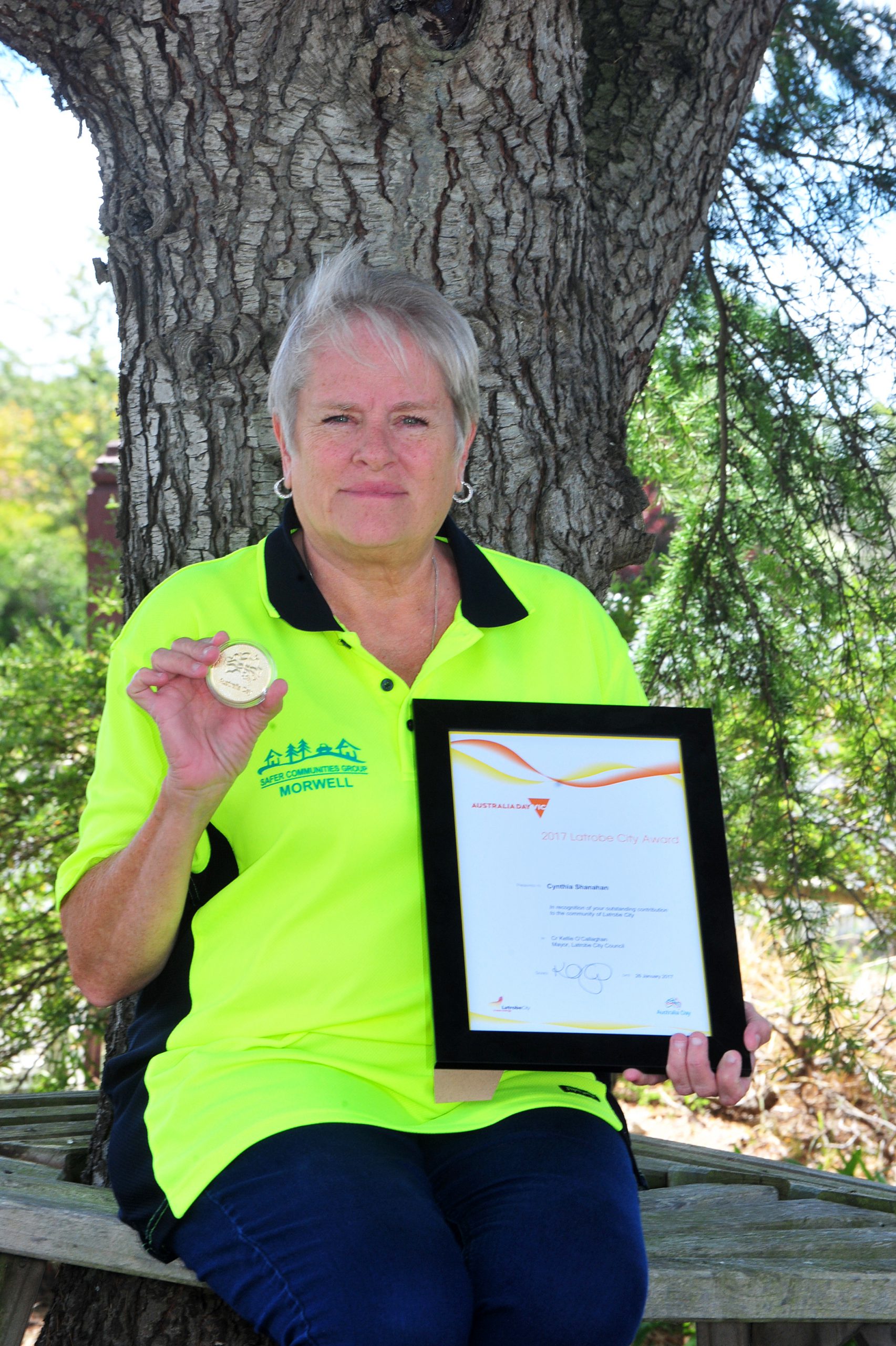 When Cindy Shanahan would drive through the Latrobe Valley on her way to Melbourne, she never imagined one day being recognised for her service to the region.
The Texan-born 62 year-old moved to Wollongong in 2001 before relocating to the Valley with her husband Tom in 2006 because of its picturesque landscapes and tight-knit community.
More recently, the Morwell resident of 11 years was honoured with the 2017 Latrobe City Community Service Recognition Award.
"It means a lot to be recognised for my service, it's nice to know people think I'm doing a good job to help my community," Ms Shanahan said.
"I enjoy helping anyone who needs a hand, regardless of who they are or what they do."
Ms Shanahan is an active volunteer with the Morwell Neighbourhood Watch Safer Community Group, committee member with Morwell Neighbourhood House, a Morwell Free Store volunteer, a charter member of the Rotary eClub of Latitude 38 and Advanced Morwell member.
"You get to meet your community and know what they are concerned about and what they like," Ms Shanahan said.
"I have a motto which best describes the work my husband and I do – 'community giving back to community' – I think it describes it nicely.
"We have the time to get out and give our community some help, it's what we live for."
Ms Shanahan said she was surprised to receive the award, citing she was not a long-term resident of the Valley.
"My husband Tom owned motels in New South Wales but had to retire due to unforeseen circumstances; that's when we moved to the Valley." she said.
"We would often travel through the Latrobe Valley, we loved it and thought it would be a beautiful place to live… so here we are 11 years later."
Bunnings Morwell activity organiser Barb Harvey said Ms Shanahan was an incredibly community-minded person who said "the world would be a better place with more people like her".
"Cindy is absolutely amazing, she always jumps in to help us with our barbecues and family nights and is very reliable and dependent," Ms Harvey said.
"She's always doing something for the community."
Ms Shanahan said she did not enjoy being in the limelight and was looking forward to "getting back to business".
"I'll be running the barbecue at Bunnings Morwell today to help raise funds for Gippsland Farmer Relief, the community never stops," she said.
"Volunteering is an important aspect of our community; it makes Latrobe City a great place to live and work.
"Without the other members of the groups and community organisations I work with, many things would not be possible and without them there wouldn't be me."
Ms Shanahan is also a recipient of Rotary's prestigious Paul Harris Fellowship.