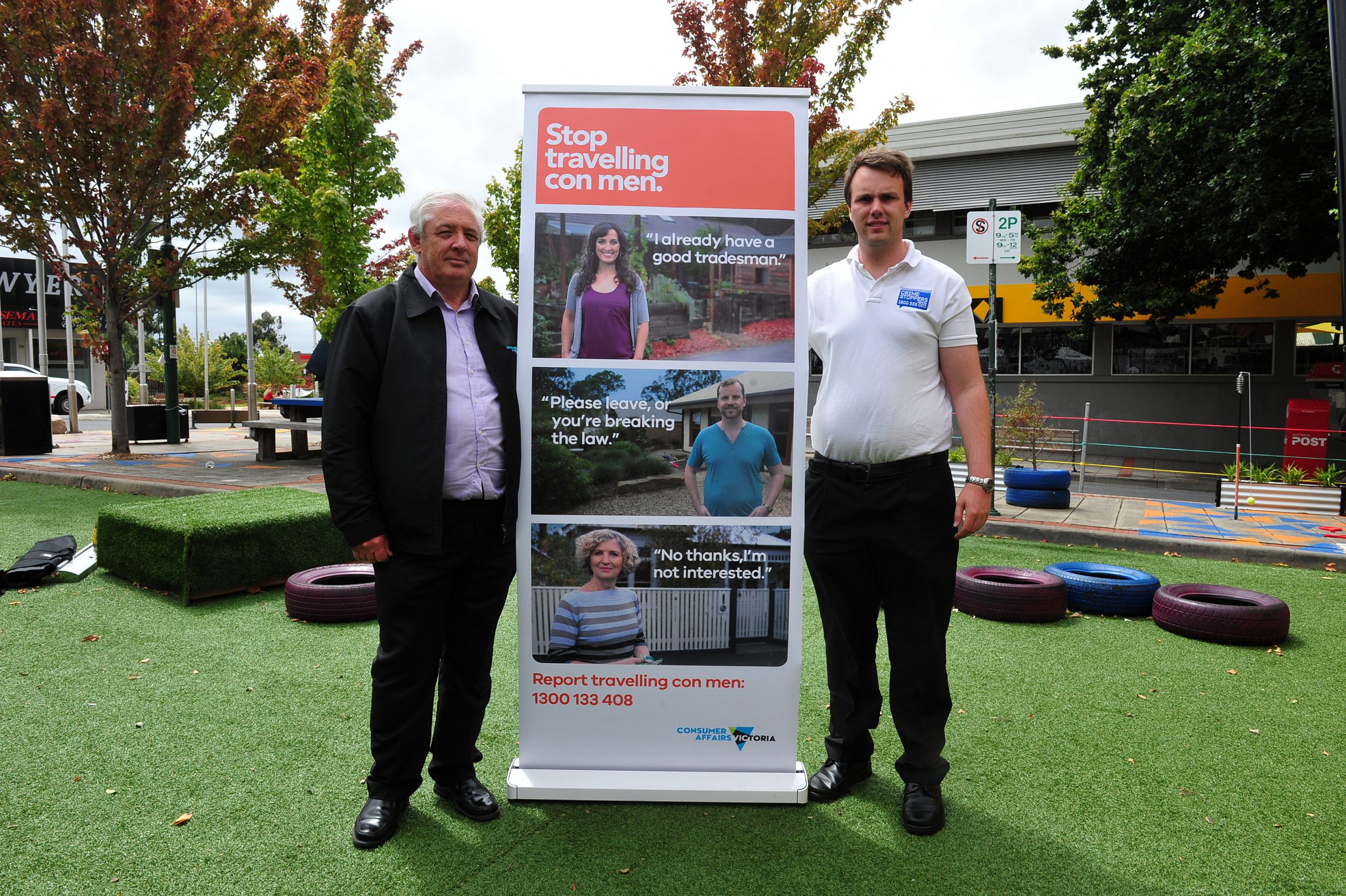 IF it sounds too good to be true, it probably is.
That's the message from Crime Stoppers to Latrobe Valley residents as travelling con-men begin to surface.
Crime Stoppers launched a campaign in Morwell this week urging residents to be on the lookout for unscrupulous tradies going door-to-door offering home maintenance and repairs at low rates.
They commonly spruik 'today only' offers or claim a nearby job had been cancelled, but will perform shoddy work or none at all, leaving victims out of pocket.
Consumer Affairs Victoria Gippsland region manager Tom Dinsmore said con-men tended to follow natural disasters, such as bushfires, and were more prevalent during summer.
"Travelling con-men seem to follow natural disasters, so this time of year particularly in Gippsland with the high bushfire risk they will follow around to offer services at a cheap rate for repairs or anything else they can do," Mr Dinsmore said.
"Travelling con-men are… taking advantage of vulnerable or disadvantaged people, offering them something that sounds too good to be true and it generally is.
"If the deal sounds too good to be true it is false, say no thank-you and tell the travelling con-men to go away. If they fail to go away they're breaking the law."
Requests for cash-in-hand, payment wanted today, assistance with payment such as offering to take you to an ATM and advance payments are all warning signs.
"As soon as they've got the cash in hand you won't see them again," Mr Dinsmore said.
Crime Stoppers community manager Chris Plumridge said disadvantaged people and those not fluent in English were often targeted.
"It is important to look out for your neighbours and relatives and report any suspicious activity," Mr Plumridge said.
"Always use a qualified tradesman and check credentials before anyone is hired."
If approached by con-men residents are advised to take note of registration numbers and a general physical description to assist police.
People are advised to report them to Crime Stoppers by phoning 1800 333 000 in the first instance to ensure police and Consumer Affairs are involved.
The national travelling con-man hotline is open from 8.30am to 5pm Monday to Friday and can be phoned on 1300 133 408.
For more information and tips on how to protect yourself from con-men, visit consumer.vic.gov.au/travellingconmen