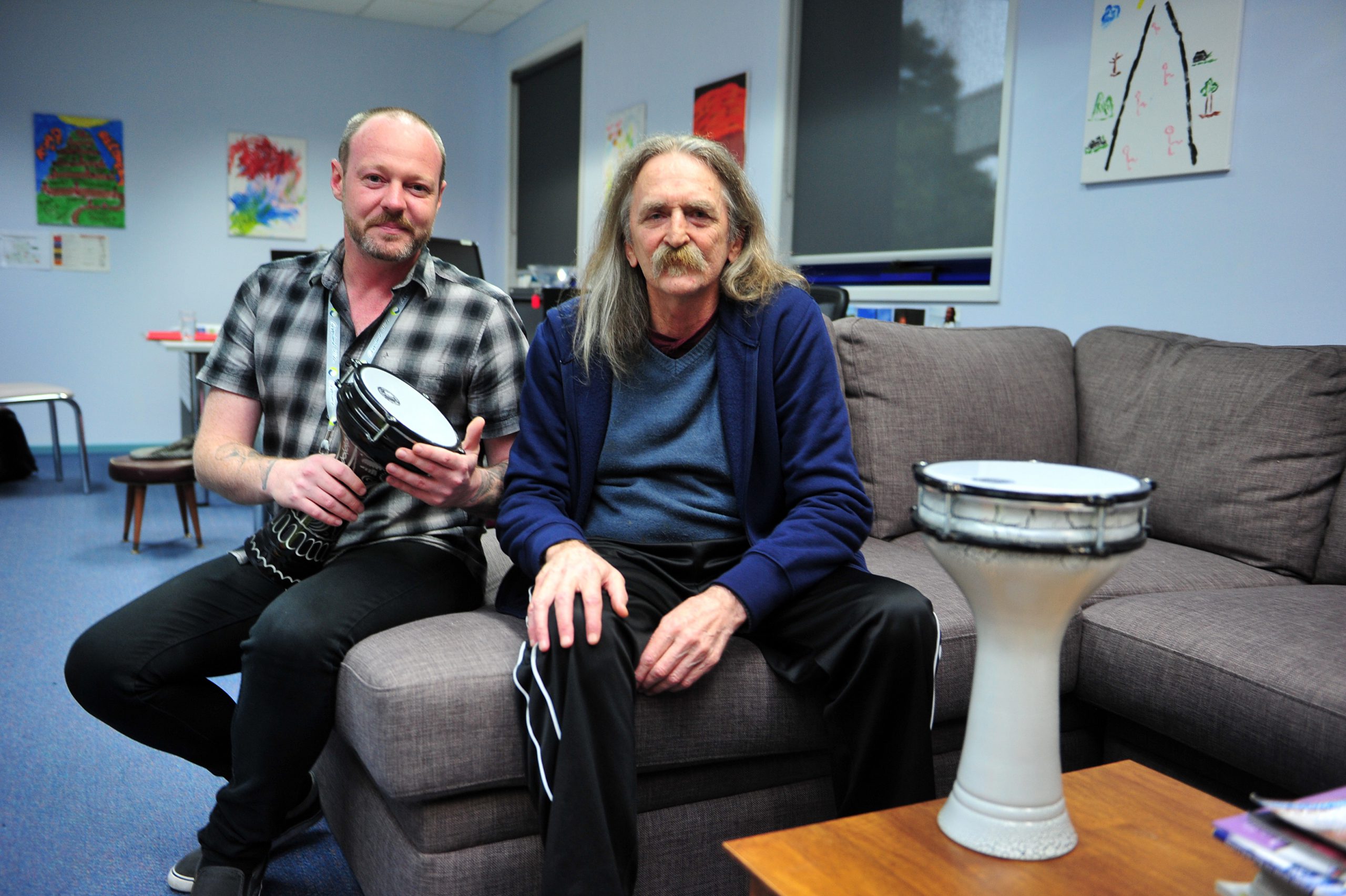 Former Rose Tattoo drummer Michael Vandersluys knows the demons of addiction.
He grappled with recreational drugs as a musician in the 1970s and later in life with prescription medication after two car accidents.
Having come out the other side, he's now helping others do the same.
Michael is a registered volunteer with Latrobe Community Health Service Moe's day rehabilitation program, where he conducts music therapy sessions alongside clinical lead James Dale.
The six-week program was formed as part of the ice action plan in 2015 through the Department of Health and Human Services as a way to bridge the gap in service between people going into detox and the wait list for rehab. It caters to people suffering from addiction of all types, be it alcohol, ice or prescription medication, and uses a range of educational and therapeutic resources ranging from presentations by health professionals to art, yoga and music – often revered as a powerful healer.
As a percussionist, Michael's sessions are about achieving focus and mindfulness through rhythm, leading to a state of pseudo-meditation.
"We call it mindfulness, it's about being focused on yourself rather than others, focused on what you're doing," Michael said.
"How we can do that with music is physically with timing and things like that."
A typical session will open with Michael playing his dulcimer – a small string instrument – in a 'raag' – a classic Indian style of music to "get in tune with everyone".
"They're very spiritual people so they can literally sit there for hours just doing a raag. That in itself is like a meditation, it's really beautiful," Michael said.
Activities then promote focus; one exercise involved groups playing competing beats which they had to maintain amid the distraction of others, including Michael coming in hard on the bongos.
James said the music sessions tapped into broader concepts.
"We wanted to do music therapy for a long time but we didn't have the resource or someone wanting to give back to the community, so when Michael and I started throwing the idea around we came up with the idea of using music for mindfulness," he said.
"A lot of substance users – their life is really chaotic and it's time to focus on what you need to get done while you're here, so it's kind of like a metaphor.
"A lot of them say to us they feel a lot more relaxed or calm. The whole mindfulness thing, yes, it's about getting them focused on what they're doing but it's also hugely relaxing."
For Michael, involvement in the program has reignited his dormant passion for music and fulfilled a long-held ambition.
In a newspaper interview Some 25 years ago he said he wanted to become a drug counsellor and he's finally realising that goal.
"That all went out the window when my wife passed away, but now I've got this chance I'm so there," he said.
"It means the world to me, it's given me another lease on life. It's different, but I get so much gratification, I actually feel good about myself again.
"My son is caught up in all this and hopefully one day he'll come here, and I'll be here and be able to help him."
The LCHS program is partnered with Windana's alcohol and other drugs rehabilitation day program.
It is primarily therapeutic but also has a strong drug education component with a holistic approach to recovery. Most clients go through intake and assessment partners but people can self-refer if they're involved in LCHS programs already.
For more information, including how to refer, phone LCHS on 1800 242 696 or ASCO on 1300 022 760.