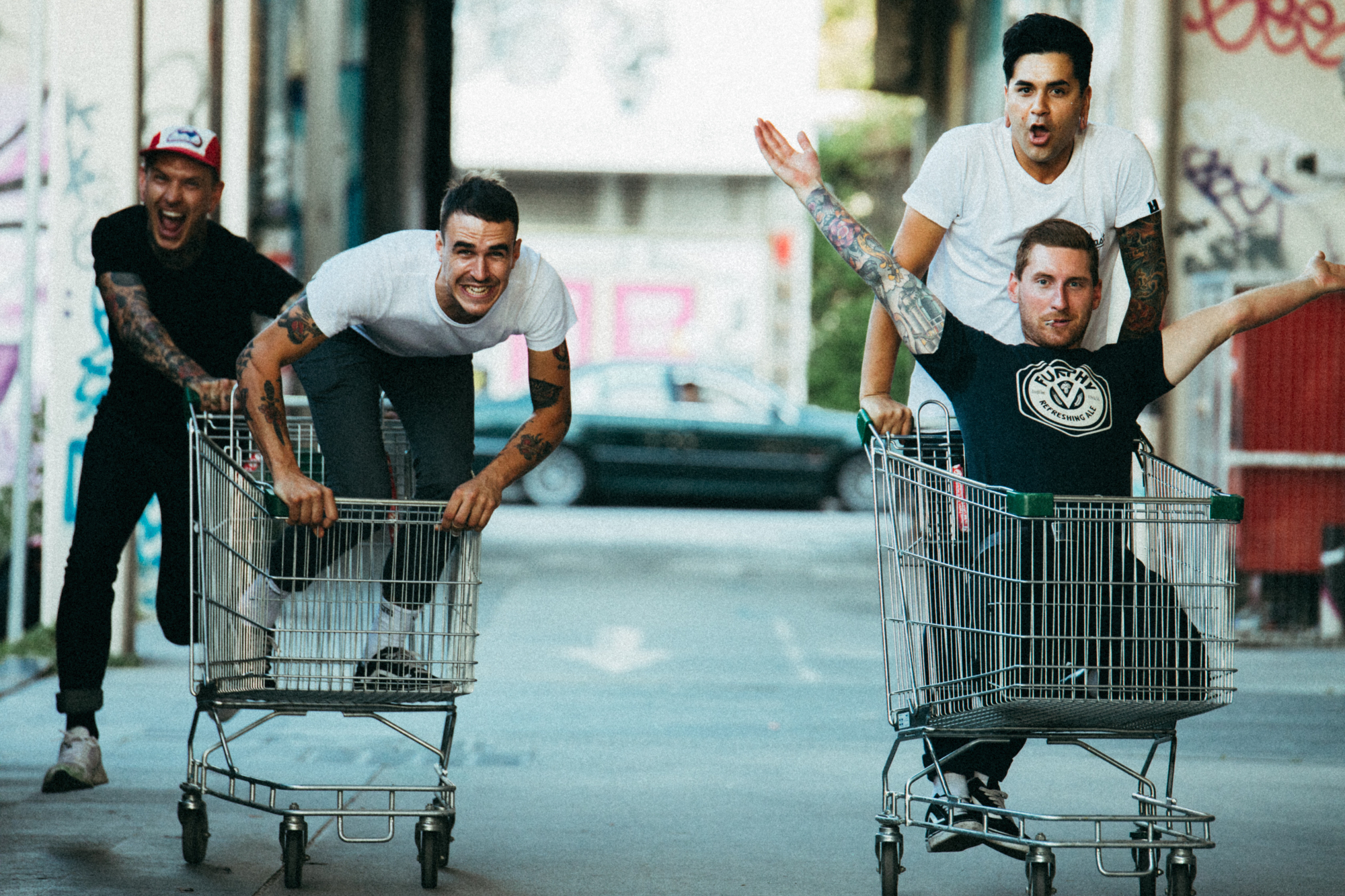 Before you read any further, jump onto Youtube and search for Melbourne band My Echo's third single 'Meet you there'.

I'll wait.
The mischievous ensemble's tongue in cheek '80s rock knock-off clip paints a telling picture of the band's larrikinism and high-energy musicianship.

That brand of ball-tearing, feel-good punk rock – spliced with a spattering of eclectic genre hopping – is set to blaze into Traralgon's Spirit Bar on Saturday, 25 February.
Forged by a ferocious touring schedule since forming in 2011, My Echo has cut its teeth on the road.
They've played alongside the likes of Kingswood, Tired Lion and their personal heroes Jimmy Eat World, producing a pair of EPs along the way.
Ala the Jezabels, the band was making a name for itself on the circuit before dropping a studio album, gracing the stage at festivals such as Groovin' the Moo, before they hit a speedbump.
Among personnel changes, vocalist and guitarist Brenton Perry fell ill, and the future of My Echo was uncertain.
However, they bounced back to produce their first full length album 'Brothers', set to drop on 3 March, and are getting back to their roots by hitting the road.
While the mullet wigs and skivvies featured on 'Meet you there' may not make a re-appearance, Mr Perry said the same spirit would be on show at Spirit.
"To be honest we dress almost like that anyway; getting a bit older and just want the comfy shoes instead," he said.
"The song sort of warranted a funnier approach in terms of a video. It's sort of like a happy sounding song but it's got a serious subject.
"If we didn't take the piss a bit I'm not sure the song would have come across as intended."
But there were moments of existential crisis during its production, given the stylistic direction of the hipster movement.
"I was thinking when we were doing it hang on, is this tongue in cheek or is this actually cool now?" he said.
A self-described 'inefficient writer', Mr Perry said the process of churning out tracks for the album was at times painstaking – with some taking years to finalise – while some songs came together days before recording.
Despite the challenges along the way, the end product is something to hang their hat on.
"Personally it feels like a bloody humungous weight off my shoulders and I'm proud of it, it took us a long time to get there but we're so stoked we managed to get there and all the material on the album we're really proud of," Mr Perry said.
With band members hailing from Traralgon, the town is always a favourite destination for the veteran tourists.
They'll drive up from Adelaide, where they're playing the night prior, in the time honoured band van, but this time it has a different feel about it with an album just around the corner.
"It's the same thing, you're stuck in the van the whole time, but it feels exciting. We're stoked to get back out there," he said.
My Echo will play at Traralgon's Spirit Bar on Saturday, 25 February.
If you like "loud drums and guitars" they'll be glad to meet you there.
For more information and tickets visit www.myecho.band or www.tickets.oztix.com.au