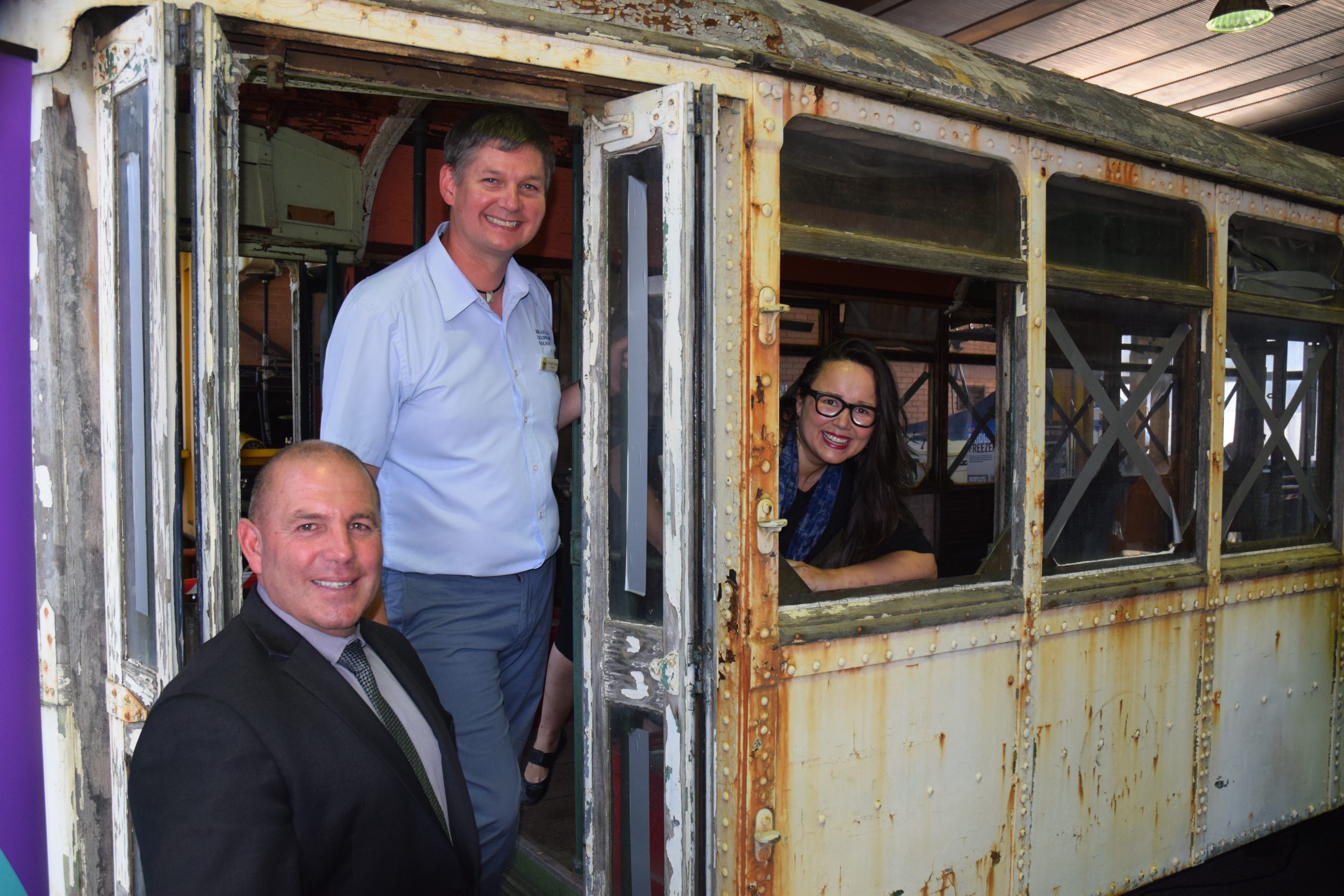 A former Melbourne tram owned by Walhalla Goldfields Railway will undergo a complete rebuild after the State Government announced a $300,000 commitment to fund part of the restoration.
Earlier today Regional Development Minister Jaala Pulford and Member for Eastern Victoria Harriet Shing made the announcement which would see the current unit rebuilt as a diesel self-propelled rail tram.
Walhalla Goldfields Railway president Michael Leaney said the tram would boost tourism in Walhalla and the surrounding areas but cited significant work was required to get the tram back on track.
"The major work being undertaken is in the drive-train, bogies and putting the diesel (engine) in – that's where the main work is and quite a lot of engineering needs to be done for that," Mr Leaney said.
An additional $150,000 will be provided by Walhalla Goldfields Railway to assist the restoration expected to be completed by mid-2019 and construction of a shed to store the 1920s tram at Walhalla.
Ms Shing said the commitment to fund the project would have everlasting benefits down the track.
"We will see millions of dollars being spent as a consequence of the enhanced services running seven days a week as well as additional jobs creation," Ms Shing said.
"This is something that benefits the entire Valley area, not just in the Baw Baw Shire and the Latrobe Valley area but also … throughout Gippsland.
Ms Shing said the project had received "sensational input and investment" from local people and businesses who wanted to contribute to the rebuild.
"The beautiful tram car will be restored by locals, by experts and by people with a real passion and love for the historical railway," she said.
Mr Leaney said as a result of the restoration the railway service will extend to a seven-day-a-week operation.
"The tourism economy in Walhalla is huge and it's especially important because we're totally reliant on it," he said.
"The days are gone when people went on weekends … it doesn't work like that, people are out and traveling all year round and we need to provide those services."
Tram '461' was built in 1926 and is one of only 10 of the X1 models built in Melbourne and serviced on the Footscray network.
"There's still nine (trams) surviving. Two of them are operational in Auckland, New Zealand, one of them is over in Bendigo and there are some owned privately."
Ms Pulford said rebuild would bring an additional 15,000 visitors to Walhalla and boost the local economy by almost $1 million each year.
The tram restoration forms part of a wider project by Walhalla Goldfields Railway to extend the railway towards Erica.
"We do have some proposals up before government and hopefully that will be successful – that's a $6.5 million funding bid to actually extend the railway from our current terminus at Thomson through to the T intersection on the Boola Road which is where you turn off into Walhalla," Mr Leaney said.

"It's not quite Erica, that's a bit further afield but that's the first stage we're looking at to get done."
The funding comes from the State Government's $103 million regional tourism and infrastructure fund.

This is is a separate pool of funding to the Hazelwood transition money.