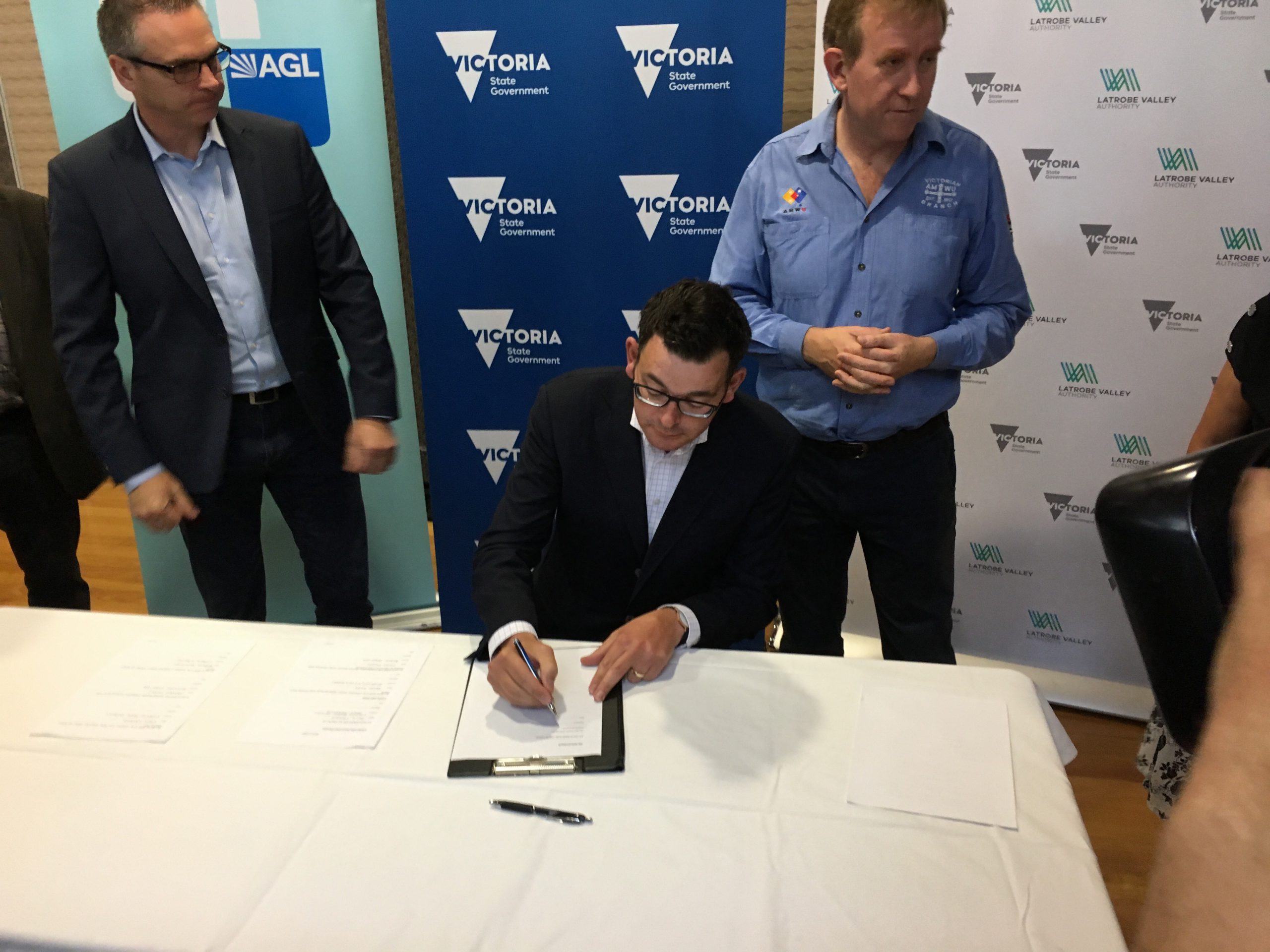 Premier Daniel Andrews today signed off on a deal which will allow workers affected by the closure of Hazelwood to transfer to other Latrobe Valley power stations.
The deal will allow older employees at other power stations within the region to take early retirement packages to create positions for younger workers from Hazelwood.
The premier signed the Latrobe Valley Worker Transfer Scheme Partnership with Loy Yang A operator AGL at the Morwell Bowling Club shortly after 10am on Friday.
"Never before have we been able to arrive at a worker transfer scheme agreement like the one we have just signed," Mr Andrews said, flanked by Hazelwood workers and unionists.
"The way this has worked is through the agreement of AGL in the first instance."
The government will spend $20 million from its $266 million Hazelwood transition package to facilitate the agreement.
The premier said in-principle support for the scheme had also been secured from Loy Yang B operator Engie and Yallourn owner Energy Australia.
Today's signing follows Industry and Employment Minister Wade Noonan's visit to the region on 1 March where he announced AGL had given in-principle support to the scheme.
The agreement will provide hope to workers who are due to finish work in three weeks' time when Hazelwood closes down.
"Many people who are with us today have much working life left in them. They want to stay here in the Valley," Mr Noonan said.
"This creates a pathway for those workers to continue their great skills, stay in the Valley and obviously raise their families and contribute to the local economy."
The agreement has also won the support of State Member for Morwell Russell Northe, who has been critical of the government's handling of the closure since the beginning.
"This is what we've been calling for for some time," Mr Northe said.
"So whilst I think it's a welcome outcome for some of the workers, the reality is we still need to find new jobs and new employment for all those other impacted workers and contractors."
More in Monday's Express.