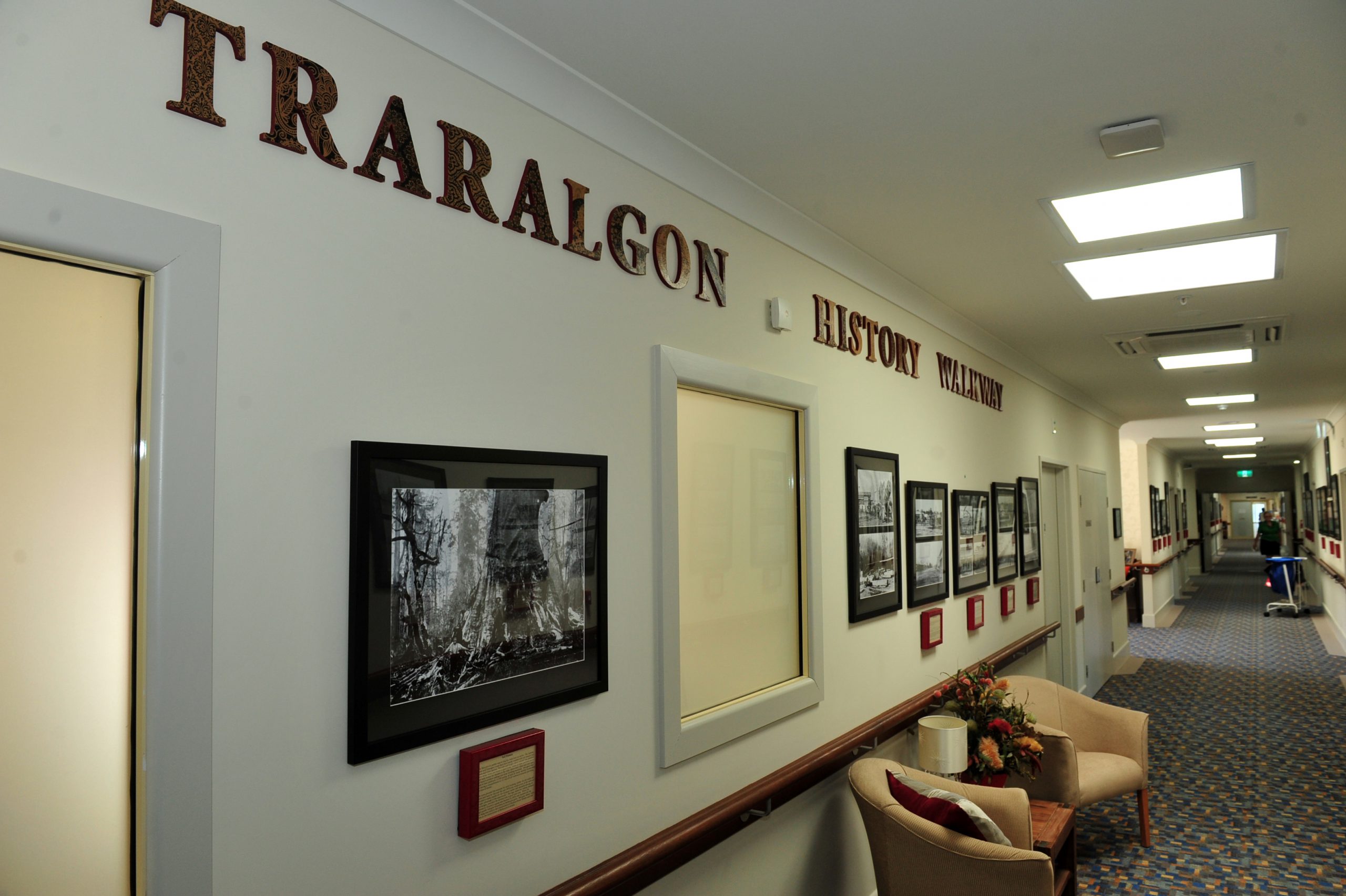 From the very foundation of Traralgon to the formation of the Traralgon Band in 1881, royal visit in 1954 and more, the history of the 3844 postcode has a new home.

Bupa Aged Care recently unveiled the Traralgon History Walkway, a literal walk down memory lane showcasing photographs, memorabilia and landmark moments in the town's history.
The 12-month project, a joint initiative between Bupa and the Traralgon Community Development Association, includes more than 50 large frames of images, information and heritage items collated by residents and locals.
Construction of the Royal Exchange Hotel in 1882, the establishment of Traralgon Football Club and its original captain Jack Finney circa 1883, the Latrobe River Flood in 1934 are among the many displays, traversing history from the 1830s through to 1964.
The centrepiece is a World War I installation to honour Traralgon residents who fought for their country, along with a reproduction of the Traralgon Journal and Record's coverage of the town's centenary in 1946, donated by resident Annette Lade.
Fellow resident and project committee member Pat Campbell, whose husband's father was the first man to clock in to work at the Maryvale Mill, said the installation attracted plenty of attention.
"One of the great things is for the older people is they'll come down here and say 'that's my aunty' or 'that's where I used to work'; it brings back memories," Ms Campbell said.
"It was interesting for me because I'm not actually a Traralgonite, so I learnt a lot as we went along."
The official opening coincided with Bupa Traralgon's second birthday where residents, relatives and friends came together to celebrate the milestone.
TCDA and Bupa volunteer Suzanne Pinchen said the project had engaged volunteers, staff and residents.
"Over the year, the residents have been eager to see which photos and frames were being hung next in their walkway," Ms Pinchen said.
"One of the things I am most proud of is the large canvas depicting the architect's elevation plan of Bupa Traralgon. Incorporated into the canvas are the thumbprints of the 2016 Bupa residents, lovingly collected by Jenny Delicato, Lifestyle officer at Bupa Traralgon."
That piece is also a favourite of Bupa Traralgon general manager Susan Cochrane.
Ms Cochrane said the walkway was a great way to tie the facility to the broader community.
"We have a community of 120 residents within our walls but we want to make sure they feel a part of their larger community as well and we don't forget where we came from, so I think that's really important," she said.
"There's a lot to celebrate here and the amount of history on those walls is amazing; every time you walk down you see something different."
Federal Member for Gippsland Darren Chester helped cut the red ribbon at the launch.