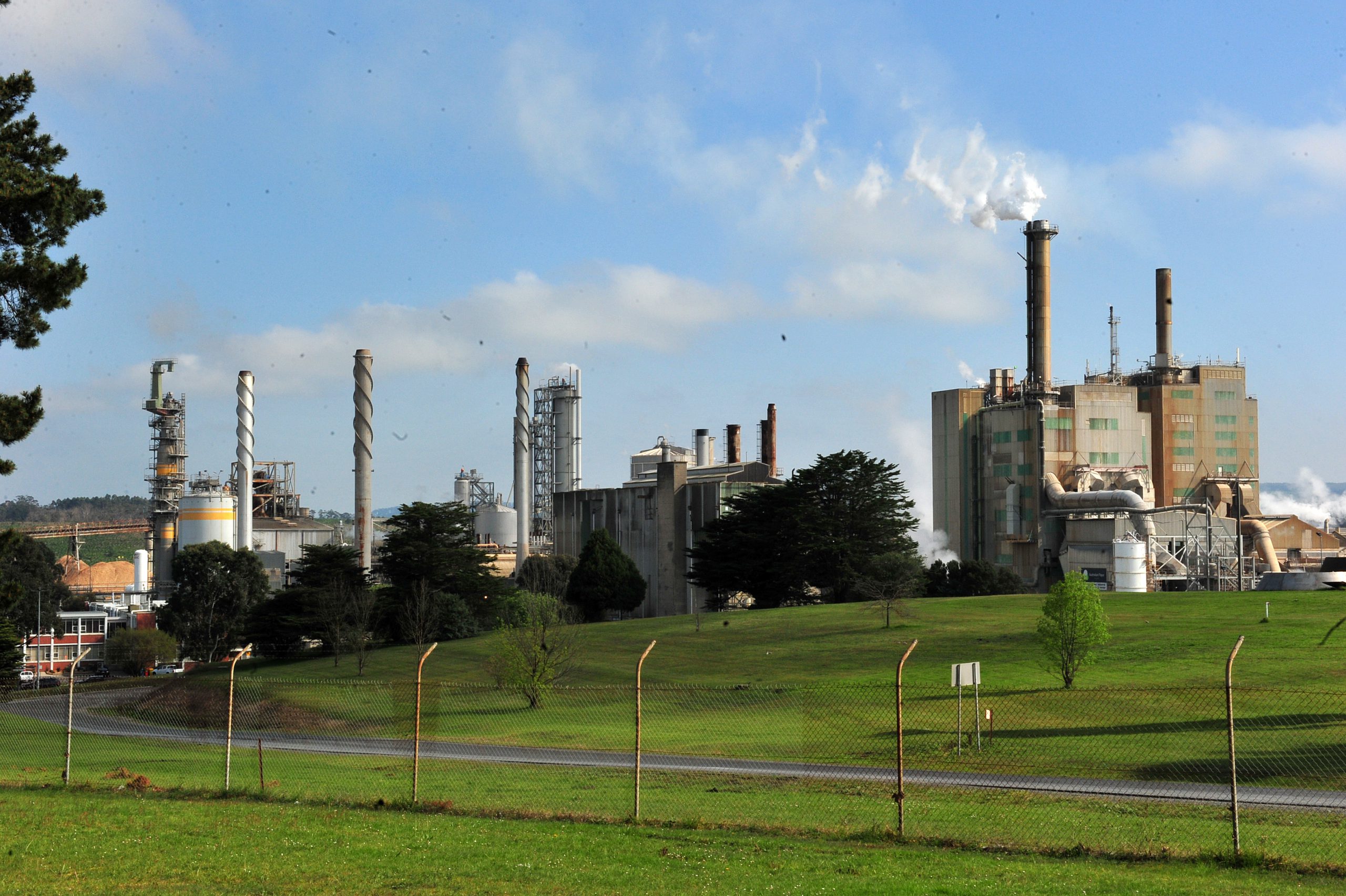 Australian Paper is forging ahead with plans to create a bio-manufacturing hub in the Latrobe Valley that could generate several thousand jobs.
The venture, in conjunction with the CSIRO, a European technology leader and Federation University, could stimulate hundreds of millions of dollars in investment.
It aims to use AP's existing 50 megawatt biomass plant at the Maryvale mill to form the core of a bio-manufacturing facility. This bio-refinery would use lignin extracted from trees to make a range of high-tech, renewable bio-products. The lignin is now burned in AP's biomass plant (lignin is the organic liquid compound that binds together the fibre in trees. It is extracted from the fibre that is used to make pulp and paper).
"We would divert that fuel source, lignin, to a whole new range of products – biofuel, aviation fuel, bio-carbon fibre or bio-plastics," AP's technical business development manager, Stephen Parkinson said.
AP's plant would be transformed into a giant inter-related paper, energy and bio-manufacturing centre.
Apart from hundreds of construction jobs, AP expects more than 3000 jobs would be created as new companies feeding off the plant make the high-tech renewable products.
The project that could create a new manufacturing sector comes as the Latrobe Valley is reeling from the loss of up to 1000 jobs as the Hazelwood power station closes and the Heyfield timber mill's likely closure.
The bio-manufacturing concept was set out at a seminar last week at Federation University in Churchill attended by more than 90 people.
Apart from Mr Parkinson, key speakers were Dr Mike O'Shea, senior principal research scientist at CSIRO, and Dr John Kettle, a senior executive with the Technical Research Centre of Finland (VTT).
VTT, with 2400 staff and $300 million in turnover, functions similarly to the CSIRO, doing research and working with companies.
It has the most patents of any group in Finland and has been working on the bio-economy since the 1990s.
Dr Kettle said turnover in the European Union bio-economy was already more than 2.1 trillion, its diversity reflecting the many new bio-products that could be created from lignin.
He emphasised the concept of the "circular bio-economy".
The waste energy put into the grid nurtures new companies, which in turn generate waste, which is then returned to the energy plant – and the cycle begins again.
The company Aanekoski was now building a $1.2 billion euro bio-product mill – the biggest investment ever in Finland's forest sector.
"They already have companies who are going to set up on their site. They will be producing the pulp they make their money on and other bio-products yet to be specified," he said.
For example, a dairy company aimed to use the heat from the plant to dry cheese.
Dr Kettle said bio-products being developed included bio-based jet fuels, cellulose-based textiles that could replace cotton, wood fibre yarns, even food from wood.
"We believe there are opportunities in Australia – that's why we are here. Those with ample raw materials, existing infrastructure and a capable workforce are at a distinct advantage," he said.
"The Latrobe Valley is therefore in a unique and enviable position."
A critical part of AP's plan is the immediate establishment of a research centre – a BioCore – with Federation University, VTT and CSIRO.
This is expected to cost $38 million – $15 million for the facility and $23 million for staff over five years.
FedUni's deputy vice-chancellor Professor Leigh Sullivan told the seminar the university would provide engineering and systems and other expertise.
"We have a wide range of facilities on campus, such as advanced chemical and analytical laboratories – critical for some of these processes," Professor Sullivan said.
"We already have enormous capability in the Valley, but new skills will be required. FedUni is committed to develop that workforce capacity."
About $2.7 million is required for a feasibility study.
All going well, this would be followed by a $20 million pilot plant in 2020 and a $100 million full-scale bio-refinery in 2022.
Mr Parkinson said talks were continuing with the federal and state governments about help with the feasibility study.
"We are well on the way to getting there," he said.
Going forward
Mr Parkinson said AP was on the cutting edge of this technology.
"It used to be a dream we could make this stuff," he said.
"Here, you can pick up a PET bottle, a 100 per cent PET bio-bottle that has been made at the mill. That exists today.
"We would like to grow our business in Gippsland as these new products come to fruition.
"We are the largest renewable energy supplier in Victoria, if not Australia. We want to extend that, creating an energy system from landfill waste."
Mr Parkinson said AP already had a stream of products from the mill – cellulose for paper; black liquors from three separate pulp mills – oil and "turps".
"All these products we can value add and make more money," he said.
"Oils, adhesives, carbon fibre, plastics, platform chemicals for paints – we can attract a lot of new businesses to the Valley."
Mr Parkinson said Europe was investing 3.7bn euros – $A6 billion – into the bio-economy.
"They would not put in that sort of money if they did not think it was going somewhere," he said.
"We are piggy-backing on this, being a fast follower to what they are doing."
Further development
Mr Parkinson said the objective was to create a capability in the first place.
"The technology and capability is not quite here yet. We aim to develop this capability," he said.
AP had the capacity to initially produce about 50,000 tonnes of product.
"That's enormous to start with. What will we make? The idea is to identify and develop the process. We can then make a whole range of different products," he said.
With research at the BioCore with CSIRO, "we will start to develop the knowledge and the training" and from that, "we will build a pilot pant to make products tested in the market".
"Find out what makes money, how we can get it to work in the market place – the everyday products we use," Mr Parkinson said.
Dr Kettle said the European bio-economy was at a tipping point now.
"The pre-development stage has been done. Now we are in the acceleration phase," he said.
"You can 'leap frog' on the back of all the knowledge that's been done around the world. You don't have to start from scratch."