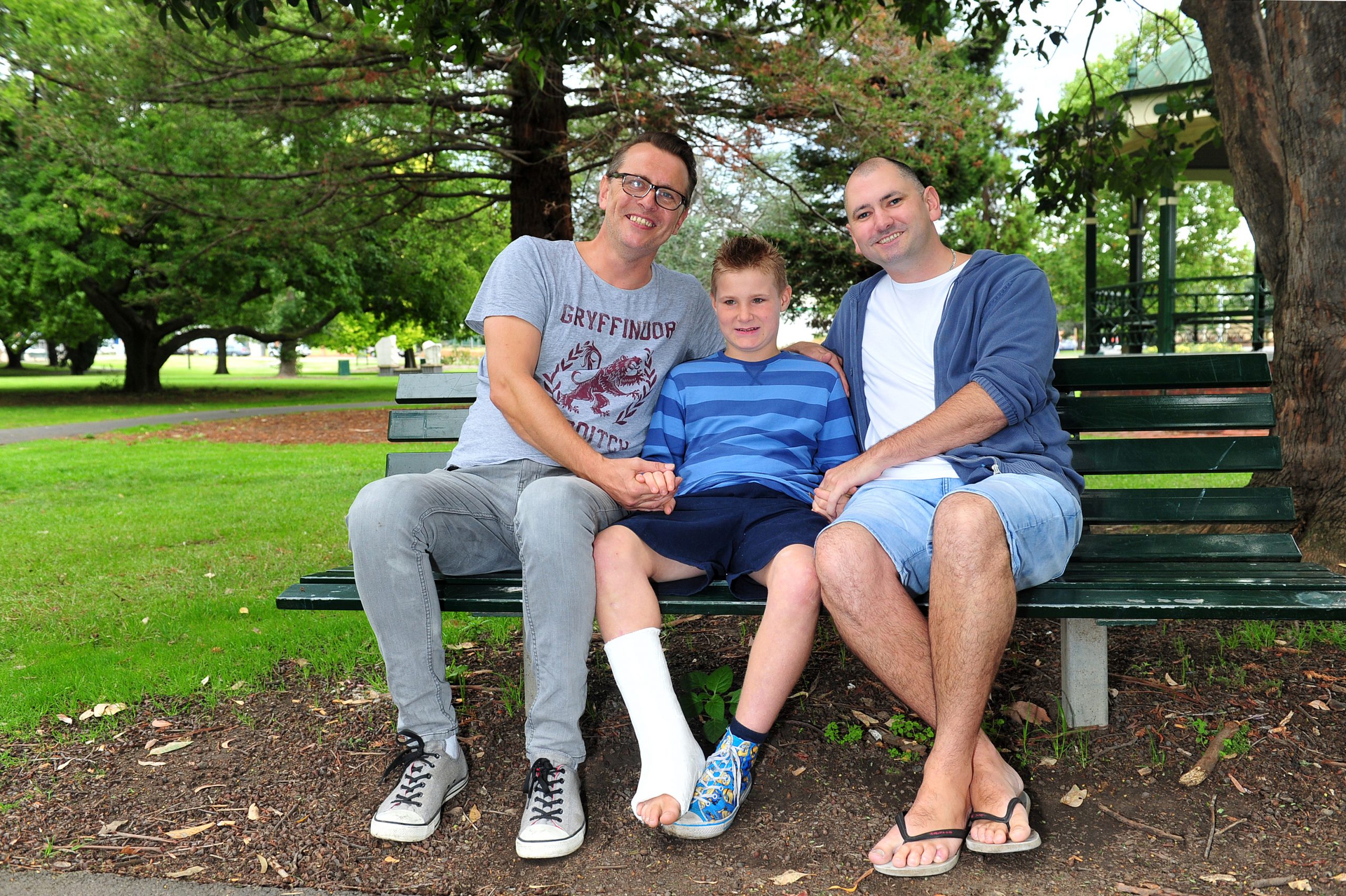 If there were more people like Martin Baldock and Jason Bartilotta the world would be a better place.
Three years ago they fostered eight year-old Blayke from Yooralla's Family Options Program.
Blayke, who is autistic, was put into child protection at the age of six and by the time he was eight he only knew five words; 'no', 'mum', 'blue', 'bee' and 'hey'.
He would act out, hit people, scream, yell and run away. He had limited verbal communication with anyone. The only way he could get somebody's attention was to shout 'hey'.
That was until Martin, 45 and Jason, 38 came along.
"We had discussed foster parenting over the years and I always said I would adopt a child with a disability because they were often the ones left behind," Martin said.
What makes this story different and heartwarming is the transformation Blayke's had in just under three years.
"He's gone from Latrobe Special Developmental School as a little boy who nobody expected much from to a boy who loves education and is doing grade five at Briagolong Primary School," Martin said.
"He love's education now and knows well over 300 words. It's simple, but his reaction when he can say a new word is pure delight."
Education isn't the only change in Blayke's life.
Martin and Jason used picture cards to help Blayke learn simple tasks most people take for granted.
He could not eat with cutlery, go to the toilet or even wash himself.
But since moving in with Jason and Martin that has all changed.
"If he was having a shower we would have cards for each different step. The first is to turn the tap on, the second step is to get under the water and so on," Martin said.
"His transformation in everyday life and doing the simple things most people don't think about has been incredible."
Martin recalled the first day he and his partner met Blayke in a respite home designed to look after children with disabilities.
"I knew he could communicate because I used AusLan to say 'Hi, how are you?' He replied 'Good thanks'," Martin said.
"The second day we met him he was having a melt down. He was kicking windows and throwing toys around; the situation was very aggressive.
"We calmed him down, we spoke to him and told him that we were there to visit him and that followed two hours of tag."
From there, the visits turned into overnight stays and extended weekend visits before the couple took full custody of Blayke in September last year after living with Jason and Martin in a foster care relationship since August 2014.
For Martin and Jason it was like "entering new territory".
The couple have been in a same-sex relationship for 10 years and admit they had no parenting experience prior to taking Blayke on.
"It wasn't a prominent thing for a same-sex relationship (couple) to be promoted as foster parents back when we met Blayke," Martin said.
"It's been life changing for us. We both had experience in disability support so we had some idea of what we were getting into but knew it would have its challenges."
Dubbed as a sports fanatic, in the past three years Blayke has taken up gymnastics, cricket, football, and swimming and is a member of surf lifesaving club – the Seaspray Nippers.
More recently, Blayke has been wheelchair-bound after he fractured his ankle at the Briagolong Bombers' training session, but Martin says the journey has been well worth the pain.
"It's been rewarding for us. It makes us feel proud that we've been able to open our house and show love and support to Blayke.
"He's come such a long way and he's grown into a really nice little human being."
In the past year, Martin and Jason have taken on two more children from the foster care system who they are caring for on a temporary basis.
Yooralla is currently recruiting carers for its Family Options Program in Gippsland. For more information visit www.yooralla.com.au/familyoptions