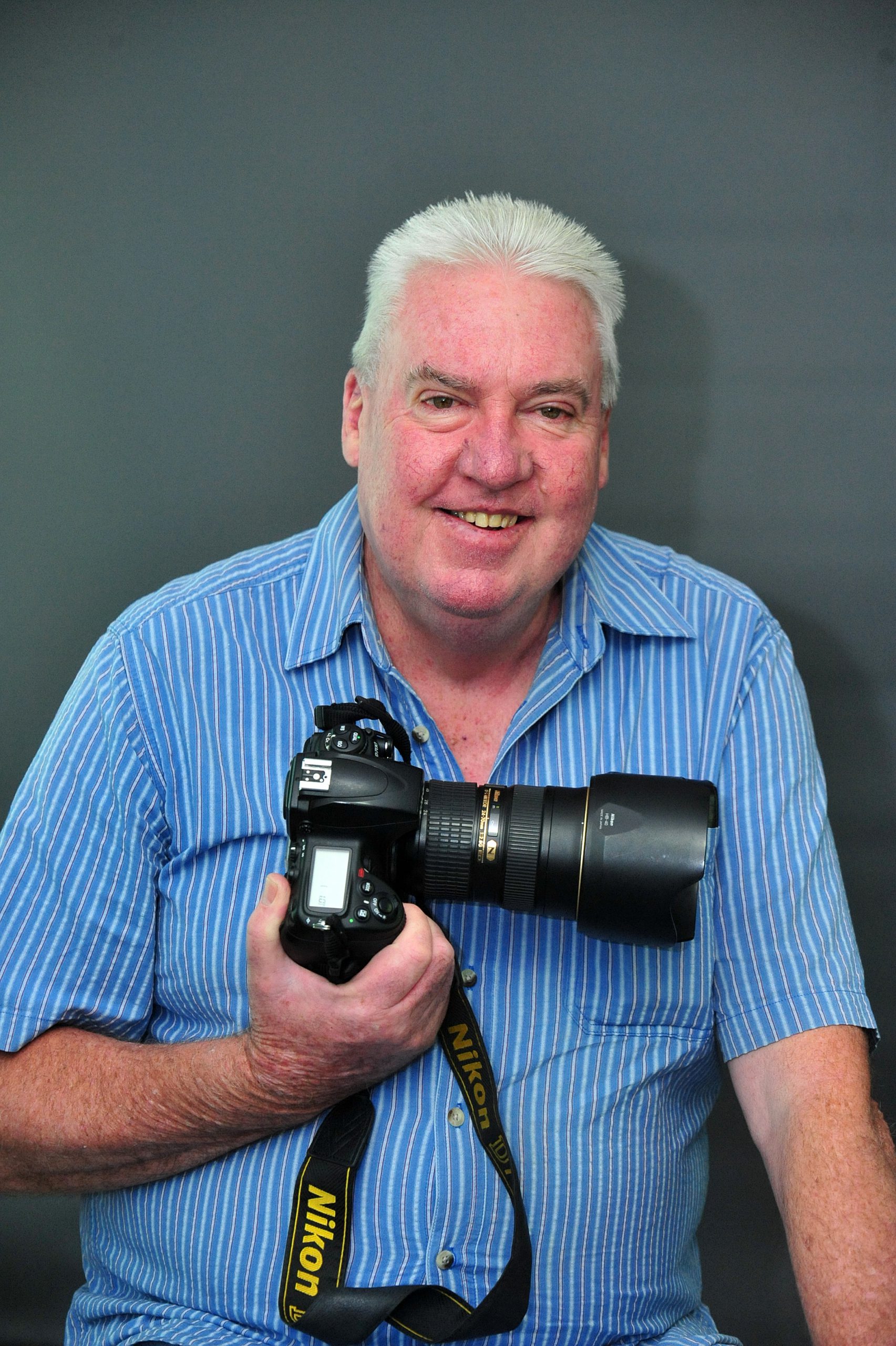 When Bryan Petts-Jones saw the time exposure of lights on vehicles in a magazine while on a trip to Sydney, it was enough to prompt him to buy a camera there and then.
With the Ricoh Rangefinder, he intended to get into photography as a hobby.
But it would be the beginning of an almost 40-year career in the newspaper business.
Towards the end of his 10-year tenure as a State Electricity Commission storeman, Bryan began taking photographs of properties for a Traralgon real estate agent's window.
"In those days there were no photos in windows at all, they used to have a little bit of cardboard and the description of the house written in Texta pen," Bryan recalled.
"So I started doing photos for him and photos for other people and I remember seeing Keith Williams and he said 'yeah I'll give you a go' and at one stage I had every real estate agent in the Latrobe Valley."
From here, he got a foot in the door at the Latrobe Valley Express when then-editor Murray Tucker saw some of his work.
Bryan began working part time on weekends in what he described as a "dream come true".
"I enjoyed it that much that I couldn't wait to start here and be a photographer here," he said.
"Once I had long service at the SEC I was chomping at the bit to get in here and then a job became vacant.
"I felt a bit funny about taking money for it 'cause I enjoyed it that much."
That was June 1981. Countless local photographs have followed, including two generations of newborn babies, football matches, weddings and prime ministerial visits.
Bryan became the face of the newspaper, almost as instantly recognisable as the masthead itself.
He has chronicled the National Safety Council of Australia collapse, the aftermath of Black Saturday and the construction of Loy Yang power station. It was perhaps fitting, that Bryan's final day with The Express was the same day the iconic Hazelwood Power Station wound down for good.
"There were going to be power stations everywhere. Now, as I leave, they're pulling power stations down. I just can't get my head around it," Bryan said on Friday.
The job list of today varies significantly from when Bryan first started in a team of three photographers, who worked in shifts to capture dances, service club meetings and 21st birthday parties on the weekend.
Personal digital cameras and smartphones now allow the public to record more of their own memories.
In the days of the darkroom, Bryan said he most enjoyed shooting the local football.
"You never knew what was going to happen and you'd always come away and think 'I got a really good shot this time'," he said.
"There used to be a bit of competition between the other photographers as well. That enticed you to try and get good stuff for the paper.
"You'd look a bit of a fool when you came back and you've got a crap shot and they'd send you up about it."
But film photography did have its challenges.
"You'd come back in the middle of winter and you'd have to process your negs first. You'd have to get your water up to temperature and get it hot enough to process.
"All this would take a lot of time. If it was too cold you just couldn't get the results.
"Now, you can put a card in a computer and everything's there."
As a news photographer, Bryan has seen the best and worst there is to see in a community, describing some car crash scenes as "horrific".
He said being a local reinforced the need for sensitivity when covering tragic events.
"You can't be in there plodding around. You've got to be a bit sensitive," Bryan said.
He recalled a time when Prime Ministerial visits to the Valley were more common, photographing Gough Whitlam and Malcolm Fraser.
"They weren't just prime ministers, there was a lot of hassle around them being in the businesses they're in.
"To actually get photos of them was a big thing."
A visit by Bob Hawke also left its mark.
"He was wandering around the streets of Moe, went to the local pub that used to be on the corner of Moore Street there.
"They all seemed pretty down-to-earth people when you meet them."
Bryan said he would miss having the whole of the Latrobe Valley as his "office".
"It just feels like I'm going on holidays," he said of his retirement.
"It's going to be hard to get my head around that."
Travel is on the agenda for Bryan and wife Viv, as well as the purchase of a camera, something Bryan's gone without for much of his career.
"I'll still wait at the gate for The Express to come," he said.
"I'll be definitely jealous, too. Always have been jealous when I see a good photo in the paper and it's not mine and wish I had done it."
The self-taught photographer said anybody could make their dream job a reality if they were willing to "have a go".
"It just goes to prove what you can do as a hobby and turn it into a career.
"I would do it all over again."