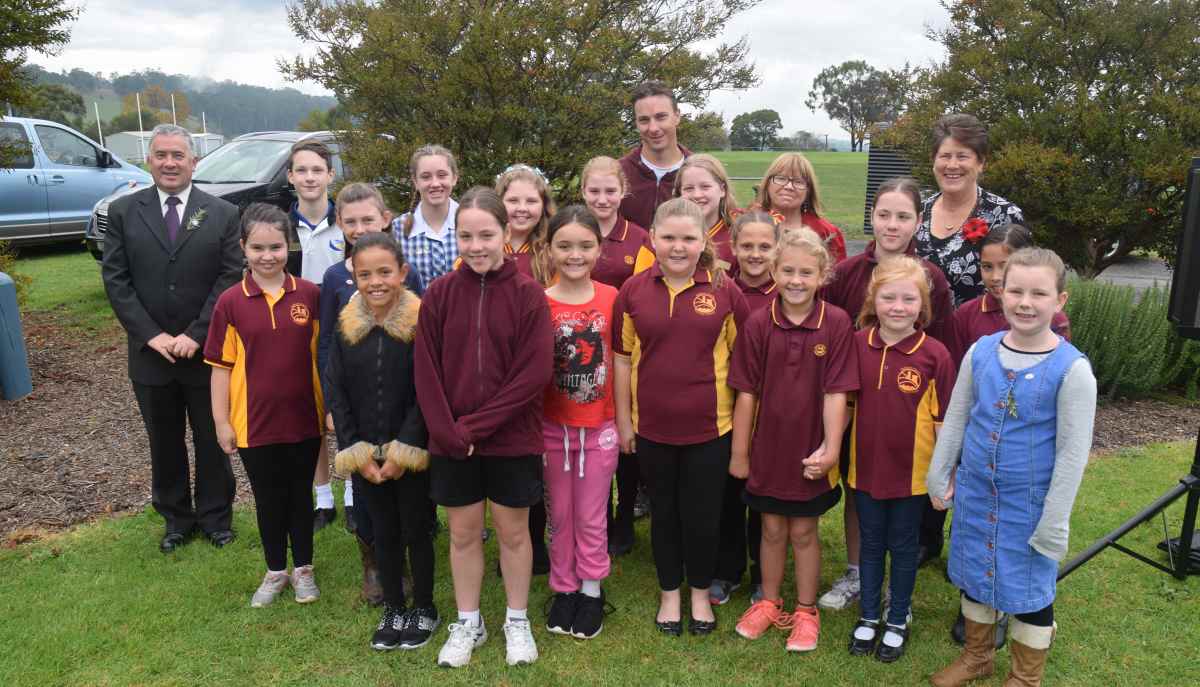 The Latrobe Valley paid its respects to both fallen and currently serving men and women on Anzac Day.
Across the region both dawn and day services were hosted and attended by thousands of people.
Yallourn North
About 130 people braved the conditions to attend Yallourn North's Anzac Day morning service.
Students from Yallourn North Primary School performed three songs including the National Anthem to the crowd who packed into Monash Hall.
This was followed by a speech on 'Why Anzac Day is special to Australians' by Lowanna Secondary College students Kylie Grech-Vella and Abigail Davey.
During the service, former resident and Victoria Police officer turned author – Joe Sestokas – told two heartfelt stories about his family's association with war regarding his grandfather and cousin, who fought in World War I and Vietnam, respectively.
The service then moved outside to the Cenotaph as the sky cleared where a flag raising and wreath laying ceremony took place.
Moe
Rain did not mar Moe's dawn and morning service, as the community turned out to pay its respects to former and current service personnel.
"We had about 350 for the Gunfire Breakfast and there would've been at least 100 people who didn't come inside after the dawn service," Moe RSL president Ian Caines said.
"It went off really well but unfortunately there was constant rain throughout the dawn service so they got wet, but I admire their tenacity to come out and brave the conditions."
However, rain held off for the morning service with about 1000 people in attendance.
One person who stole the stage was Lowanna Secondary College student Macy Johnson who delivered a speech on what Anzac Day meant to her.
The speech covered the origin of Anzac Day, referred to attending Anzac services as a small child holding hands with her grandfather and wearing his medals.
"It was an admirable effort by a year 10 student," Mr Caines said.
Churchill
Indigenous people who served in the war were recognised during the Anzac Day service in Churchill.
Students from the different local schools read messages of what the Anzac meant to them as they also encouraged their peers to remember the sacrifice of the past generations and learn from them.
Veterans, their families and the whole community gathered during the short but solemn memorial service braving inclement weather.
Morwell
People braved the rains as they gathered to commemorate Anzac Day in Morwell with war veterans and their families during a parade on Commercial Road and Tarwin Street.
A large crowd of people congregated on the stretch of Tarwin Street as a parade of veterans and students walked by holding flags while a pipe band played.
Wreaths were laid at the Cenotaph at the Morwell RSL where a short program was held.
Tyers
A thick white fog hung in the air as Tyers and Community District Association president Gordon Asbury led the Anzac Day dawn service at the town's hall.
The City of Traralgon Band played a jovial Waltzing Matilda as the assembly waited for members of the Rosehaven Walers and the Waler Horse Society of Australia to ride up on horseback from Main Road to join the Latrobe Valley Australian Air Force cadets.
It was a musical service, with hymns from Mary Mirtschin and a special performance of Advance Australia Fair led by the Tyers Primary School choir.
Tyers resident Allan Stewart delivered a moving tale as an artillery gunner with 1 Field Regiment of the Royal Australian Artillery at Nui Dat.
Traralgon
Hundreds cloaked in rain jackets assembled around the Kay Street Cenotaph to remember those who served and died in war.
Bagpipes pierced through an accompaniment of water drops on umbrellas as Traralgon's war veterans marched in to the square just after 6am.
Reverend Canon Jeff Richardson welcomed about 500 in attendance to join together in prayer, and Major Geoff Pike encouraged the gathering to "pause to remember those that had given so much".
It was the 102nd anniversary of the landing of Gallipoli.
"We join with thousands of people at Cenotaphs and monuments in the city, towns and settlements from Perth to Palmerston, and Darwin to Dunedin," Major Pike said.
"Beneath the Southern Cross we all stand."
The crowd was about half of last year's 1000, however Major Pike said it was "wonderful" to see so many brave the persistent rain.
"It's a reflection of our interest and respect, especially in this weather," Major Pike said.
A procession of poppy and wreath laying concluded as Sergeant Rob Timmers assisted 98 year-old veteran Roy Guenther to the Cenotaph.
Traralgon RSL president Ronald Culliver closed the service with The Ode before The Last Post was played by City of Traralgon Band bugler Glen Morris.
Trafalgar-Thorpdale
The Trafalgar-Thorpdale RSL was involved in a number of services from Thorpdale through to Aberfeldy, Erica and Walhalla.
"We had members at each one of those services to lay a wreath and the towns closer to home we did services," Trafalgar-Thorpdale RSL president Ray James said.
"We conducted services at Thorpdale, Narracan East, Trafalgar, Willow Grove and Erica."
Mr James said the dawn service was wet but that did not stop people from attending.
"They showed their real Anzac spirit," he said.