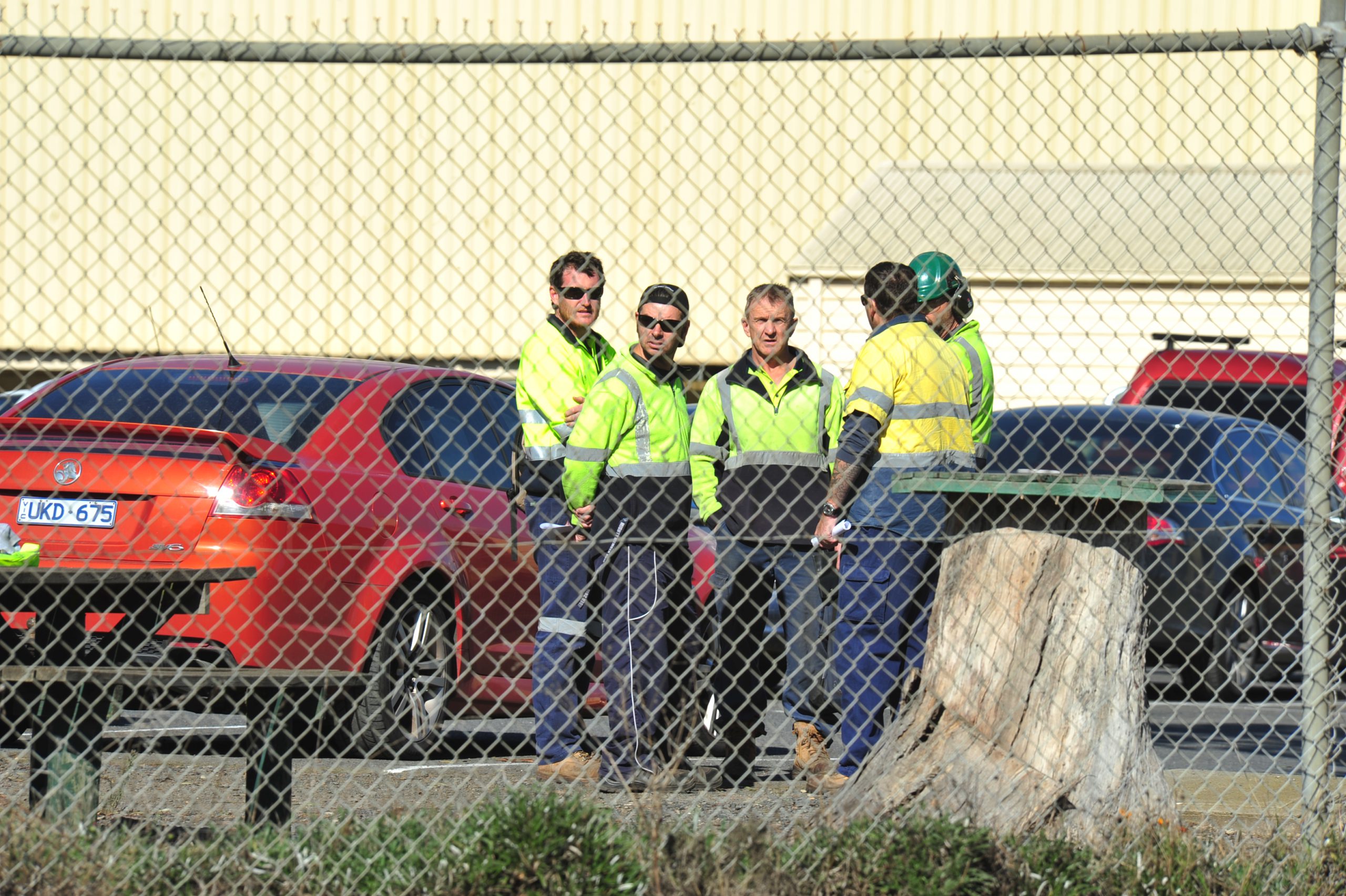 Workers at Carter Holt Harvey's Morwell sawmill were today told they will likely be out of a job by the end of August, which would result in the loss of 160 jobs.

Employees were summoned to a site meeting at 11am today where they were informed of the decision, which comes as a result of a shortage of pine logs caused by the bushfires of Black Saturday in 2009 and fires in 2014.
They emerged from the meeting half an hour later unsure of their futures.
The possible closure comes at a difficult time for the Latrobe Valley, which is still grappling with the loss of 750 jobs caused by the closure of Hazelwood in March.
Following the meeting, worker Julie Smith questioned where work would come from in the future.
"I'm a single parent, where am I going to get a job? Where's any of us going to get a job?" Ms Smith said.
"We're all competing against one another, we're competing against Hazelwood."
Her sentiment was echoed by another worker, Chris Jackson, who said he was contemplating leaving the area.
"I'd love to stay here but the way things are, you just can't," Mr Jackson said.
"You have to work wherever you can.
"I'm going to have to look for work, I'll do anything, but I don't think there's any work around here."
The Morwell sawmill produces structural-grade timber for use in residential houses.
The plantation pine used at the site needs to mature for at least 28 years to be suitable for the production of structural-grade timber products.
In a media briefing later in the day, Carter Holt Harvey chief executive for wood products Australia Geoff Harris said the company would consult workers and unions – but admitted the situation did not look good.
"We want to go through that consultation process – as I said, closure of the mill is highly likely," Mr Harris said.
"We've provided our staff with some initial information today and detail around their employment conditions and we look to continue consultative, good faith negotiation with our people and union representatives into the future."
He said the bushfires were the "only reason" behind the closure, despite describing the sawmill as "marginal" instead of "profitable".
Fifteen per cent of the HVP plantations supplying the mill had been destroyed since 2003, Mr Harris said and confirmed the company had been aware of the shortage since 2009.
"There's been regular updates," he said.
"The last 12 months are we've seen a diminishing size of our logs and it is now based on their latest forecasts that they've been able to tell us that they are unable to continue to supply the required logs."
Electrical Trades Union Gippsland branch organiser Peter Mooney, who attended today's site meeting, called on the State Government to support the workers.
"We're asking them to afford these workers the same courtesy to what the Hazelwood workers and we'll be calling on them for that today," Mr Mooney said.
"We'll be trying to see if they can access some of the Latrobe Valley Authority money (allocated by the State Government after the closure of Hazelwood was announced)."
In a statement, the State Government said the LVA would "act as a one stop shop for workers, where they can access support services and other assistance".
For more, see Thursday's Express.