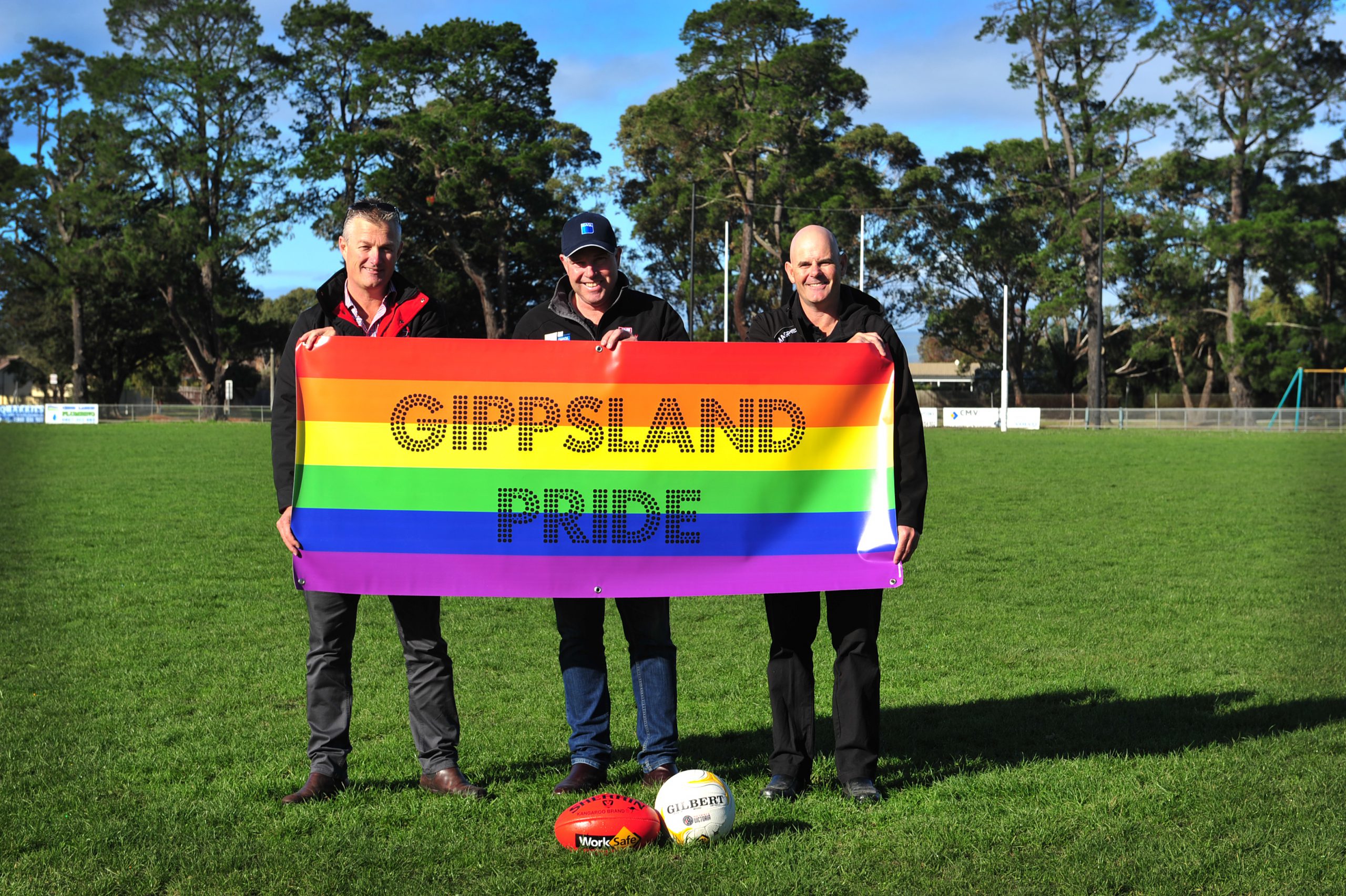 Glengarry Magpies and Traralgon Tyers Untied Bombers are set to match up in the newest addition to the North Gippsland Football Netball League's special events fixture.
Launched at Glengarry's club rooms on Wednesday, the Gippsland Pride Cup aims to increase inclusiveness for gay, lesbian, bisexual, transgender and intersex identified community members within the region's football and netball clubs.
"We understand that we live in a diverse and vibrant community and that our brand should also stand for equality and inclusiveness," NGFNL present David Kyle said.
Championed by AFL Gippsland, Netball Victoria, the NGFNL, Latrobe Regional Hospital, Gippsland Mental Health Alliance, the Latrobe City Council and Gippsport, and funded by Gippsland Primary Health Network and the federal government's Department of Health, the event will be modelled on last year's AFL pride game between St Kilda and Sydney.
The push for a local pride fixture came from NGFNL sponsor AGL Loy Yang.
"One of our company's values is inclusion and diversity, this program sort of fits in line with that," company general manager Steve Rieniets said.
As part of the event, players from the Magpies and Bombers senior football and A grade netball teams will run out in specially-designed uniforms for the games.
Lower level teams will also take part, donning rainbow bibs, socks and armbands.
Along with the visual effort to show the teams' and league's commitment to equality and inclusion, a number of education sessions will take place prior to the games.
"It wont just be a game, it wont just be one event," AFL Gippsland general manager Travis Switzer said.
"We're going to be doing some education with clubs leading into the game, and Jason (Ball) is going to lead some of that as well."
The effort by the clubs and the league is appreciated by members of the region's LGBTI community, represented at the launch by the Gippsland Rainbow Collective.
They agreed with the sentiments of others, including Mr Switzer, that a shift in community attitudes had helped make the Gippsland Pride Cup happen now, something that may not have been possible a few years ago.
"Our community is starting to reflect more inclusiveness," Gippsland Rainbow Collective spokeswoman Jo Parker said.
"When you have communities like Glengarry and Traralgon Tyers, where sport like football and netball is such an integral part of the towns, brining pride matches certainly brings awareness.
"People are ready for this now, and ready for this in this area."
Ms Parker also said that making public places and institutions more welcoming and safe for the LGBTI community would attract people who might have once been excluded.
"Imagine being a young kid wanting to be a part of this community, this club, but because of your fear of being heckled, ridiculed, maybe picked on or standing out, it could stop you from enjoying that mateship, that sense of belonging, and job that sport can give," she said.
The Gippsland Pride Cup will take place in round 15 of the NGFNL season, and will be hosted by Glengarry.
It's set for Sunday, 30 July and event coordinators said there would be more announcements relating to the day soon.