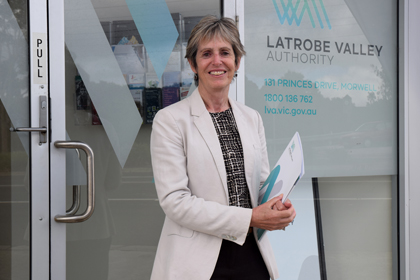 The State Government is urging builders and contractors in the Latrobe Valley to sign up for the Construction Supply Register to ensure they are in the running for government projects.

The CSR scheme applies a set of consistent standards of prequalification to participating building contractors and consultants, allowing them the opportunity to be selected from the register to perform works for State Government departments and agencies.
There are only a small number of prequalified contractors in Morwell.
Latrobe Valley Authority chief executive Karen Cain encouraged local contractors to participate in the CSR scheme.
"In particular, we're really keen to position local suppliers for infrastructure opportunities and contracts that will be coming through announcements that have been made by the State Government, such as rail and sporting infrastructure upgrades," Ms Cain said.
Ms Cain said if local suppliers were able to take advantage and perform some of the work involved in projects announced by government, it would keep money in the Latrobe Valley.
"We're keen to make sure local suppliers are in the best position to tender for some of those contracts… so local procurement is as strong as it can possibly be," she said.
Prequalification for the CSR scheme does not guarantee contractors will be chosen for state department and agency projects.
Businesses are selected to compete for contracts with the final outcome determined by a value-for-money assessment.
Contractors are assessed against a range of criteria in order to prequalify for the register, including an organisation's occupational health and safety capability, its industrial relations management, financial viability and experience.
Contractors can apply for prequalification online at dtf.vic.gov.au/csr