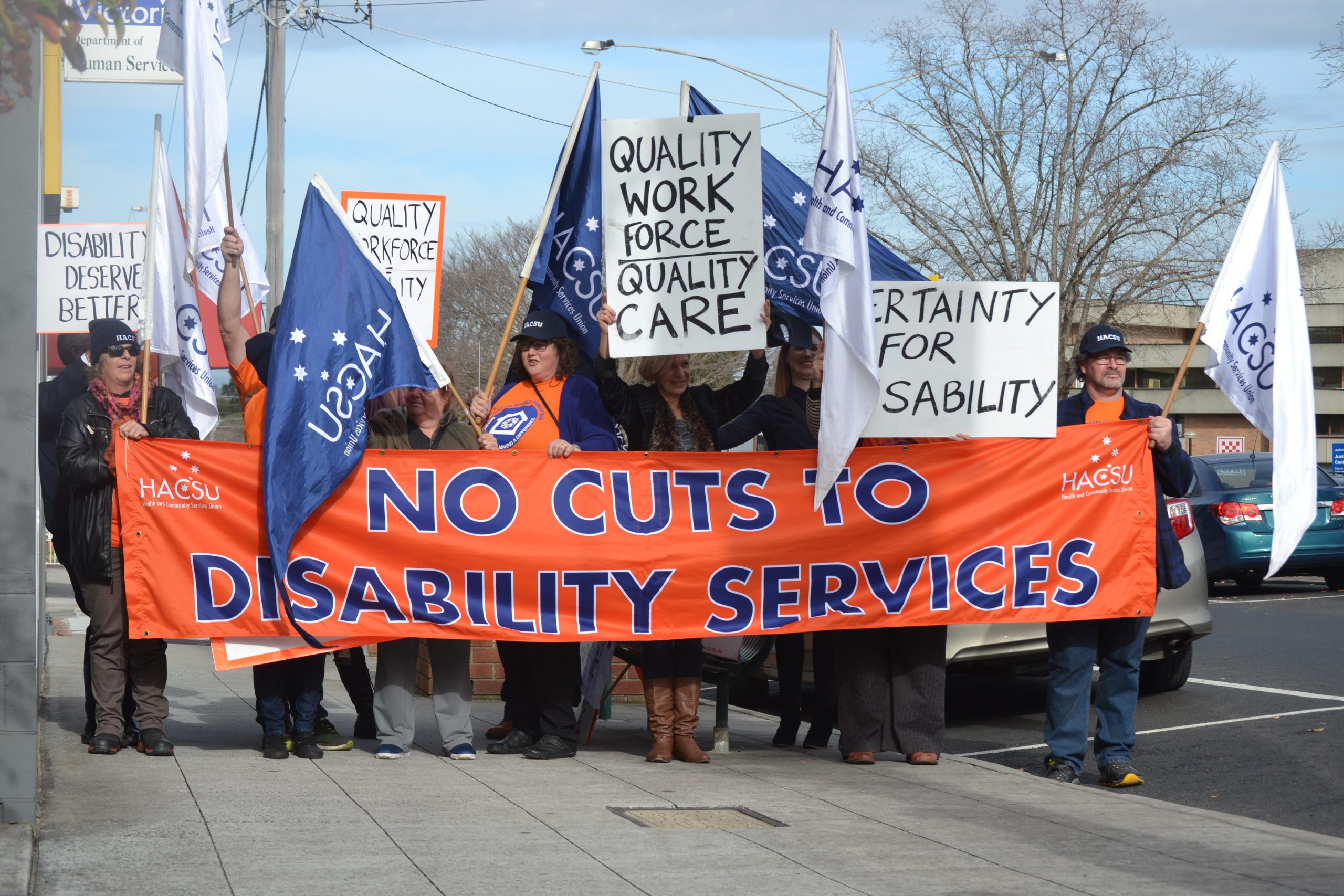 A group of Gippsland disability carers and Health and Community Services Union representatives marched on State Member for Eastern Victoria Harriet Shing's office on Thursday to demand certainty for the disability sector.

The protest was in response to State Government plans to allow non-government providers to take part in the industry as part of the expansion of services under the National Disability Insurance Scheme.
About 15 protesters marched from the Department of Health and Human Services in Morwell to Ms Shing's office chanting a variety of anti-privatisation slogans.
HACSU media and communications officer Elizabeth Doidge said one of the main problems with any privatisation of the sector would be the subsequent casualisation of the disability workforce – a claim disputed by the government.
"It's about the disability workers and the people they support because it's not just physical needs," Ms Doidge said.
"It includes people with severe intellectual disabilities and they need someone who knows how to communicate with them and that comes from knowing the person."
HACSU says the privatisation of the disability workforces would mean a 30 per cent pay cut for workers, major cuts to conditions, a loss of job security and that workers could be given shifts only 30 minutes long.
"NSW has privatised the entire sector, they're a bit ahead of us, and… they're essentially blaming privatisation and the casualisation of the workforce," Ms Doidge said.
Local disability worker and protester Angie Smith said there was a lot of ambiguity around the relationship between privatisation and the National Disability Insurance Scheme.
"The question being asked is: will there be a level of consistency with a privatised workforce? The concern is that there won't be."
Disability worker and protester Lea Ipsen said quality checks were the biggest worry.
"Quality checks with the Department of Health and Human Services protect small (towns), but when you make it about profit… there is no protection," she said.
Ms Shing was unable to meet with the protesters because parliament was sitting but acknowledged there would be concerns as non-government service providers entered the system.
She said the roll-out of the NDIS would result in a large increase of disability sector workers from about 24,000 to 42,000 full-time equivalent positions.
"The difference between what we're doing in Victoria and elsewhere is there's a job guarantee period as part of a move to non-government provided services so we get continuity of care for participants and their families," Ms Shing said.
She said the government would put in place a system which ensured new workers in the sector would have a high level of accreditation and training and that was working to avoid a "race to the bottom where providers can undercut each other".
"The accreditation and registration scheme is intended to provide jobs certainty and a level of consistency and fairness in the terms and conditions that workers in the sector receive," Ms Shing said.