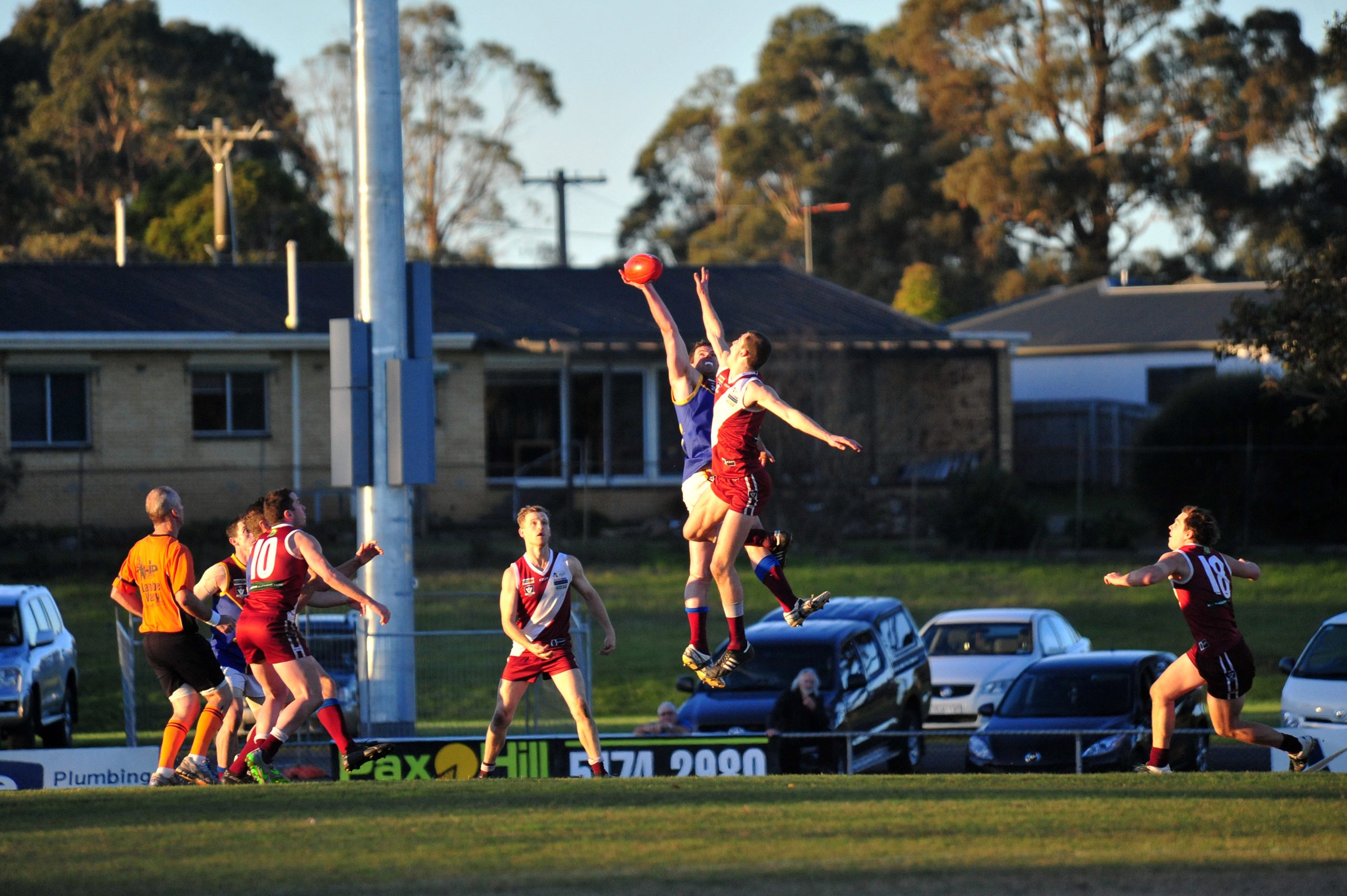 FOOTBALL

GIPPSLAND LEAGUE

Moe has won four of its last five games following a thrilling 33-point win over first-placed Traralgon on Saturday, 12.18 (90) to 7.15 (57).

The Lions led comfortably at every break with a 14-point lead at quarter-time, before heading into the rooms at half-time up by three goals.
Moe coach James Blaser said the win was a pleasing result for the club.
"It's been a while since we've been able to compete with Traralgon and run over the line as winners," Blaser said.
"We didn't have a weak player for the game, all 22 men played their role and did what they had to do.
"We held up strong in the forward half and our structure stayed the course of the game."
Blaser, along with Luke Webster, provided plenty of power up front with three and four goals, respectively, while Thomas Long was credited for his performance in the back-line.
The game was Webster's first senior match at the club after returning to the Lions about a month ago after working away and following three games in the reserves.
"He had plenty of intercept marks and several contested possessions at the vital moments when we needed to win the ball," Blaser said.
The win puts Moe fourth on the ladder, six points ahead of Morwell while Traralgon drops back to third with eight wins, two losses and a draw.
Traralgon coach Mark Collision said Moe was simply hungrier for the win.
"There's plenty of areas we need to improve on," Collison said.
"They played cleaner footy and won most of the contested opportunities."
Ben Amberg was named best on ground for Traralgon for his work in the ruck while Jackson McMahon received a mention for his work off half-back.
In round 11, Moe hosts Leongatha while Traralgon hosts Sale.
Warragul v Morwell
After a six-goal first quarter, Morwell secured its sixth win for the season after defeating Warragul by 28 points, 14.9 (93) to 9.11 (65).
The Tigers led comfortably at every break with Brandon McDonald putting on a show in the forward line, booting four goals for Morwell.
Morwell coach Joel Soutar was pleased with the win, highlighting the "impressive lead" the side took early in the game.
"We knew it was going to be a big game for us, we came out in the first quarter and kicked six goals four behinds and that set the tone for the rest of the game," Soutar said.
"Unlike previous weeks, we maintained our structure, certainly in the second half and played some pretty good footy."
Robbie Michaelides provided strength across the field, rotating between the forward line and on the ball, bagging three for the Tigers.
Ryan Tatterson and Hayden Britton were named among the best on for Morwell after decent performances across the forward half of the ground.
The win puts Morwell in fifth place on the ladder, 10 points ahead of sixth-placed Bairnsdale, while Warragul sits seventh with four and seven.
"The response after quarter-time was good, but we just couldn't get close enough to have an impact," Warragul coach Steve Kidd said.
"Our tackle count was down and we failed to capitalise on a few key opportunities after quarter time.
"Our spread from the contest and lack of intensity saw us lose the game."
Nate Paredes and Brad Scalzo were named among the best on for their work in the midfield and a "true four-quarter performance", according to Kidd.
Ashley Di Ciero is expected to miss about four weeks after coming off in the early stages of the second quarter with a serious hamstring injury.
Warragul hosts Bairnsdale on Saturday while the Tigers host Maffra at Morwell.
Drouin v Sale
Drouin was no match for Sale after the Magpies ventured up the highway to snatch their second win of the season, 17.6 (115) to 6.9 (45).
The battle-of-the-bottom clash was Drouin's best chance to register a victory since the last time the two teams face off, when Sale secured its first win of the year.
The Magpies led at every break, up 11 points at quarter-time before heading into the rooms at half-time with a 3.4 (22) to 0.7 (7) lead.
Sale coach Shane Fyfe attributed the "spirit-boosting" win to a four-quarter performance.
"It was good to get a win, finally," Fyfe said.
"We've been playing good patches of footy but to play consistently and kick 10 goals in the last quarter was a pleasing result.
"The midfield performed well along with a good spread of goal kickers that was testament to the final score."
Jack Freeman and Kane Martin kicked three goals apiece for the Magpies while Jack Mapleson was acknowledged for his on-ball work.
"It's only (Jack's) third game for the side this year… he's feeling more comfortable and starting to show a lot of class," Fyfe said.
The match formed part of AFL Gippsland's mental health round which aimed to raise awareness of mental health issues in the community.
The win sees Sale remain ninth on the Gippsland League ladder while Drouin lingers in 10th.
Hawks' coach Bob McCallum was disappointed with the final-quarter performance.
"We put together three pretty-good quarters without putting too much scoreboard pressure on, which was probably the reason why the score blew out in the end," McCallum said.
"But we went into the game with a plan to stick to our defensive structure and the boys really made a big commitment to do that for four quarters."
Michael Theodoridis kicked four goals for the Hawks.
Drouin will head to Wonthaggi in round 12.
Maffra v Bairnsdale
Maffra was too strong for Bairnsdale on Saturday after the Eagles registered a 74-point victory in front of a big home crowd, 20.16 (136) to 9.8 (62).
The Eagles kicked 6.3 (39) in the first quarter to the Redlegs' 3.3 (21) before heading into half-time with a 28-point lead.
Maffra coach Wayne Butcher said his team played "some of their best footy all year".
"I thought our back-line was very strong, we rebounded off them and got most of the drive up forward from our backs," Butcher said.
"Our accuracy in front of goals was something we spoke about at half time… but the result could've been different had we have shot more straight."
Daniel Bedggood was Maffra's leading goal kicker, registering five majors, while Tom Jolly booted four.
The side was without Kade Renooy after he received a call-up from VFL-side Port Melbourne on Friday, while experienced campaigner Sam Pleming is expected to return next week after a five-week stint away from the club with a calf injury.
Bairnsdale coach Stuart Anderson said he was pleased with the first-half performance, but said the Redlegs were "overpowered by numbers" in the second half.
Maffra remains on top of the ladder with nine wins and two losses, while Bairnsdale sit sixth with four and seven.
Leongatha v Wonthaggi
A goalless last quarter capped off a pretty miserable day for Wonthaggi, which suffered an 80-point away loss at the hands of Leongatha.
The Parrots led at every break but really put their feet down in the second quarter, kicking six goals to one.
At half-time, Leongatha led 9.2 (56) to 2.8 (20).
The Parrots' momentum continued in the second half, adding four majors in each of the last two quarters as the Power seemingly had no answer.
Wonthaggi bagged two majors in the third quarter before adding a single behind in the final term.
Leongatha stormed to victory, 17.11 (113) to 4.9 (33).
Zak Vernon was best on ground for the home team, while Patrick Mcgrath bagged four majors.
Luke O'Connor kicked two of Wonthaggi's four goals with Thomas Davey, who bagged one for himself, named best on ground.