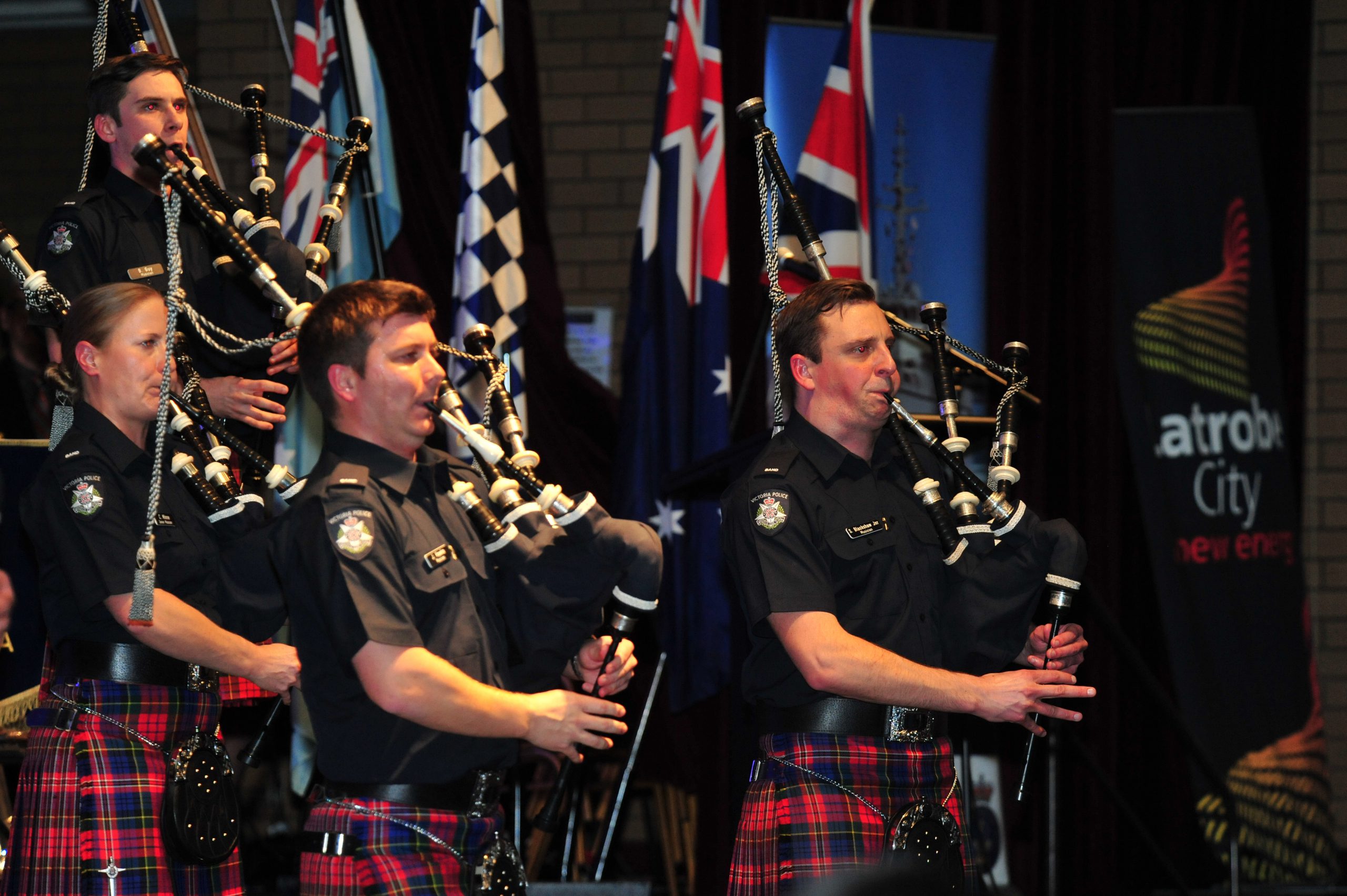 The unique sound of the Victoria Police Pipe Band bagpipes, combined with the symphony of the Royal Australian Navy Band made for some colourful entertainment on Wednesday night.
The bands were in town for the second Morwell Centenary of Anzac Concert at Kernot Hall.
Concert organiser Thomas Quinn said the night was a "lovely reflection" on the centenary of Anzac in recognition of the service and sacrifice Australians made during World War I.
"It was a good night, everyone really enjoyed themselves and the Royal Australian Navy Band were outstanding," Mr Quinn said.
"The Victoria Police Pipe band were great too, they received a big applause and we had Latrobe City mayor Kellie O'Callaghan who did a welcome along with Father Harry Dyer who gave his blessing at the start of the concert."
About 750 people packed into Kernot Hall where they were treated to a talk by Royal Australian Air Force Group Captain Dennis Tan about the origins of the Australian Flying Corps during WWI, which would later become the RAAF.
Victorian RSL president Robert Webster also spoke, highlighting the importance of the RSL and the service it continues to provide to "five generations of Australians".
Emceed by former radio announcer Andy Johns, members of the Waler Horse Association of Australia gave a talk about the use of Walers in the Light Horse Regiment during WWI while Air Force cadets from the 424 and 426 squadrons as well as TS Latrobe cadets marched down the isle bearing flags at the start of the night.
Mr Quinn thanked the Morwell Lions Club, Morwell Rotary Club and Morwell Neighbourhood Watch for their help during the night, also acknowledging the support from local RSLs.
"Without all of their support, we simply could not have done it," Mr Quinn said.