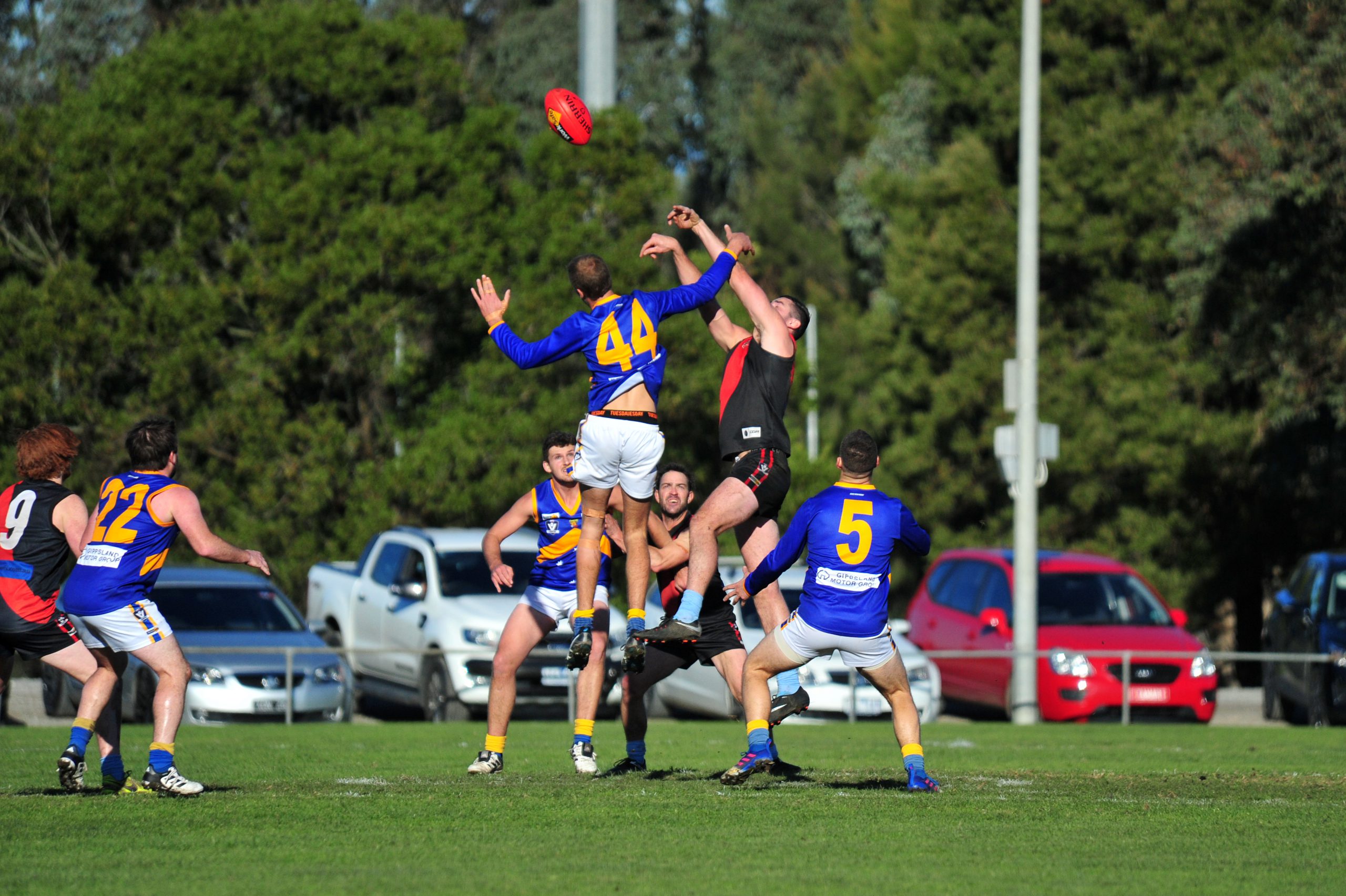 FOOTBALL

NORTH GIPPSLAND
Only percentage separates the top three clubs on the North Gippsland league ladder with Sale City, Yarram and Heyfield all securing wins in round 12.

The three teams have each recorded 10 wins and two losses as they continue to fight for the minor premiership.
Outside the top three, Woodside and Cowwarr make up the five, while Churchill sits at sixth following a one-point win over Traralgon Tyers United on Saturday.
TTU led all game, heading into half-time with a 13-point lead before the Cougars came back in the third to trail by two points.
In the dying stages of the final-term, the Bombers were up by five points before a 50-metre penalty was awarded to Churchill's Brayden Kokshoorn after a TTU player encroached on a free kick.
The 50-metre penalty took Kokshoorn to the top of the goal square, nudging Churchill in front by a point after the goal was kicked at point blank range, securing the victory for the Cougars.
Churchill coach Brendan Holt said "the four points is about all we can take out of the game" following a "sloppy performance" by his team.
"It was a pretty ugly game, there wasn't much skill in there, it was up and back between the arches all game," Holt said.
TTU coach Nick Turnbull was disappointed by the 50-metre penalty in the final term, but said his team just "needed to move on".
"It was a tough, hard loss but we've been very competitive particularly in the last two games where we've come within a goal of two sides that will play finals football," Turnbull said.
"Our young side needs to continue to learn and develop to win the close ones… what's done is done, we need to move on and focus on our big game against Rosedale next week."
The match formed part of AFL Gippsland's mental health round which aimed to raise awareness of mental health issues in the community.
Leigh McDonald kicked three goals for Churchill while Ben Kearns booted two.
TTU's Pat Harriman received a notable mention for his work at centre half back.
The loss sees TTU remain eighth on the ladder, with three wins and eight losses.
In round 13, TTU will travel to Rosedale while Churchill hosts Cowwarr.
Heyfield v Rosedale
Heyfield proved too strong for Rosedale on Saturday following a six-point win at home, 9.18 (72) to 10.6 (66).
The Blues took the lead in the first-half of the game, up by 16 points at half-time before heading into the rooms with a nine-point lead.
But the tables turned in the third quarter when the Blues were kept to one behind, as Heyfield took prime position with three goals and six behinds.
Heyfield coach Josh Stubbe admitted he was "surprised" by Rosedale's strong performance and defensive pressure in the first half of the game.
"We have our set structures which we like to stick to including quick ball movements and plenty of defensive pressure, so to come up against Rosedale and almost lose was a surprise," Stubbe said.
"We were 20-points down in the first quarter but to respond and come back with a win was certainly a positive."
Daniel Stevens performed a role on the wing for the second half of the game while Nick Dowse was applauded for his work down back.
Heyfield sits third on the ladder but equal on points with Sale City and Yarram who sit and first and second, respectively.
Rosedale remains at ninth with two wins and 10 losses.
But Blues' coach Sam Bristow said the game showed some promising improvements from his side.
"We are finally starting to play how we've wanted to play all year, which is a positive," Bristow said.
"The negative is we should've got the win, we only kicked one goal in the second and third quarter.
"It shows we are not that far away from being a driving force."
Joel Bristow was good across half-back for Rosedale while Matt Royal provided plenty of run on the wing.
Brad Caldwell was named best on for Rosedale after booting five majors during the game.
Sam Tudor is expected to miss a few weeks after going down just before half-time with a hamstring injury.
In round 13, Heyfield heads to Glengarry while Rosedale hosts TTU.
Glengarry v Cowwarr
Cowwarr continues to reaffirm its intention to play finals football following a 40-point win over Glengarry on the road, 14.15 (99) to Glengarry 8.11 (59).
The Saints took a four-point lead into quarter-time, maintaining its lead on the scoreboard in the remaining three quarters.
Sanits' coach Brett McMaster said he was "over the moon" the side put in a four-quarter performance.
"We haven't been able to play consistently over four quarters for this season, our best footy has been pretty good but certainly not a four quarter performance… until Saturday," McMaster said.
"We managed to get momentum in the last quarter after we kicked a few goals in the opening stages and that really sealed the deal."
Ben Coffey received a notable mention for his work around half-back while small forward Brett Street kicked five for the Saints.
Linden Brunt also had a field day, returning to the side following a hamstring injury, and registering four majors for Cowwarr.
The Saints sit fifth on the North Gippsland ladder ahead of Glengarry at seventh.
Glengarry coach Chris Day said "it was a terrible game" for the Magpies following the club's sponsors' day.
"For an important game like that, we were ordinary," Day said.
"A chance to take a step closer to finals in front of a big crowd and the players really let themselves down by their efforts.
"Our effort was there at times but in modern day footy if you keep turning the ball you're going to get beaten most times."
While Day wasn't keen on naming key players, he acknowledged Jake Reed for his performance on the ball.
"He can hold his head high but not too many others contributed," Day said.
Glengarry hosts Heyfield in round 13 while Cowwarr travels to Churchill.
Woodside v Yarram
Yarram hit the road to Woodside in what would become a 61-point victory the way of the Demons, 16.8 (104) to 5.13 (43).
The Demons led at every break, restricting the Wildcats to 2.8 (20) at half-time to Yarram's 7.5 (47).
Corbin Sutherland kicked four for Yarram with three majors to Dan Vardy, who was reported in the third term for striking.
Yarram coach Chris Pettit said he was pleased with how his side dealt with the pressure.
"The scoreboard probably doesn't really tell the full story, from memory they kicked two goals early on in the last quarter and it felt the game was right on the line," Pettit said.
"We had a blanket of blokes, 10 blokes or so, who didn't play a good quarter but had good patches throughout the game.
"That's a credit to Woodside, they set to hold the ball up and really concentrate on using the footy and keeping possession."
David McKean kicked two goals for the Wildcats while Cameron Whiteoak was named best on.
Yarram sits second on the ladder, equal with Sale City and Heyfield on points, while Woodside sit fourth with seven wins and five losses.
Yarram host Sale City this weekend in a top-of-the-table clash while Woodside head to Gormandale.
Sale City v Gormandale
In the final Gippsland League game, Sale City registered its 10th win for the season after a 188-point demolition of Gormandale, 27.29 (191) to 0.3 (3).
The Bulldogs kept the Tigers scoreless in the first quarter, kicking 4.4 (28) before heading into half-time with a 74-point lead, 11.10 (76) to 0.2 (2).
Sale City kicked an additional nine goals in the third term to keep the Tigers scoreless heading into three-quarter time with a 137-point lead.
Bulldogs coach David Piasente said "it was an interesting game".
"I thought the game was going to be a bit more harder than that," Piasente said.
"When we played them at home earlier in the year, they were competitive and played a good performance but it seemed yesterday they put up the white flag pretty early on."
Matt Ferguson kicked seven for the Bulldogs while Stuart Buckley nabbed six.