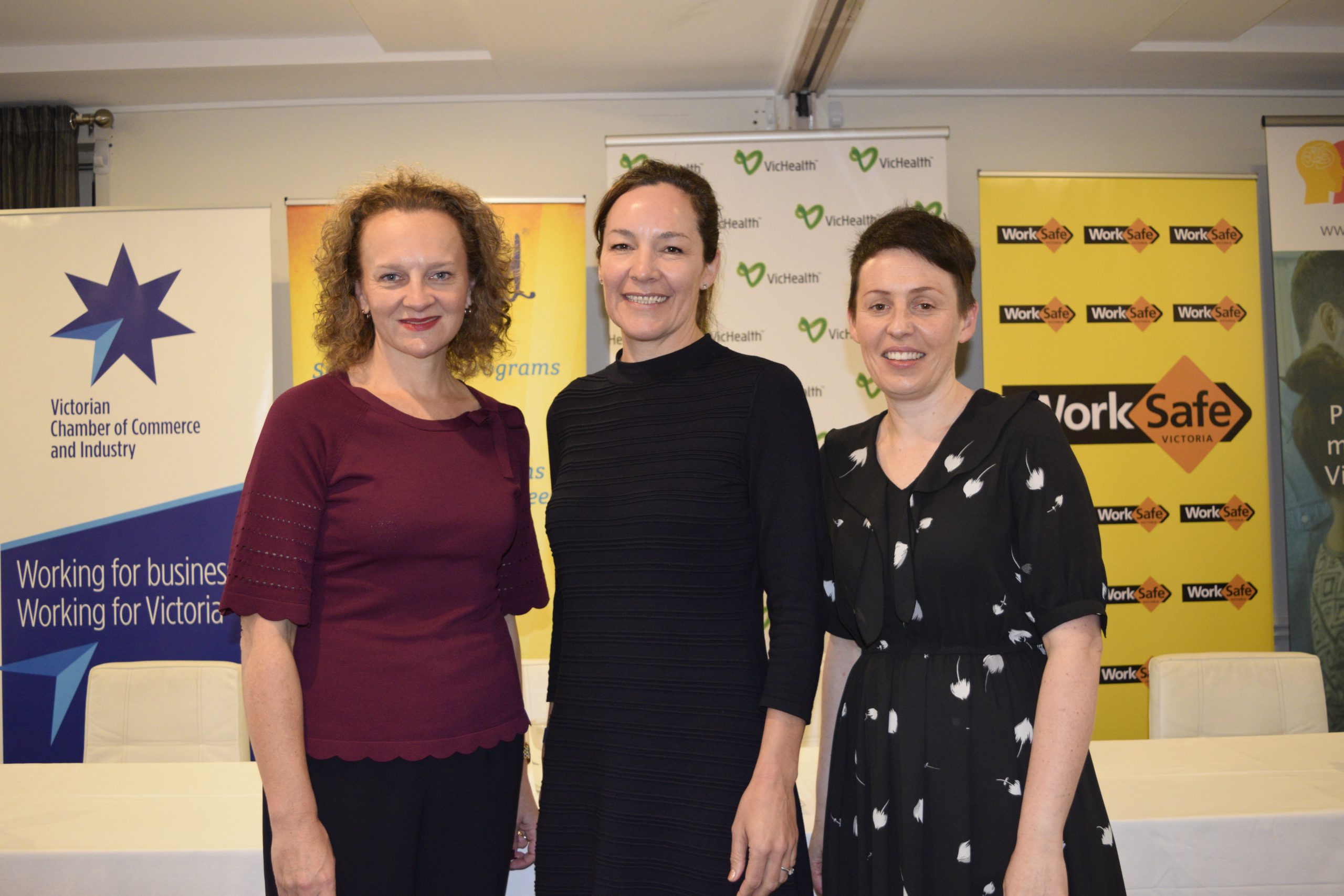 The first regional Victorian Workplace Mental Health Collaboration Leadership forum featured leaders from more than 50 local businesses gathering to discuss ways to improve the mental wellbeing of their workers.

Held in Traralgon on Tuesday, the forum was hosted by VicHealth in collaboration with WorkSafe Victoria and SuperFriend.
VicHealth acting executive manager of programs Kellie Horton said the forum aimed to empower business leaders and employers to promote a positive culture and environment in the workplace to look after the mental health and wellbeing of workers.
"This is the first regional breakfast we have held. We came to the Latrobe Valley because we had essentially a requested interest from local workplaces," Ms Horton said.
"In a time of change, in a time of transition that is being experienced here, workplaces are reaching out… to say 'what can we do to make sure we are looking after our people?'"
Ms Horton said there were a range of speakers at the forum, many of whom shared practical tips on how to foster positive workplace cultures and environments, as well as the types of leadership that workplaces can take and the types of strategies and programs they can implement.
"So these very practical tips and also understanding, from a more academic view, what some of the drivers of positive mental health and wellbeing in workplaces are… is important," she said.
"Change is inevitable and change is difficult, so we're certainly not pretending that those difficult things aren't happening, but we're saying, in that change, what are the things we can do to look after people as well as we can."
WorkSafe Victoria chief executive Clare Amies said creating a network of focused leaders in the region was an important step in fostering positive work environments and promoting mental health in the workplace.
"What we know about health and safety is that the most important traction any workplace can get is to have the conversation between employers and their workers," Ms Amies said.
"So if you think about any risk, a tripping risk, a manual handling risk, if workers aren't pointing it out and working with management to actually make sure that that risk is mitigated or that harm won't cause harm to a worker, you can't deal with it.
"Mental health is exactly the same. Workers (need) to be able to openly talk to management about aspects of their work that are causing them emotional or mental health issues… and to make sure that people go home feeling better because of work, not worse because of work."
Victorian Chamber of Commerce and Industry acting general manager of training, health, safety and wellbeing Geri Sumpter said leadership commitment was very important in fostering healthy workplace cultures.
"If businesses want to commit to mentally healthy workplaces, it needs those leaders to drive those programs. Leaders that have positive attitudes towards change in their workplaces, making sure they are aligning their organisational goals to positive mental health," Ms Sumpter said.