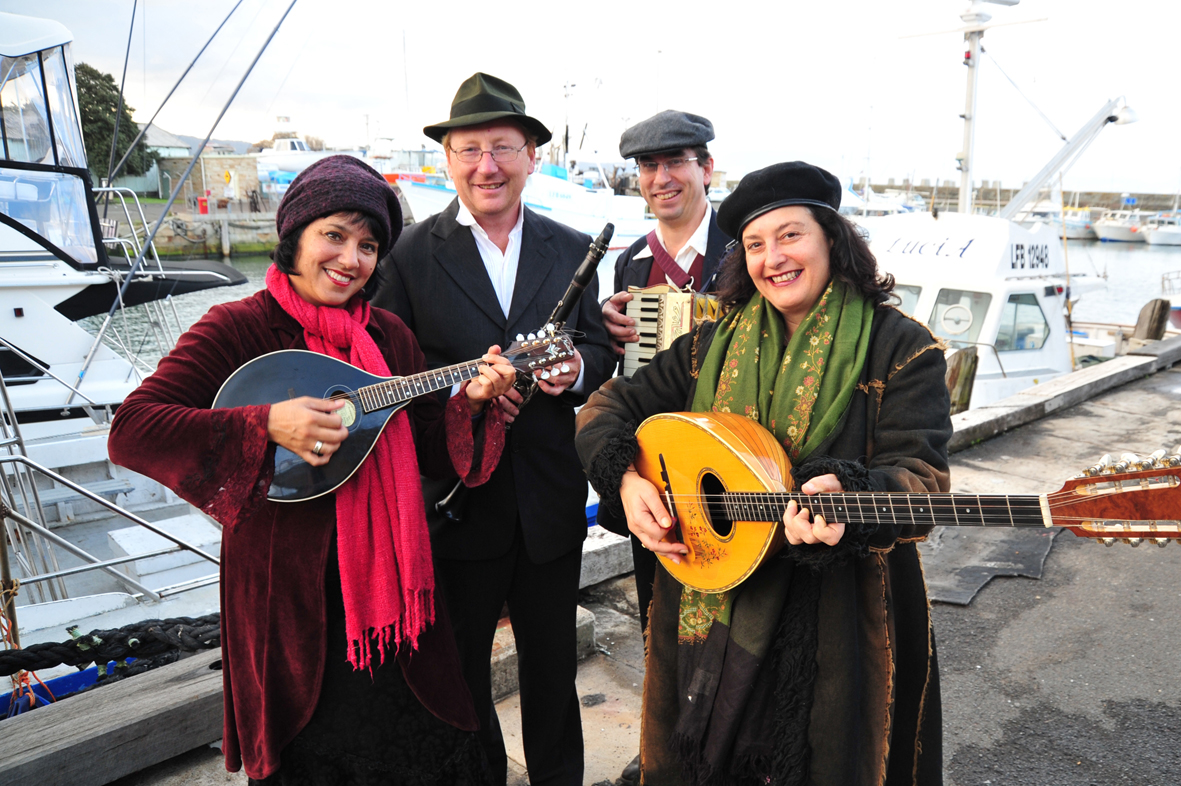 In 1994, Melbourne journalist Tony De Bolfo embarked on a quest to learn about his family's migration to Australia on the King of Italy ship.
Ten years later he released a novel, 'In Search of Kings', documenting his findings.
In his search, he came across the silent film by Angelo Drovetti Dall' Italia All' Australia (From Italy to Australia) which captured the voyage of passenger ship The Queen of Italy – the sister vessel of the ship his grandfather came on.
Four-piece band, I Viaggiatori, will be touring with the silent film next month, playing traditional Italian folk and original music to complement the historic images.
I Viaggiatori piano accordion player David De Santi said the black and white film was like a Getaway episode from 1924, as the ship journeys from Genoa, to Sicily, through the Suez Canal, past Sri Lanka and on to the Australian ports.
"There's footage of Sydney harbour before the harbour bridge, and there's footage of Melbourne before the Westgate Bridge, so it's pretty interesting," De Santi said.
The Wollongong musician said the film had wide appeal and anyone interested in the migration experience could relate to the subject matter.
"We play a little bit of Greek music as well, as there were Greeks on the boat as well," he said.
De Santi's interest in what he called his parents' music was only realised later in life.
"It was their pop music," De Santi said.
"At first I didn't want to play it.
"It wasn't very cool and to play the accordion wasn't very cool."
De Santi has a personal connection with the film, due to his family's experience.
His father Aniello De Santi came to Australia on the Roma ship in 1957 and quickly parted with his Italian name in Wollongong, replacing it with 'Andy'.
"'Aniello' was a bit hard to say in the '60s," De Santi said.
The music accompanying the film will be a combination of melancholy tunes and slow love songs, with some up-tempo traditional protest music such as 'Bella Ciao'.
"It takes you back to Mediterranean concerts with music, food and good times," De Santi said.
I Viaggiatori will perform several concerts in Gippsland as part of their tour next month, stopping at Tyers Hall, Tyers at 7.30pm on Sunday, 6 August and at Grand Ridge Brewery, Mirboo North at 8pm on Saturday, 19 August.
A free workshop for musicians seeking to play traditional Italian tunes and an I Viaggiatori concert will precede the film screening at Tyers Hall.
For tickets to the Tyers Hall concert, visit www.trybooking.com/243429 and for the Mirboo North concert, contact Mirboo North Arts.