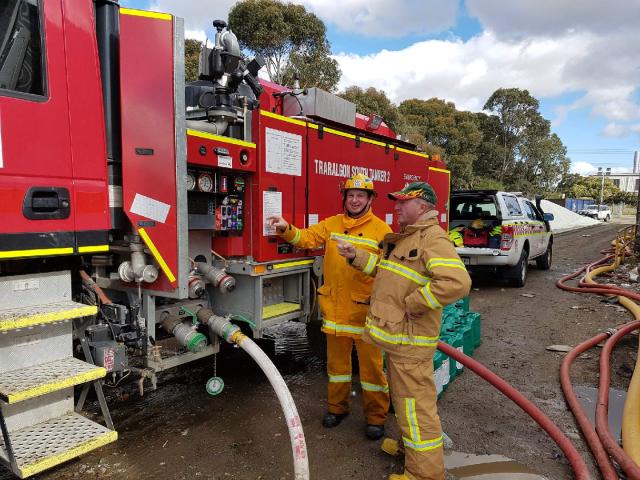 Country Fire Authority tankers from Traralgon South and Churchill are assisting the Metropolitan Fire Brigade and other CFA units at Coolaroo following a fire that broke out at a recycling plant, 19 kilometres north of Melbourne, on Thursday.
Two 4000-litre compressed air foam tankers from District 27 were sent to Melbourne last night to assist with the blaze as local volunteer fire fighters from across the Latrobe Valley continue to work around the clock in an effort to control the fire.
CFA District 27 operations officer Emma Conway said the specialised tankers produce a foam that is capable of suppressing particulate found in smoke.
"Particulate is the ash or carbon left over after burning, and because there's cardboard and plastic burning at this fire, the particulates are very nasty," Ms Conway said.
"The fire started about 8.45am on Thursday morning and while it is unclear of the cause, CFA have been working with the MFB to suppress the fire and we're expecting them to be there for a few more days.
"We have crews ready to go up on Saturday and more of our staff and volunteers are putting their hands up to help… we just don't know how long we will be needed."
The compressed air foam tankers were introduced by the Coal Mine Emergency Management Taskforce into the Latrobe Valley in 2015 following the Hazelwood mine fire.
"The tankers are particularly good at supressing the smoke generated by coal fires hence why they're here in the Latrobe Valley," Ms Conway said.
"The complication with this fire and the reason why it's taking so long to extinguish is because the plastic and cardboard is bailed together which makes putting the fire out much harder."
Ms Conway said District 27 would continue to rotate local crews on a 12-hour day/night roster until the fire was under control.