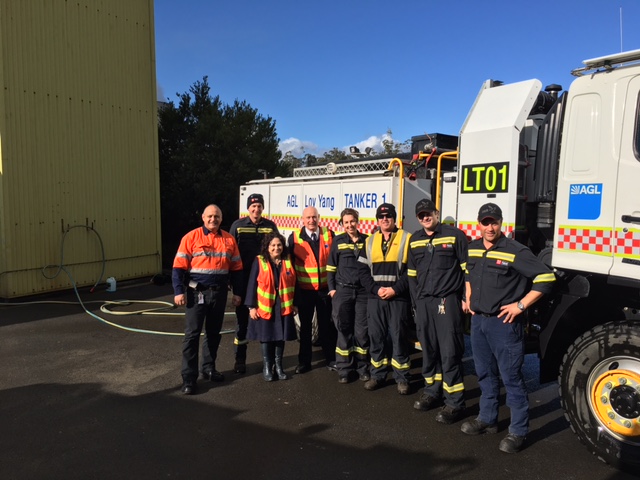 Victorian emergency management commissioner Craig Lapsley recently visited AGL Loy Yang to view the continued progress of the power generators' emergency management systems.
AGL Loy Yang manager group security operations Nick Demetrios said Mr Lapsley was taken on a tour of the fire station and relevant equipment to see what the company had done in the space of emergency management preparation and readiness.
"We presented all the things we've been working on which included the efforts we've put into the readiness of our own people and workers collaborating with other emergency services," Mr Demetrios said.
"He was quite impressed with the amount of training we have conducted with our staff in firefighting readiness and emergency response."
He said there had been an "absolute swag" of things the company had done to minimise risk in the lead-up to fire season, including incident management training, fire fighting training, breathing apparatus training, rope rescue techniques and first aid training.
"We had 80 CFA volunteers and officers through our site for familiarisation tours and presentations this year and ran a number of joint exercises to enhance and rehearse response," Mr Demetrios said.
"We've also had a national family day for some of our staff in the emergency services area which involved (industrial fire and rescue company) Falck staff demonstrating their skills to their families."
"It was great to see their loved ones and children see the sort of training that our site emergency service team do here on site."
Mr Demetrios said Mr Lapsely had visited AGL Loy Yang a number of times.
"It was wonderful that he came down, he is such a knowledgeable, passionate person and he has shown so much interest in the Latrobe Valley region.
"We're always happy to see the commissioner and his team, taking interest in what we are doing."