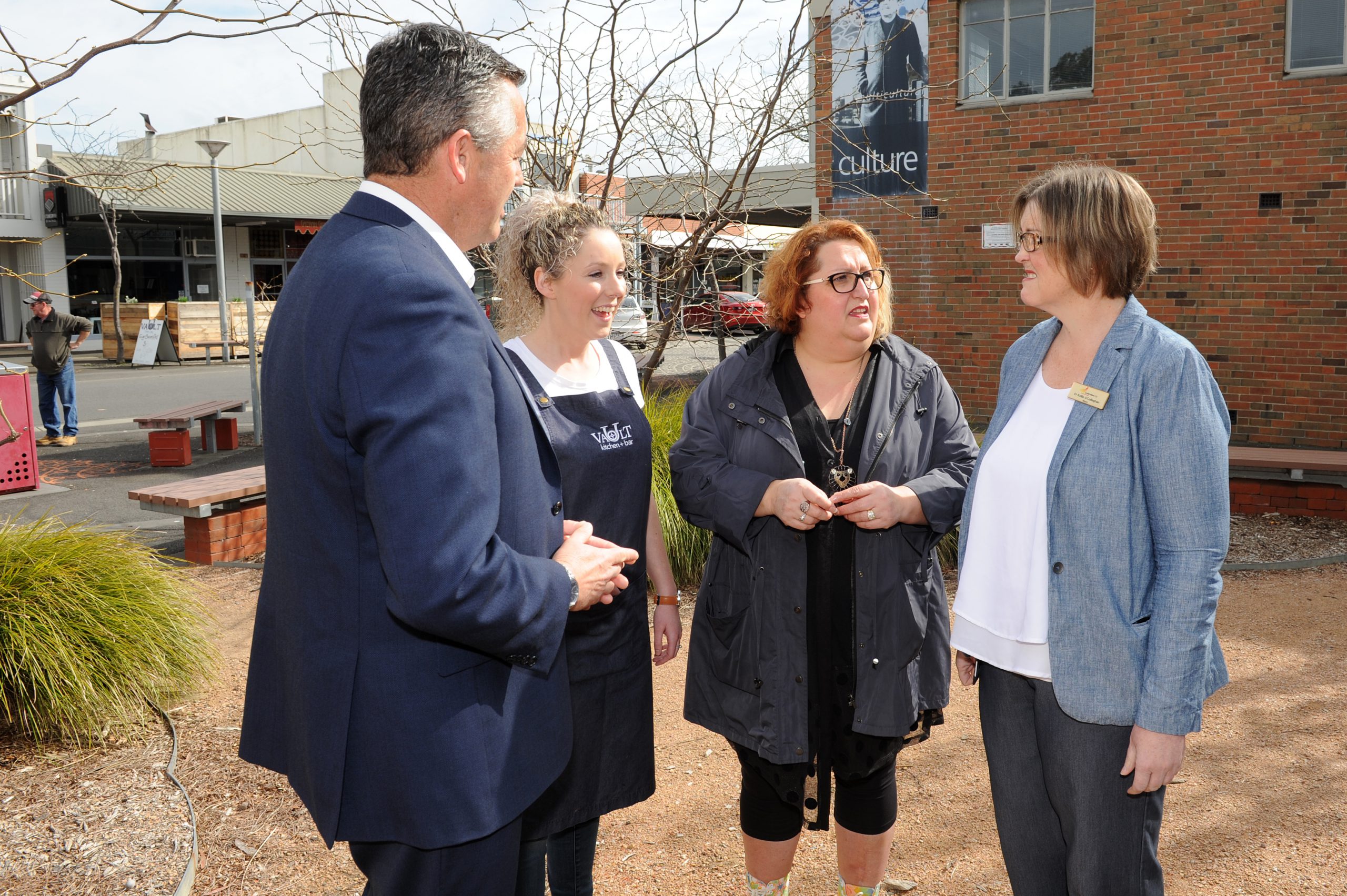 Seven sites have been earmarked for new CCTV cameras in Morwell's central business district after the federal government announced on Friday it would fund the project.
Four sites on Church Street and three along Commercial Road have been identified as priority locations after Federal Member for Gippsland Darren Chester announced $230,0000 to fund the roll-out of cameras across the sites.
The announcement follows an independent two-week feasibility study undertaken for Latrobe City Council in July which provided recommendations to improve community safety around the town.
Latrobe City Council said about 10 cameras would be installed across the seven locations following consultation with Victoria Police and the community.
There are currently four CCTV cameras in the vicinity of the Commercial Road bus exchange and a number of fixed cameras in and around the Morwell Railway Station.
Morwell hairdresser Silvana Summerfield, who has campaigned for improved camera infrastructure, said the additional cameras would enhance peoples' sense of security and act as a deterrent for criminal behaviour around the town.
"I have been told by quite a few elderly citizens in town that their children don't allow them to go out by themselves anymore," Ms Summerfield.
"But now, hopefully this will give people a sense of freedom. People will know that somebody's watching and we do feel safe."
Mr Chester said the small business community had raised concerns about public safety in Morwell and the new cameras would allow people to feel safe and give local businesses a chance to prosper.
"There is only a very small minority of people who cause problems on our streets but we need to make sure that we're providing for the safety of the whole community," Mr Chester said.
"My expectation is Latrobe City will work with Victoria Police on how we link it back to the police station so the cameras can be responsive to incidents but also from an evidence-gathering perspective, the footage is very useful in terms of pursing any offences."
Latrobe City mayor Kellie O'Callaghan said the funding would give council a clear visual perspective of priority areas in the town.
"That will affectively mean four on the Church Street side and an additional three on the Commercial Road precinct side of Morwell," Cr O'Callaghan said.
"The funding has certainly met our expectations and extended a little beyond what it was we initially had around the planning for that funding.
"That will allow us the opportunity to maximise the full potential of the project and perhaps even add a few pieces of technology so that we can ensure we have the best coverage possible."
The funding for the new CCTV cameras will come from the Latrobe Valley Local Jobs and Investment Package, part of the $43 Million Hazelwood Investment Package.