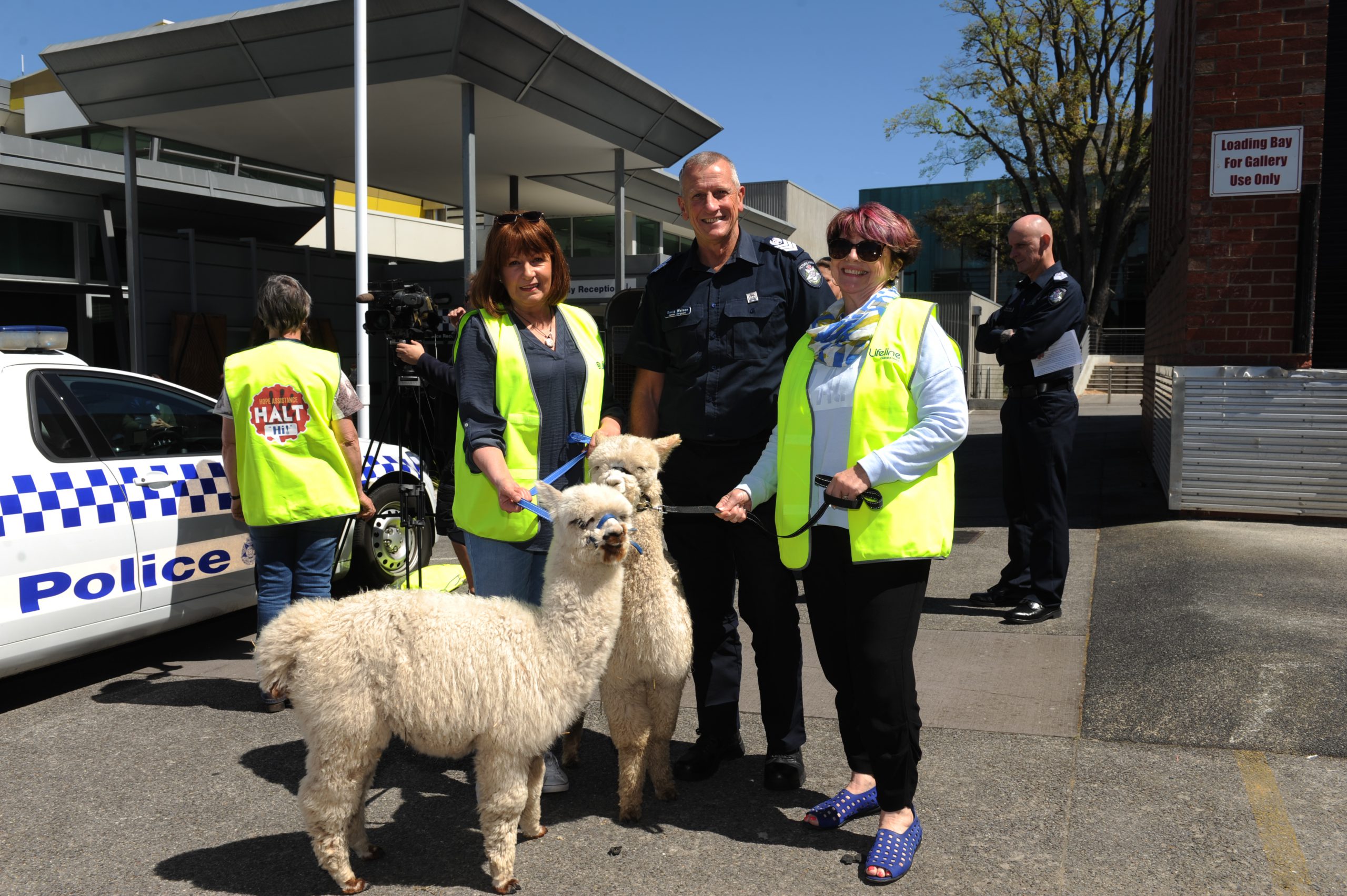 Mental health was on the agenda earlier this week when Lifeline Gippsland hit the streets of Morwell with three alpacas to mark World Mental Health Day.

One-year-old Harold and his two six-month-old friends Riot and Button drew much attention as the cuddly creatures wandered through Morwell's central business district on Tuesday.

Lifelife Gippsland crisis services coordinator Annette Davey said the organisation used Harold and his friends as a way to engage people about mental health.

The alpacas form part of the organisation's HALT & Say Hi program aiming to give hope and assistance for local tradies and address community health issues.
"We're not trying to fix anybody, we're just starting the conversation to talk to people about the things they do to feel OK when life gets tough," Ms Davey said.
"We spoke with people who told us that they had been diagnosed with mental health issues.
"They felt good about meeting the alpacas and as they walked away, one of them said 'it's been the best day of my life' and that's what we wanted to hear."
More than 200 people approached and cuddled the alpacas during the two-and-a-half hour roam around town, visiting the Morwell police station, newsagency, Latrobe City Council's headquarters and The Express office along the way.
"Probably one of our best experiences was out the front of [state member for Eastern Victoria] Harriet Shing's office and she thanked us for the work that Lifeline Gippsland does," Ms Davey said.
Lifelife Gippsland project officer and alpaca breeder Louise Lazarus said the organisation chose to use alpacas as a way to communicate with people given their gentle and kind-hearted nature.
"The alpacas are very calming, cows and horses are quite frightening to people who aren't used to being around animals whereas the alpacas are a lot more gentle and safe," Ms Lazarus said.
"Harold has his own story … he was orphaned at three days old, his mum died so he was hand-reared by me.
"He's used to being around people now and that's his story so we use that as an example to show what he does to feel better. It's important for us to get the message across and reiterate that it's OK for people to reach out and seek help."
The HALT & Say Hi program runs until November 30 with more than 15 events scheduled where Harold and his friends will appear at.
For more information, visit llg.org.au/services/halt-say-hi-program