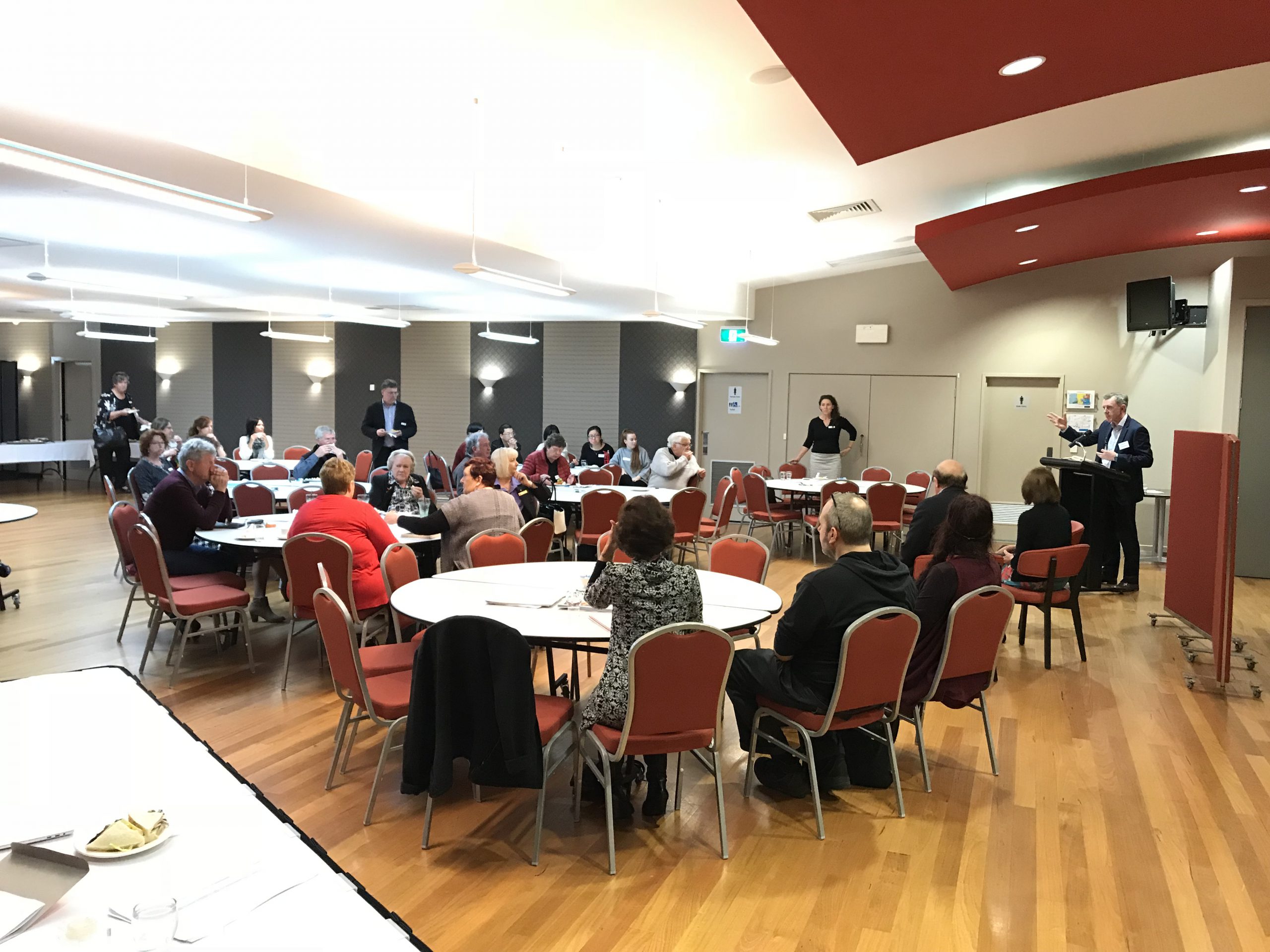 Latrobe Valley residents had their chance this week to meet and raise questions with researchers from the Hazelwood Health Study.

About 40 people attended the community engagement session at the Morwell Bowling Club on Monday night where a range of information was delivered to locals in attendance.
An interview moderated by former ABC Gippsland breakfast presenter Gerard Callinan with health study investigators Michael Abramson and Judi Walker highlighted how the study had so far undertaken research to establish the health and wellbeing impacts on the community of Morwell following the 2014 Hazelwood mine fire.
It followed six round table discussions broken into the different research streams before a public question and answer session took place.
Hazelwood Health Study principal investigator and professor of clinical epidemiology at Monash University Michael Abramson said the session provided an in-depth opportunity for community members to understand the study and ask questions about the research taking place.
"The Hazelwood Health Study isn't really one study, it's a very complex program of research that will run over 10-20 years so what we've tried to do this evening is bring everybody up to where we are after almost three years," Professor Abramson said.
Different research streams included data collected from the Adult Survey and an analysis of 'Hazelinks' including hospital admissions, emergency presentations, ambulance callouts and cancers, the older persons and community wellbeing studies and the clinical stream which looked at respiratory and cardiovascular testing.
Professor Abramson said people were particularly interested in the adult survey, which concluded in February this year and how the data collected would be used.
"As we've reported, people in Morwell were much more likely to report respiratory symptoms like cough, phlegm, wheezing, shortness of breath and also asthma than people in Sale," he said.
"People in Morwell appear to be more likely to develop asthma after the mine fire smoke than people in Sale.
"So as I discussed with people at the table these respiratory function tests will complement what people have told us."
He said the cardiovascular stream showed similar results with people more likely to report heart attacks in Morwell compared to Sale following the 2014 mine fire.
Several questions were also raised about the role of the health study during the two-and-a-half-hour engagement session.
"I think we need to be very clear that this is a research study," Professor Abramson said.
"Our mandate is not to treat individual people with health problems because we're not resourced for that and we don't have the necessary expertise. We do however have an ethical obligation to tell people about abnormal results.
"To take an example from the respiratory function tests, we will find people who have chronic obstructive pulmonary diseases and they didn't know that. They may have thought that they were getting short of breath because they were a little bit older or they had a cough and phlegm because they smoke but instead they've actually got a serious lung disease."
He said while it was not the role of the health study to treat patients, researchers would provide them with a report on their tests and encourage them to visit a general practitioner.
"I think it's fair to say there were some people here tonight who have high expectations and are sort of expecting us as a group of researchers to fix all the problems in the community … but no study could ever hope to do that," Professor Abramson said.
For more information about the study, visit hazelwoodhealthstudy.org.au or 'Hazelwood Health Study' on Facebook.