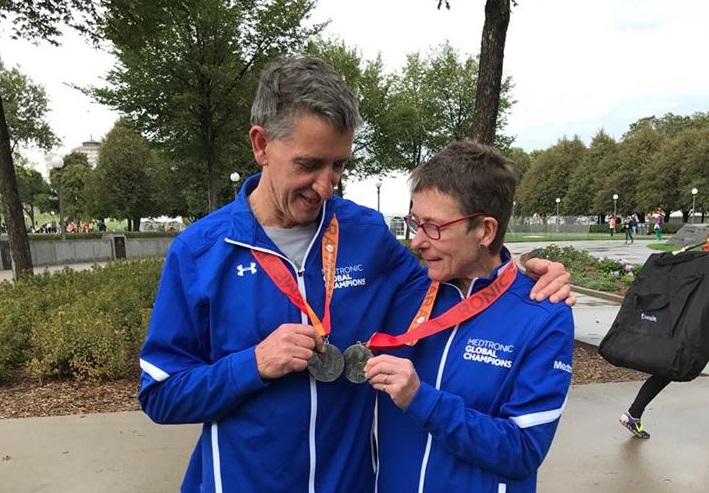 RUNNING
Completing a marathon at the age of 60 is a feat in itself.
Take into account the hurdles Michelle Crosby has had to overcome and it becomes all the more remarkable.
A self-confessed fitness fanatic, the grandmother of four has been running all her life.
She entered her first marathon in 1982 and soon caught the bug, but in the late 90's she started experiencing near-fainting episodes while running.
"I would feel a bit faint but I'd just get up and run again after having a bit of a lie down," Crosby said.
"In 2002 my partner thought there was a bit more going on so I got tested and four days later I was diagnosed with sick sinus syndrome."
Sick sinus syndrome affects the rhythm of the heart and was revealed as the cause behind the episodes.
"When I heard the news I thought 'this can't happen, I'm too young'," Crosby said.
She was fitted with a pacemaker soon after diagnosis but it proved incompatible and "wasn't doing its job".
In 2009 Crosby was fitted with a new pacemaker and with it came a new lease on life.
"Sometimes [the pacemaker] misbehaves and doesn't do exactly what I want it to do but it allows me to run," she said.
Crosby this week returned from the United States after competing in the Medtronic Twin Cities Marathon in Minneapolis.
She was one of only 20 people from around the world, and the only Australian, to be named a Global Champion of the marathon.
The Global Champion program recognises athletes like Crosby who have received medical devices or solutions to treat health conditions such as heart disease and continue to demonstrate an active lifestyle and passion for running.
"The Twin Cities Marathon was up there with the best things I've ever done," Crosby said of her recent triumph.
"When I turned 60 I wanted to tick some boxes and one of those was to run another marathon and I got to do that in Minneapolis."
Crosby also ran alongside brother John, who had never completed a marathon before tripping to Minneapolis.
"John has always been a runner as well, we've run together for many years," she said.
"One of the criteria for the marathon was that [Global Champions] bring a companion, so when I found out I was going to be running I called John and said 'you'd better pack your bags'."
However, the race wasn't without its problems and the day-long international flight proved "problematic" for Crosby.
She developed laryngitis and an accompanying chest infection in transit but it wasn't enough to dampen her spirits.
"Nothing else mattered. I completed the run and it was the most awe-inspiring five days, I just can't describe it," she said.
"I was just focussing on one step at a time and I was feeling unwell at about the 25 kilometre mark."
Despite feeling "very crook" at the half-way mark Crosby drew inspiration from her fellow competitors to complete the gruelling race.
"I teamed up with another one of the Global Champions who has an insulin pump and we just stuck it out together. Time didn't matter, it was about getting over that line," she said.
"My motto is always 'don't let your condition rule you' and I think I demonstrated that.
"I just thought about all the people back home and I was not going to let the infection beat me."
Crosby put her extraordinary finish down to a perfect mix of "stupidity, stubbornness and determination".
"I need to thank my brother for running alongside me, all the other wonderful Global Champions, Medtronic and my family and colleagues because I wouldn't have been able to do this without them," she said.
"I thought I did a pretty good job for my age, but the older I get I still think I'm 20 and all these kids pass me and I think 'well you can't do that', but they probably can now."