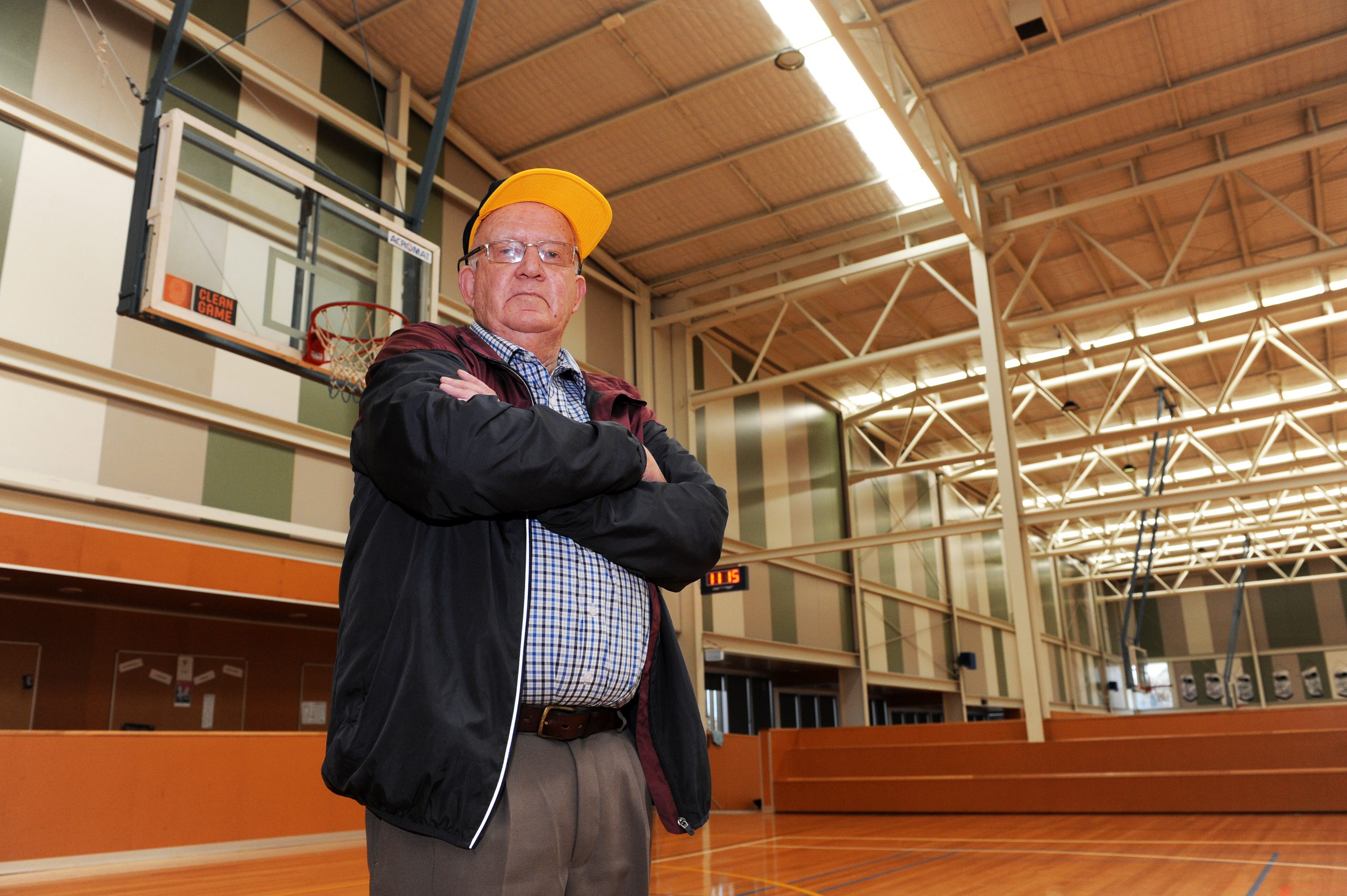 Proud grandfather of Churchill basketballers Ken Harding has been working for 18 months to have some form of cooling system installed at the Churchill basketball stadium in the lead-up to the upcoming summer season.

"The problem being, inside the stadium the temperature is probably six or seven degrees higher than the outside, which means that it can get up to 38 degrees in the middle of summer," he said.
"Kids have got to play basketball in that. Adults have to play basketball in that too.
"If you've got any illness, like breathing difficulties and things like that, it becomes a serious thing."
With a background in steel construction, Mr Harding suggested rotary or roof vents may be a viable cooling option.
"In my younger days I had a building business and licence, we built plenty of stadiums. I know [rotary vents] work," he said.
"The vents don't cost a lot. Maybe $300 or $400. Installation is a bit more, but for labour it might be $ 1,500."
Mr Harding took the idea to Latrobe City Council.
"Council think the roof vents won't work … they disagree on the grounds they can put big refrigerated things on the wall all around the stadium. Even to do that, they've got to insulate the roof for a start," he said.
"The cost of it is a fair whack of money and the installation [cost] is terrible."
Mr Harding said council had put out a tender for a cooling system design, however "nothing had come of it".
"Summer is coming. In another month we'll be getting into the high 30's, it'll be roundabout 40 [degrees] in there," he said.
"If you went to … Worksafe they'll probably tell you you're not allowed to work in conditions that are that hot."
Mr Harding said rotary vents were commonly used and effective cooling systems.
"If you went around Morwell … there are rotary vents used everywhere. They're used in houses, too. It's just logical," he said.
"Why try and get consultants and other things to design something that is going to cost a fortune?"
Latrobe City Council's general manager infrastructure and recreation Steve Piasente said the rotary, or "whirlybird", cooling system would not be efficient enough to make a difference in a large space, like the stadium and would instead go ahead with the installation of evaporative cooling.
"We believe this [rotary/whirlybird] method would only work if, in addition to fan-forced vents on the roof, there were vents lower down to allow air from the outside to enter the lower part of the stadium," he said.
"The effectiveness of this is largely dependent on the outside air temperature and at best can only reduce the inside air temperature to that of the outside air.
"Our research has shown that Queensland facilities often have large louvres at the base of the wall to let air in and this leads to condensation in winter and dust in summer, both of which are not good for sports surfaces or activities."
Mr Piasente said a full tender process would be undertaken for the project, which would mean the cooling system would not be installed prior to the commencement of the summer season.
"Wall-mounted cooling is deemed to be around 50 per cent cheaper than roof-mounted cooling mainly due to the delivery of cooled air at the court level," he said.
"It also uses a smaller power output and there would be no need to upgrade or install a new safe roof access system.
"Latrobe City Council has $650,000 funding for the installation of air conditioning at three sporting facilities in the city."