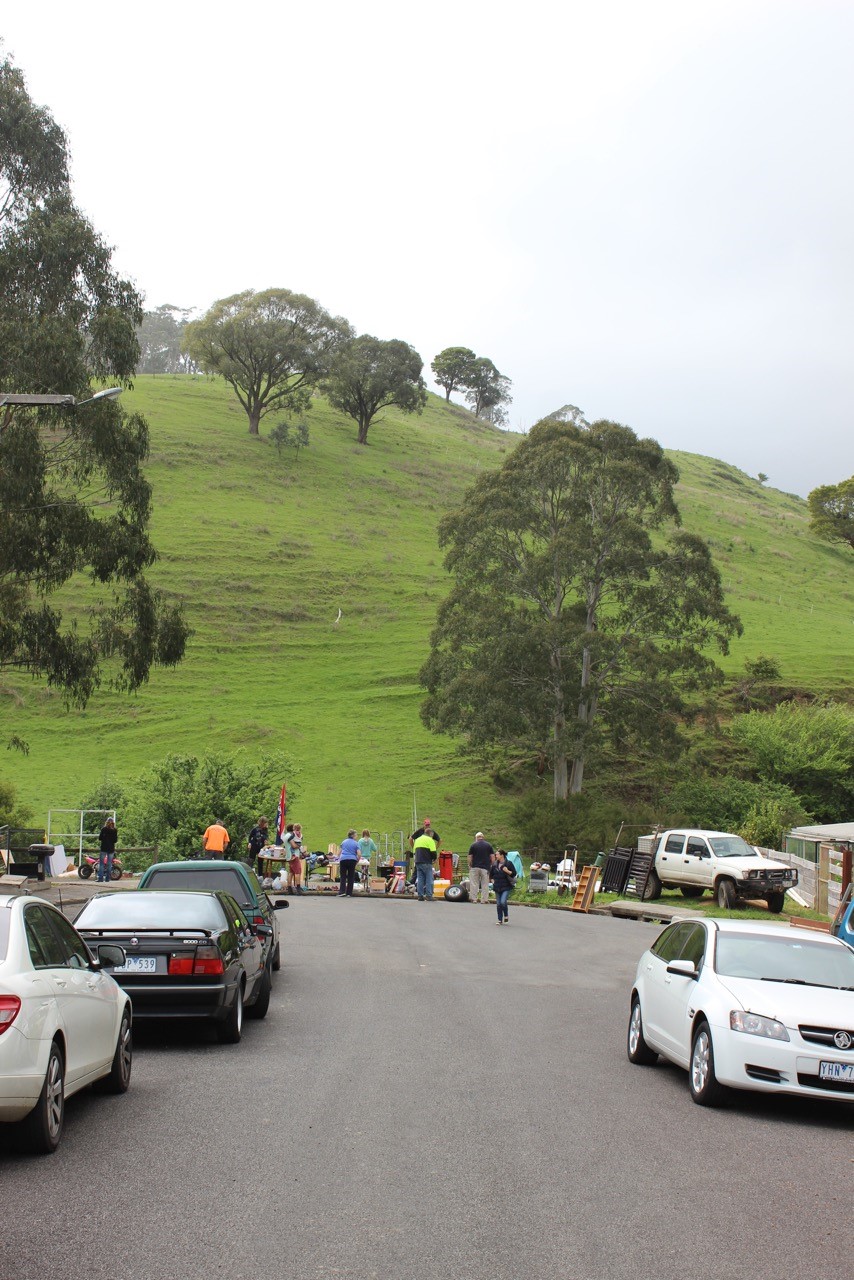 Town maps for Yallourn North's biannual garage sale were all but gone by lunchtime on Saturday as the town experienced an unexpected turnout for the quirky event.

More than 20 households opened their doors as bargain hunters from across Gippsland flocked to the town for a deal or two.
Yallourn North Action Group president Margaret Gaulton praised the town's visitors and its residents for a successful event following a three-year hiatus.
"The whole town was buzzing with pedestrian and road traffic and Yallourn North Cafe and Takeaway was very busy dispensing the maps," Ms Gaulton said.
"The fact that Yallourn North is a village meant that a map and list of addresses wasn't absolutely necessary … all you had to do was drive around the limited number of streets in the town."
The group initially printed 200 town maps for attendees but ran out before lunchtime, later reprinting an additional 100 maps which were also completely gone by the end of the day.
"People solved the shortfall of maps and addresses by photographing the one posted in the cafe window," Ms Gaulton said.
She said the event brought the community together and highlighted one of the many great benefits about living at Yallourn North.
"It was great to see so many people in areas of the town besides the main traffic routes," she said.
"The quest for a bargain, the search for something useful or for a curiosity made it quite a day for buyers."
Ms Gaulton said residents took special care to display their items ahead of the sale for sale for good visibility.
"Most of the sellers had arranged for their goods to be under shelter in case of bad weather," she said.
"Many of the households with stalls had an outlook or backdrop of the beautiful views of Harmony Hills."
The Moe and District Cancer Council Volunteer Group held a stall in a private residence to raise funds for the organisation while the Old Brown Coal Mine Museum drew plenty of attraction.
The group raised $1000 for cancer research during the sale which included craft and knitwear, kitchen items and some household goods.
Ms Gaulton praised event coordinator Libby Mitchell for her efforts in organising the well-attended event.
"[Libby] had become lead person by default so valiantly put her best foot forward and did her very best," she said.