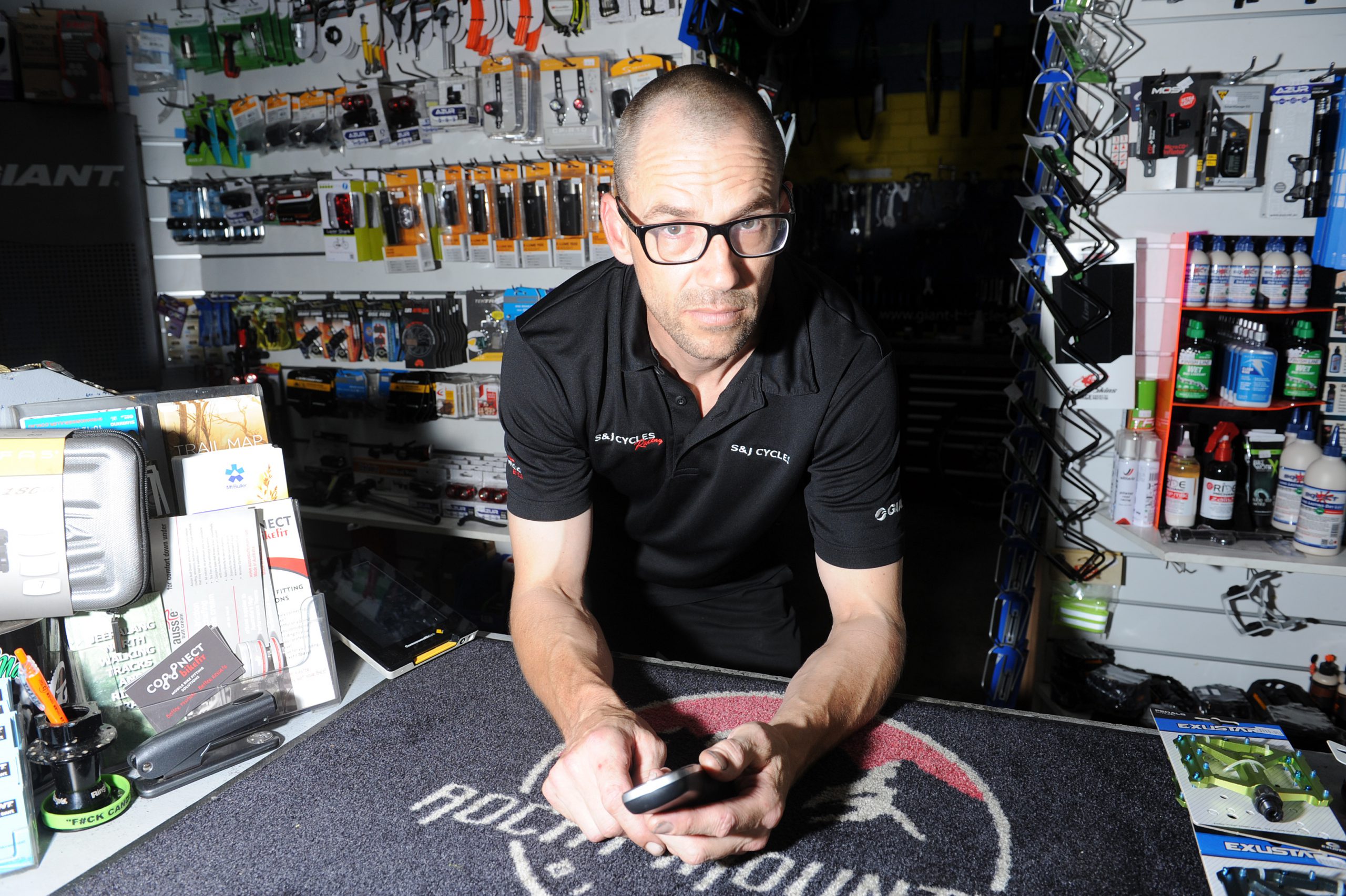 A Morwell business owner estimates he is losing thousands of dollars a day because his NBN connection has dropped out and left him without a phone line or internet.

S&J Cycles owner Shane Dunn's Telstra service was connected to the NBN in October, but has been left incommunicado since ongoing problems began last Friday.
"There are rice farmers in third world countries where there are better connections. We are a very busy business and my phone is important," Mr Dunn said.
Mr Dunn said he usually received between 50 and 100 calls a day from customers, however, anyone trying to reach him now was met with an automated disconnection message.
He says he has to go home to send emails, because he cannot access suppliers' websites or emails at work.
"People ring and they can't get through. If they can't get hold me of me, then they will just call the next bike shop. When the phone goes quiet, it's bad, very bad," he said.
"The phone is our life line. It's hard to put a price on how much business I've lost – maybe around $10,000 to $15,000. I will be looking for compensation out of this."
Mr Dunn is a Telstra customer, and said he has spent hours dealing with the telco to try and get the issue resolved, which has taken time away from running his business.
"I've asked to get a technician to fix it. They told me I'm a priority to get it fixed in the next 24 to 48 hours, but in that time, I don't know how much business I'm losing. I don't have this time to waste," he said.
"Telstra told me the line is risky. I said that I don't care what's causing it, I just want it fixed. I'm paying for a service they are not providing."
Mr Dunn said he had no previous problem with his old phone or internet connection before he was switched over to the NBN.
But NBN has not been notified of any faults at S&J Cycles by their phone and internet provider since the business was connected to the NBN broadband access network.
The Telecommunications Industry Ombudsman received 27,195 complaints about NBN connections and faults in the past financial year.
Telstra general area manager Loretta Willaton acknowledged the Morwell businessman lodged a fault with the telco last week about the problems the business was experiencing.
"We are sorry for the poor experience the business has had in having the issue resolved and working closely with them to troubleshoot the problem," she said.
NBN spokeswoman Kasey Ellison said NBN was the wholesaler and phone and internet providers were responsible for operating, designing and maintaining their part of the national network.
"This is why residents and businesses that are experiencing an issue should speak with their service provider in the first instance," she said.
"Phone and internet providers are responsible for resolving any post connection issues their customers may be experiencing.
"If the provider is unable to identify a fault within their customers' premises or their own network, they will escalate it to NBN and we will work with the service provider to resolve it."
Are you having trouble with your NBN connection? The Express wants to speak to Latrobe Valley residents who have problems since moving onto the NBN. To speak to a journalist about your situation, phone 5135 4444.