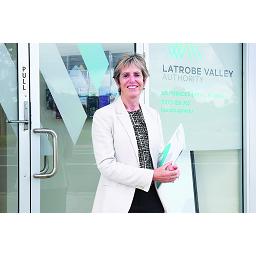 The Latrobe Valley Authority's assessment of its performance in its first year has revealed it has assisted 24 local businesses to grow, resulting in the creation of 570 jobs with additional projects in the pipeline.

The authority was set up by the state government after ENGIE announced Hazelwood's closure in November 2016.
Designed to serve as a one-stop shop for the state government's $266 million Latrobe Valley transition package, the organisation has overseen everything from the government's assistance to business to its sporting and infrastructure package.
LVA chief executive Karen Cain said the organisation was set up at a difficult time for the community.
"I think the big achievements are we needed to give confidence to our community that despite that significant shock to the system of our community, we could generate enough jobs back to where we were prior to the announcement of the Hazelwood closure and that will continue to grow," Ms Cain said.
"I think associated with that is being able to support businesses to understand that despite that shock to their business we can support them to look at other ways that they might continue their business and grow their business and be confident they can do that."
Figures produced by the LVA show 55 businesses which formed part of the Hazelwood supply chain have received support to diversify their operations and 1180 workers and their families got backing to retrain, find new employment or access other services.
The most visible example of the authority's work has been the sporting events which have brought everything from the NBL and Big Bash cricket to men's and women's AFL to the region.
Ms Cain said listening to the community was key to the authority's ability to deliver.
"I think there's a mixture [of views] out there still and I think a mixture of everything from people wanting to stay with the past and thinking we can continue doing what we've always done and there's a view about that out there," she said.
"I can understand that because it's served this community well and there's a view of people saying we need to be thinking quite differently about the future and there's a bit in-between where we need to understand it's not either-or."