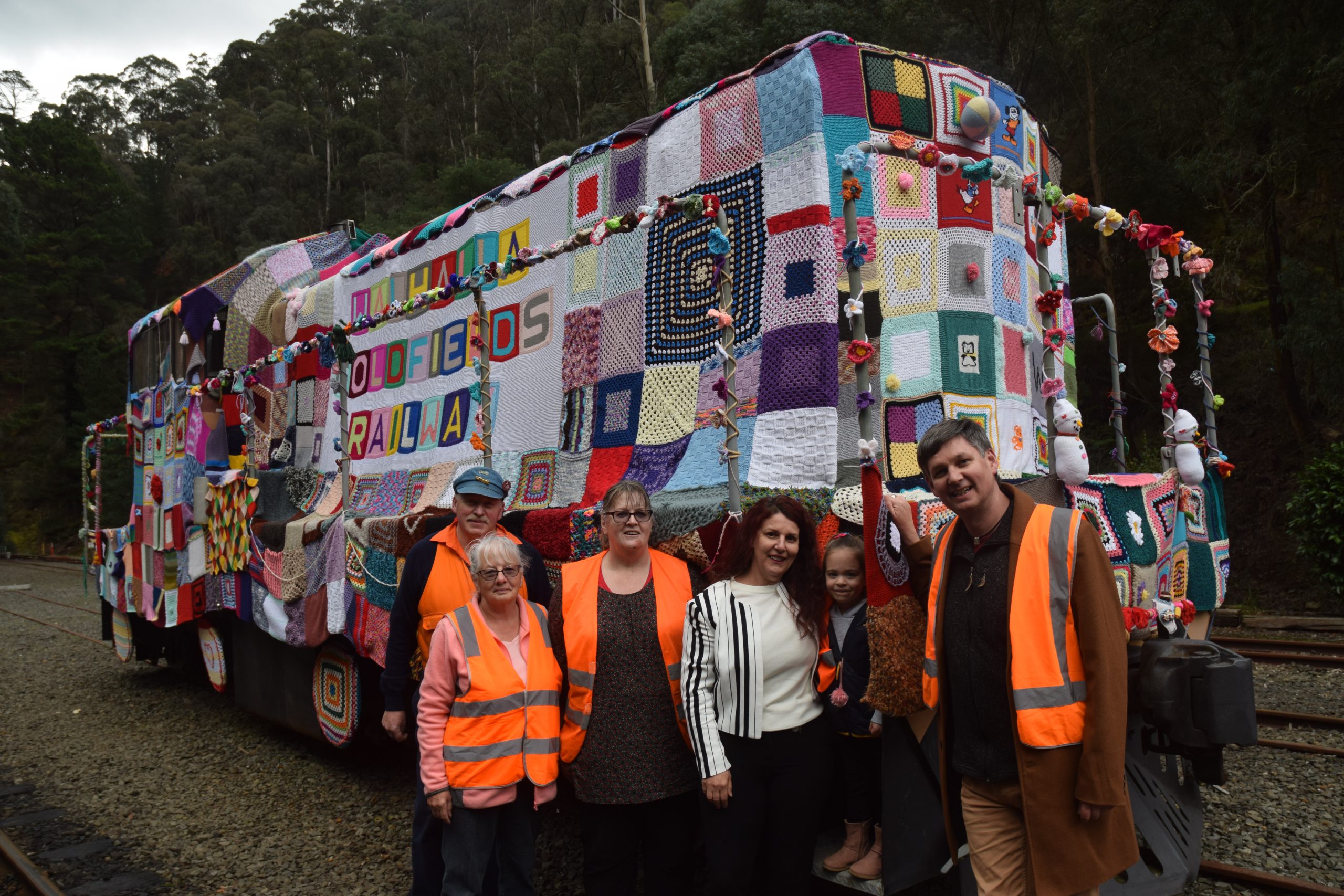 Tracey Matthies
Walhalla Goldfields Railway has a great yarn to tell and if it was unravelled, it would be at least as long as the organisation's five kilometres of track.

It's a yarn that inspired knitters and craft-lovers from four to 101-years-old from throughout the Latrobe Valley, across Victoria, South Australia and even the United States of America.
The brainchild of WGR member Rowena Milbourne, the yarn-bombing of a DH locomotive captured the imagination of so many people that a second model locomotive and many sections of the Walhalla station were also wrapped in warm winter woollies for Saturday's unveiling.
About 900 knitted squares plus pom poms and other handmade woollen items were created for the project. Some supporters bought old jumpers from op shops and cut them into squares which were then stitched into the final piece.
Morwell RSL ladies' auxiliary members made 120 knitted squares.
Contributors ranged in age from four-year-old Evie Wyers of Tyers to Morwell RSL ladies' auxiliary member Edith who turned 101 on Saturday.

Ms Milbourne and fellow volunteer Margaret Lovett camped in a caravan at the Walhalla station for three nights last week stitching the squares together to create the giant cover for the locomotive.
WGR president Phillip Milbourne said wrapping a locomotive "sounded crazy but it was really a simple thing when you break it down to 12-inch squares of knitting."
The yarn-bombed loco will be on display for a month before the knitted squares are washed and re-purposed as knee rugs for passengers on the night-time winter train journeys.
The project raised awareness of the railway's fundraising to re-gauge the DH locomotive so it could run on the two-and-a-half-foot wide Walhalla track.
Mr Milbourne said the works would cost about $200,000 and were integral to the group's plans to extend the railway to Erica and increase the number of running days.