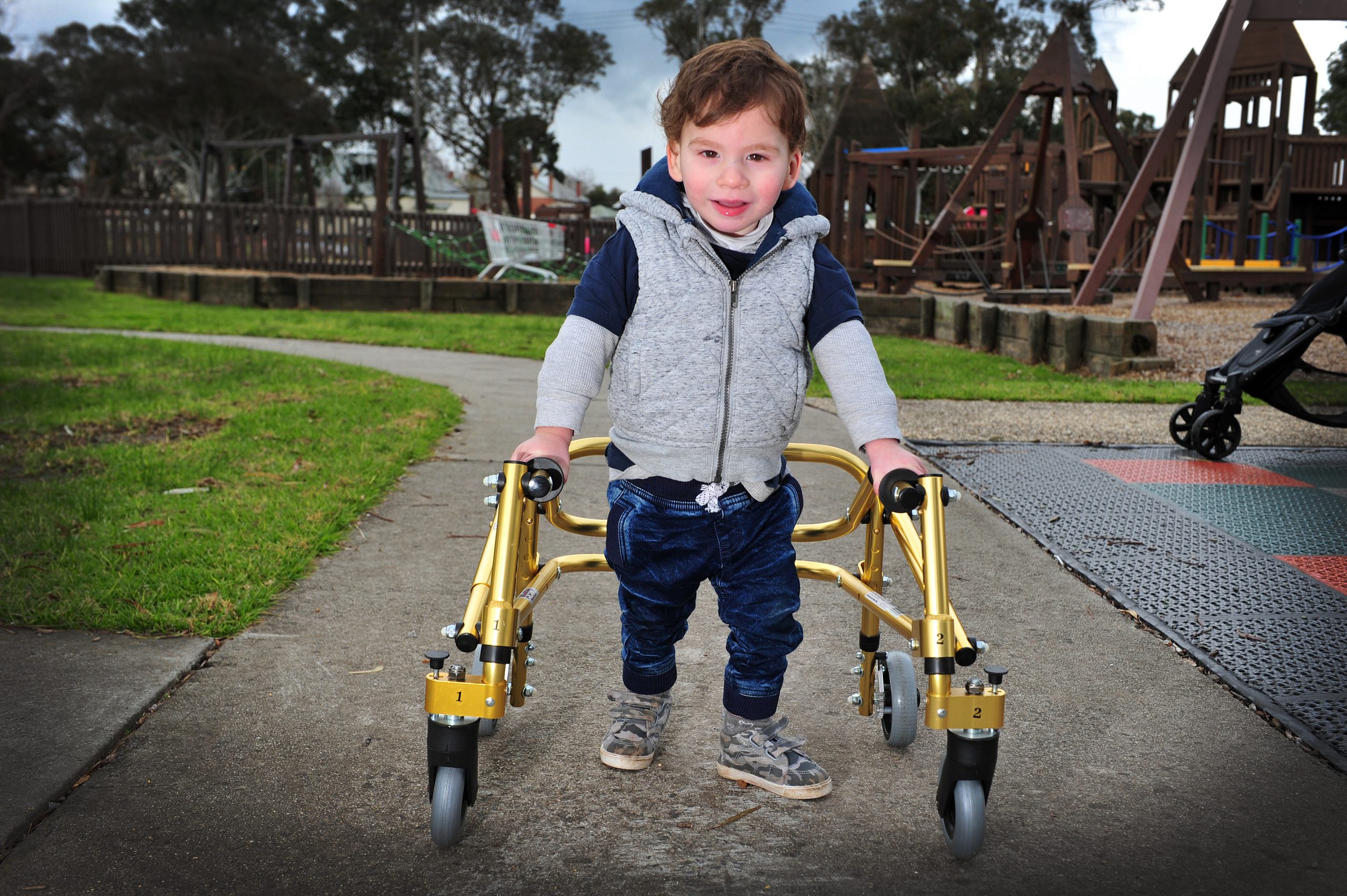 Heidi Kraak
Emma Sherriffs was losing hair with stress over the health of her young son Saxon.

Saxon was unable to sleep, suffered with severe reflux and had a number of other medical complications.

The diagnosis of a rare genetic disease cri du chat (pronounced cree-do-shar) was "very bleak".
Cri du chat occurs when a piece of chromosome five is missing and is characterised by intellectual disability, poor muscle tone and delayed development.
Health complications associated with the disorder include difficulties suckling and swallowing, gastric reflux, high rates of infection, hernias and heart and kidney problems.
When Saxon was diagnosed, the Newborough family was told he would likely be able to understand communication, but would probably only be able to speak four words.
"But he knows his siblings' names, he knows 'dog' already, and he is learning key word signing with his therapist," Emma said.
"He signs three key words already."
Emma attributes the progress to early intervention, and hopes Saxon will be able to attend a world renowned therapy centre in Sydney to receive a tailored program of intensive therapy, which runs over a 15-day block.
Friends of the family have begun fundraising to help send Saxon to the NAPA centre in Sydney – one of three centres of its kind in the world.
"We're hoping, if this is a good fit, it won't just be a one-off," Emma said.
"We still don't know what kind of future he will have … but we want to give him the best chance of as normal life as possible.
"We want him to be an active part of society, play football, run, jump."
Emma said the family was hoping to raise about $15,000 to help pay for the cost of the intensive therapy program, airfares, accommodation and other expenses for the family.
"When Saxon was diagnosed, we were told he'd never walk or talk, he'd have severe intellectual disabilities," Emma said.
"But he is the smartest little cookie, he's coming up in leaps and bounds.
"He has got a fire in his belly to achieve."

For more information or to donate, visit gofundme.com/f/let039s-get-saxon-wilson-to-the-napa-centre.